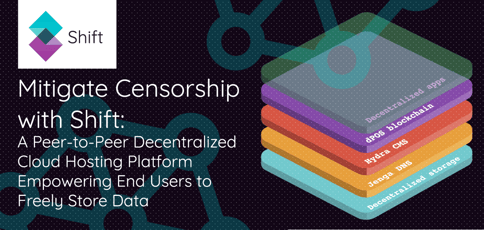 TL; DR: Shift is a decentralized web hosting platform based on open-source software that allows users to manage their digital assets in an entirely new way. It operates at the intersection of blockchain and distributed file storage as a unified technology suite used for hosting content in a decentralized fashion. With benefits that include high redundancy, fast content delivery, and client-side encryption, Shift is aiming to leverage decentralization in building a better, censorship-free cloud.
Once a boundless free-speech zone, the internet is now under increasing control due to nationalism, politics, religion, and other global interests. We're at a point where so-called cyber-Balkanization — in which the internet becomes fragmented into smaller and often hostile units — may have already begun.
From the Great Firewall of China to full internet shutdowns in Egypt, Libya, and Syria during the Arab Spring, extreme censorship is growing more common. But even countries known for freedom of speech have been found to block content.
In 2014, Reporters Without Borders flagged various agencies — including the United States National Security Agency, the United Kingdom's Government Communications Headquarters, and India's Centre for Development of Telematics — for imposing excessive levels of online censorship and surveillance.
Fortunately, the innovators behind Shift, a decentralized web hosting platform based on open-source software, are providing a way to fight back. "The goal from the beginning has been to build a censorship-resistant hosting solution," said Ralf S., President and Lead Developer at Shift. "There are parts of the world where it's very hard to be heard, and we're building our technology for those people."
Shift leverages a combination of blockchain and distributed file storage, creating a unified technology suite used for hosting content in a decentralized fashion that allows users to manage their digital assets in an all-new way. With benefits such as high redundancy, fast content delivery, and client-side encryption, Shift is aiming to build a better, censorship-free cloud.
A Web 3.0 Method for Managing Your Digital Assets
The World Wide Web is often segmented into three generations. It all began with Web 1.0, the era of read-only, static websites that were infrequently updated. The Web 2.0 generation, within which we currently reside, brought forth interactive sites with user-generated content.
Web 3.0 — the future of the internet — is often defined as the semantic, or data-driven, web. This new frontier, which some believe we are slowly entering, is set to disrupt technology as we know it through decentralization of infrastructure, protocols, governance, and applications.
Ralf told us that Shift was designed to facilitate the decentralization of the web, providing enhanced privacy, digital rights, and freedom from undue censorship. Through a combination of technology, the company is working to replace the fundamentals of our current web hosting technology with a Web 3.0-based method for managing digital assets.
As a decentralized cloud hosting platform, Shift will enable anyone to rent the unused storage space on their hard drive or use the storage space of others. All transactions take place on a peer-to-peer network with all actions recorded on the Shift blockchain, an immutable public ledger.
Shift also uses the InterPlanetary File System (IPFS), a peer-to-peer protocol and network for storing and sharing media in a distributed, hash-based file system, rather than Hypertext Transfer Protocol (HTTP), which uses location-based storage.
"IPFS is advanced technology, but it has downsides — it does not offer an easy or reliable way to allocate and replicate the pinning of data to multiple nodes across a cluster of IPFS daemons," he said. "So we created Phoenix, a stand-alone application that communicates with the blockchain while facilitating the allocation and conservation through replication of data across a cluster of storage nodes."
Better than Smart Contracts: Zero-Risk Token-Locking Technology
Shift incentivizes participation through the Shift token, which represents distributed storage space. Users can easily acquire such space through a mechanism known as token-locking. Rather than constructing a smart contract, token-locking involves specifying the amount of storage you want, confirming the required tokens, and claiming the storage space for your personal use.
The team behind Shift argues that a token-driven proof-of-stake offers greater security than the use of smart contracts (self-executing terms of agreement written into lines of code on a blockchain). While smart contracts act as a trusted intermediary between two parties, the technology is still very much in its infancy. Therefore, contract complexity is limited, which may cause problems when processing sophisticated transactions.
Furthermore, because smart contracts are typically written in computer code, Ralf said that many users will have to rely on third-party providers to create secure contracts and verify their terms. Like any code-based technology, this means they are also subject to both accidental and malicious bugs. To top things off, Ralf said that smart contracts are about a decade away from mass adoption, making people hesitant to use them.
"The average user wants to just buy tokens and start using the service, and token-locking makes the process easy," he said. "With Shift, the process is nothing more than a single transaction using an easy-to-understand formula."
High Redundancy, Fast Content Delivery, and Client-Side Encryption
The Shift platform is also known for developer-friendly features such as high redundancy, fast content delivery, and client-side encryption. Files are permanently stored on three different nodes in the network, ensuring easy replication in the case that a hosting node goes down.
To ensure fast delivery speed, content is automatically delivered from the peer closest to the retrieval point. Peers that frequently receive requests for content keep data in their cache, reducing the network's overall bandwidth consumption and boosting delivery speed.
The system also ensures easy access to content. Users can connect directly to Shift's decentralized web or use standard browsers and DNS gateways. Publishers have the option to use Shift's official portal or set up individual gateways using the IP addresses of network peers.
Ralf said he is proud of what the company has built so far. Moving forward, Shift is working on opportunities for users to earn tokens for providing easy-to-use public entry points. The company is also working to make it easier for providers to connect their personal servers with the Shift ecosystem.
"Our goal is to make it as easy as possible for users to join our growing network and contribute to a better internet for all," he said.