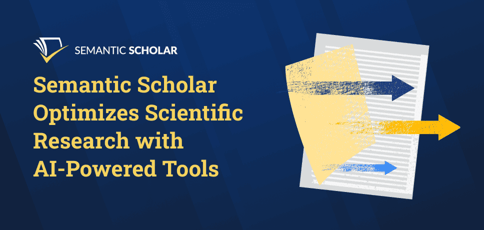 TL; DR: Semantic Scholar provides a research platform with a massive database of academic materials and AI-powered tools to streamline the search and discovery process. Its platform allows users to simplify their research workflows, find the contextual information they need, and save time while researching. We spoke with Semantic Scholar's Joe Gorney and Yvonne Chou to learn more about how the platform works, how the team leverages AI and machine learning to power their tools, and how its API services have changed the research landscape.
If you've ever written a research paper, you would know the pains of scouring the web for relevant articles to source your content. Researchers release millions of abstracts and articles on various topics a year. And even looking through the top results of your search can feel like an endless loop — not to mention the citation and annotation work that comes with it. But what if you could accelerate the research process?
Companies are using artificial intelligence to speed up and optimize processes across various industries. Semantic Scholar, a project under the non-profit institute Allen Institute for AI, has leveraged AI technology to eliminate many of the pain points that come with scientific research, discovery, and comprehension.

"As a researcher, you don't have time to read through every article and see what applies to the subject matter that you're researching. Through our academic partners, we have the full text of PDFs, and our AI models can find coalesced information between those papers to turn up relevant articles for the user," said Joe Gorney, Manager of Strategic Partnerships at Semantic Scholar.
Online research can be time-consuming in areas of organization, article tracking, and comprehension. Semantic Scholar tackles these issues by delivering multiple tools that can help boost reading comprehension, improve citation accuracy, and accelerate search. The project has also made its APIs available to the public so other developers can build platforms atop its graph.
Search and Discovery: Streamlining Research Workflows
Imagine you're a researcher writing an academic paper on colorectal cancer — a subject that garners about 30,000 published articles annually. While sifting through articles, you will probably experience different points of friction, such as losing track of reading history and wasting time on pieces that are less relevant to your research. Semantic Scholar helps users avoid these issues, starting at the point of search and discovery.
"We return a refined version of information that has a cross-section of the search keywords that you're looking for, so hopefully, you don't waste your time reading 15-16 articles to only find one or two that might apply to what you're doing," said Joe.
Semantic Scholar has reimagined how people can research, digest, and write academic materials. Its database has a catalog of more than 200 million papers covering a breadth of information in all scientific disciplines. Semantic Scholar makes finding the information you need easier, and its AI models are the backbone of its system.

Semantic Scholar has a variety of AI tools that accomplish different tasks. Researchers can receive AI-generated paper recommendations based on papers they've shown interest in and get email alerts when new papers or citations are published. The Semantic Scholar team also built a TLDR model that provides users with summaries of abstracts.
"It can interpret the abstract information of a paper and create a more clear-cut and concise, one to two-sentence summary of the abstract in more relatable terms. The TLDR cuts to the core of what that abstract is about," said Joe.
Semantic Reader is another standout tool the organization offers. It is currently in the beta phase but enables readers to improve their comprehension of academic material. Semantic Reader provides in-line citation cards that allow users to see citations with TLDR summaries as they read and skimming highlights that capture key points of a paper so users can digest faster.
"It's a product that we are investing in and will continue to invest in because we think the reading experience is so important in the whole research lifecycle," said Yvonne Chou, Director of Product at Semantic Scholar.
Championing Open Research With API Offering
Semantic Scholar credits much of its success and growth to the contributions and partnerships it formed within the academic research community along the way. Those partnerships have allowed it to expand its database to the millions of papers it has today.
"We have a large research team and connections to other research organizations. And it's nice that we can take these research papers and different prototypes and productionalize them into Semantic Scholar for millions of users to use," said Yvonne.
Semantic Scholar also gives back to the research community by making its APIs accessible to the industry. Yvonne told us that the team strongly believes in open research and science. And opening up Semantic Scholar's APIs to other developers and commercial companies enables them to build atop its graph to power their own datasets.

"Our API services allow developers to build faster and implement more functionality into their applications and provide access to other sides of the community that might not come to Semantic Scholar directly," said Joe.
Companies can also pull academic information from Semantic Scholar to include in their applications via its API licensing. In only a year and a half, Semantic Scholar has seen about 1,500% growth in the usage of its API services. The team had decided to build it when the Microsoft Academic Graph was discontinued, allowing Semantic Scholar to fill the void and become a cornerstone in the research community.
"We're very proud of the growth in usage and the people that have come in the door to partner with us to make this information available to a wider audience through their own developments," said Joe.
Improving Features for More Personalized User Experiences
Many people use Semantic Scholar to write dissertations, research, and other use cases. Over the years, Semantic Scholar has responded to user requests to implement multiple features, including an annotation tool that allows users to highlight and take notes. The team also has a full-time user researcher to help fuel its product development.
"We conduct all kinds of user studies to fully understand our users, their workflow, and the bigger picture of what they're trying to accomplish and where we might be able to fit in. And all of our products come from user needs," said Yvonne.
Semantic Scholar plans to improve three areas of focus: personalization, the Semantic Reader, and API services. Yvonne told us that the team wants to further personalize the site and reader experience by adding features to indicate relevant interests and point them to the user.
Since Semantic Reader is still in beta testing, the organization will add more features and prototypes to help augment the user experience. Semantic Scholar also ensures accessibility for all features before implementation. Lastly, the team plans to build upon its API services with more features, functionality, and datasets.
"We can't build everything ourselves. So the APIs allow us to share everything we have with other people so that they can continue improving research and science based on what we have," said Yvonne.