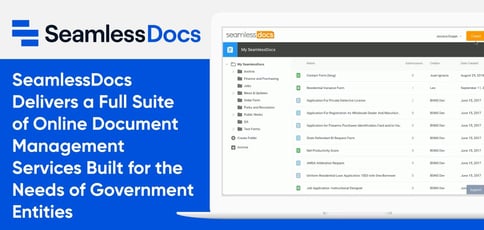 TL; DR: SeamlessDocs leverages an innovative suite of tools for online services that help all levels of government streamline their internal processes by going paperless. The company, headquartered in New York with offices in San Francisco and Miami, is on a mission to create more inclusive and accessible government experiences through its technology. Moving forward, SeamlessDocs will continue to extend the platform to better enable online services with new launches and ongoing improvements.
At the beginning of the decade, it was a reasonable assumption that government organizations would eventually adopt paperless processes. The benefits were (and still are) clear: Eliminating paper saves time, money, and trees while boosting accessibility and efficiency.
But as we enter 2020, paperless operations remain out of reach for many local and state entities — primarily due to existing comfort levels with paper, constraints due to long procurement cycles, a lack of access to digital resources, and outdated standards.
SeamlessDocs is on a mission to help governments large and small overcome these barriers while ensuring efficient, accessible, and seamless interactions with citizens.
"At SeamlessDocs, we fell in love with working with governments as a social mission," said Jonathon Ende, CEO at SeamlessDocs. "Our goal was to create beautiful, easy-to-procure government experiences, helping leaders provide online services to their constituencies as well as their internal users."
To the SeamlessDocs team, headquartered in New York City, these "beautiful" governments foster inclusive and enjoyable experiences for people of all genders, ages, sexual orientations, ethnicities, and religious beliefs. In addition to online forms, the company's services include municipal websites, portals, and permitting solutions, among other offerings.
Ultimately, whether you're working for a small local government or a large state, the all-in-one platform delivers similar benefits, including, time-savings, higher revenue, and error reduction. With future plans to extend the platform via ongoing improvements and exciting new launches, SeamlessDocs hopes to better streamline internal processes through online services well into the next decade — and beyond.
An All-in-One Solution for Streamlining Government Operations
SeamlessDocs was founded in 2011 by Jonathon, who is now CEO, Marc Ende, who serves as Chief Revenue Officer, and Chachi Camejo, Chief Product Officer. Initially, the company tailored its eSignature and form automation platform toward small and medium-sized businesses (SMBs) — but Jonathon said something wasn't right.
"We had some traction with the initial goal to deliver TurboTax-like experiences for different form properties to SMBs," Jonathon said. "But, as one investor put it, trying to sell to SMBs is a very similar experience to trying to herd cats."
A path forward started to come into view once the startup became involved with the nonprofit Code for America, a network of people working to improve government services in the digital age to help Americans thrive.
"Participation in the program provided us access to hands-on mentorship as well as access to governments," Jonathon said. "That's when two things happened: We fell in love with government, and we realized we could be a market leader in the GovTech space."
From there, Jonathon said the company "went all in" on helping local and state governments provide online services, both internally and to their constituencies. Today, the team is made up of more than 40 top-notch tech specialists, designers, and self-proclaimed government disruptors.
In the meantime, competitors have popped up here and there, but Jonathon said SeamlessDocs remains ahead of the competition due to the platform's all-in-one nature.
"The fact that we focus on government has allowed us to provide a more complete solution rather than just individual products," he said. "From an offering perspective, it could take four or five products to replace everything SeamlessDocs provides."
The Benefits: Save Time, Boost Accessibility, and Reduce Errors
Jonathon told us that SeamlessDocs has delivered a range of perks — including dollars and hours saved searching for piecemeal solutions — to hundreds of government organizations.
Company data shows that users enjoy an average 30% revenue increase when integrating digital payments into forms, as well as a time reduction of 80% due to the automation of complex form processes. And, because there are fewer submission issues and missing fields, the platform reduces errors by a massive 62%.
Even more importantly, the company also helps users promote accessibility through online touchpoints.
SeamlessDocs web forms are both ADA and 508 compliant, meaning they are in line with standards mandating that all electronic and information technology used by the federal government be accessible to people with disabilities. People using SeamlessDocs web forms can read text aloud and increase text size, among other accessibility requirements. "We're making sure government organizations can keep up with the changing demands of their constituencies in terms of accessibility and compliance," Jonathon said.
The company's comprehensive suite of products and features allows users to resolve a spectrum of business challenges.
According to the SeamlessDocs website, Princeton, New Jersey, used the service center to create an employee intranet system used to provide internal forms. The city of Tonganoxie, Kansas, saved $3,750 by digitizing its business license approval process using the SeamlessDocs platform. And Seattle, Washington, started tracking procurement requests using the SeamlessDocs Government Relationship Manager (GRM), a specialized CRM for governments.
Katie Quintana, Deputy Fire Marshal for Golden, Colorado, also applauded the GRM platform in a review on theSeamlessDocs site.
"With SeamlessGov's GRM®, we can all be on the same page, so I'm not getting three emails from three different companies, and I don't worry about attaching things depending on who sent it," Katie said. "Now, we are all aligned on the statuses of permits and records."
Solutions Tailored for Local Governments or Large States
Although SeamlessDocs only serves government organizations, its customer base is still quite broad, including everything from a 15,000-person town to large states. That's why the company works to tailor complete solutions to individual governmental needs.
"We're really proud of the fact that when we are working with governments, we provide custom solutions that include everything from easy onboarding to training and support, creating a full, complete online service," Jonathon said.
The company's value proposition is not to serve as just a forum provider, a website builder, or a publishing tool. "We're here to help power your entire online service," Jonathon said.
In terms of internal development, the SeamlessDocs team is always updating its platform and putting new ideas into production in step with the latest market trends or feedback from customers.
"We work with hundreds of different governments, so listening to and understanding their needs is one of our top priorities," Jonathon said. "At the same time, we strive to understand the needs of our prospects."
As SeamlessDocs continues to improve its platform and add new features, Jonathon told us that what benefits one governmental organization will benefit the entire customer base.
"What's really cool is existing customers automatically get new benefits," he said. "For example, we're working on some features for a large state right now, and when we're done, our small towns in Jersey will have access to those features as well."
Continuous Improvements to Better Empower Online Services
To that end, Jonathon said current and prospective customers can keep an eye out for new products and features on the horizon designed to further streamline online services.
"We are considering several factors, such as how to create a better discovery process, how we can more seamlessly complete documents online, and how we process data once it has been collected," he said.
Jonathon also said the company will launch some exciting improvements during the first half of 2020 to accommodate additional use cases while better serving existing customers. "We're continuously improving," he said.