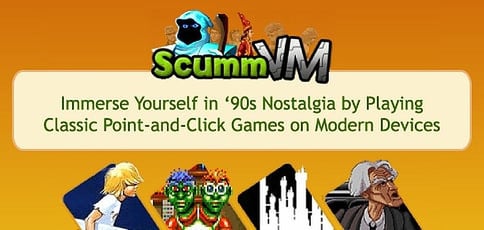 TL; DR: If you regularly wax nostalgic about the long-lost point-and-click computer games of your childhood, you'll be happy to learn they aren't gone forever. The developers at ScummVM took their love of these '90s games and coded an open-source platform so they can be played on modern devices. All you need are the games' original data files, and you can get them up and running again on PCs, Macs, smart TVs, Android devices, and even gaming consoles. Whether you want to go back to "Monkey Island" or "Maniac Mansion," ScummVM can help you relive your digital youth.
Contemporary computer games are more realistic than ever — and not just in the details of their polygons and shading. Games like "Star Wars: Battlefront II," "Call of Duty: Advanced Warfare," and "Rise of the Tomb Raider" incorporate physics engines creating detail so intricate that it sometimes makes them appear more real than RL.
They're amazing and a blast to get lost in, certainly, but what about the games we played as kids? Just because the classics, such as "Sam & Max Hit the Road," "Urban Runner," and "King's Quest" were low-res and low-tech by today's standards doesn't mean they weren't high-fun.
We know where those days went — unfortunately, we all grew up and so did technology. But the developers at ScummVM have now made it possible to relive the pixelated, brightly colored, and incredibly fun computer games we played as kids.
When a group of '90s kids grew up and started coding to make money, they began to reminisce about the games they played in their youth. Many of them still owned the games' original data files, but there wasn't a way to run them on modern devices. So they decided to do something about it. The result was ScummVM — an ethical, open-source program that allows you to play your childhood point-and-click computer games on contemporary computers, smart TVs, mobile devices, and even gaming consoles.
Bringing Digital Childhoods Back to Life by Replacing the Executables
ScummVM is an acronym that stands for Script Creation Utility for Maniac Mansion, which was a utility used to create the game "Maniac Mansion" and, later, most '90s LucasArts games such as the "Monkey Island" and "Indiana Jones" series, "Sam & Max Hit the Road," and "Full Throttle."
The "VM" part stands for Virtual Machine. Many original game engines were running some sort of virtual high level machines to enhance compatibility. ScummVM implements these VMs on modern platforms, enabling old computer games to run on systems they were never designed for.
ScummVM is also ethical. ScummVM won't supply you with the game data files, which would be tantamount to distributing warez, or pirated software. However, in some cases, the ScummVM team was able to secure the rights to distribute some games as freeware. Users can find those in the relevant download section on the ScummVM website.
Instead, you have to already own the game so that ScummVM can access its data files. Then, the platform merely replaces the game's executable file, allowing it to run on an array of modern devices, on most of which the executable simply wouldn't run natively. And, for most games, you won't need to run an installer. All you have to do is run ScummVM, point it to the location of your game files on a floppy, CD, or hard drive, and teleport back to after school at Mom and Dad's house.
Play the Classics — From LucasArts to Leisure Suit Larry
Get ready to swing that sword, whip, or whatever! ScummVM is compatible with a long and growing list of your favorite childhood point-and-click computer games. Nearly any game that used the Script Creation Utility for "Maniac Mansion" is playable, including the namesake and original subject of the technology, a 1987 B-film inspired game whose objective is to help teenage would-be hero Dave Miller rescue his girlfriend from a mad scientist.
If "Maniac Mansion" isn't to your taste, you can play a long list of other formerly popular titles — and the list below is just a sample of the LucasArts games available:
Indiana Jones and the Last Crusade
Loom
The Secret of Monkey Island
Monkey Island 2: LeChuck's Revenge
Sam & Max Hit the Road
Full Throttle
The Dig
The Curse of Monkey Island
Activision classics can also be run with ScummVM. "Return to Zork" and "The Manhole" are compatible, as are several Elvira games, including "Waxworks," "Simon the Sorcerer 1 & 2," and the "Goblins" series from Coktel Vision. The list goes on, and following are just a few more:
Urban Runner
The King's Quest series
Space Quest 1 & Space Quest 2
Myst
Riven
Putt-Putt
Backyard Baseball
Backyard Football
For a more libidinous return to your prepubescent, lights-out computer gaming sessions, you can stumble your way through ham-fisted seduction all over again with "Leisure Suit Larry in the Land of the Lounge Lizards" or "Leather Goddesses of Phobos 2: Gas Pump Girls Meet the Pulsating Inconvenience from Planet X."
A complete list of compatible games, along with any notable problems and glitches, can be found on the ScummVM website.
Easily Install and Get Running With Demos of Popular '90s Titles
Now that your mind is awash in nostalgia, what do you need to run ScummVM and all those point-and-click games from your childhood?
Of course, ScummVM can run your old games on Windows and Mac, and Fedora, Debian, and Ubuntu flavors of UNIX — and several versions of each — but also on less obvious devices such as Android and side-loadable iOS devices, Raspberry Pi, the 2009-series of Samsung TVs, OS/2, AmigaOS, and others. It can even be loaded onto gaming consoles and devices such as the Dreamcast, PlayStation 3, and PSP.
Every effort is made to make ScummVM as feature-complete as possible, and it's continually improved upon through active volunteer development. (See below to learn how you can help ScummVM's development.) Still, it's a reimplementation of old tech and devices such as sound cards on new, and sometimes just other tech and operating systems. Most things work with most games — including CD audio and saving games — but it's possible you may encounter something that doesn't work. Importing old saved games from before installing ScummVM, for instance, rarely works.
If you don't have a game lying around and you want to try out ScummVM before investing in that eBay copy of "Monkey Island 2," you can download a number of game demos directly from the ScummVM website. The demos themselves are sought after by nostalgia game enthusiasts because, back in the '90s, most computer game demos were playable, with special content included. Thus, even without the full game, you can relive your childhood — one level at a time.
An Open Invitation to Contribute to ScummVM
ScummVM is an open-source project licensed under the GNU Public License. It's actively being developed and improved and is community supported. If you'd like to help, the ScummVM team would be glad to receive any assistance you can provide.
Coders are always welcome to work on the next version or bug fixes. Translators, too, are desired to help bring ScummVM to a wider audience. It's currently available in the most common languages — English, German, French, Italian, and Spanish — but other translations are still in the works and need multilingual volunteers to complete them. Contributions can be relayed to the ScummVM team via its forum or GitHub page where its developers frequently hang out.
If you have no coding skills but still want to help, the project will gladly accept a donation of your hard-earned cash. Just click the PayPal Donate button at the bottom of the website's sidebar to help defray the ScummVM overhead, which includes hosting and domain name fees.
Next time you're stressed out, grab your Capri Sun and Go-Gurt, and turn back time to the good old days with ScummVM and your favorite childhood point-and-click computer game.