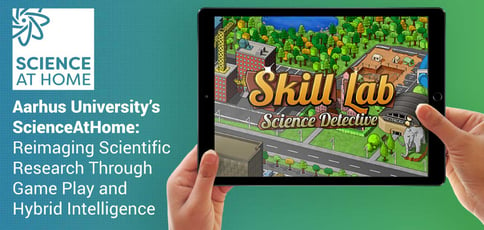 TL; DR: ScienceAtHome, a diverse team of researchers, data scientists, game developers, and designers, aims to revolutionize scientific research and education via gamification. Based out of the Department of Physics and Astronomy at Denmark's Aarhus University, the group tackles problems in behavioral science, psychology, and linguistics. Whether it's testing players' cognitive skills or exploring interfaces that enable communication between algorithms and humans, ScienceAtHome aims to push the boundaries of scientific research.
Jacob Friis Sherson, associate professor at the Department of Physics and Astronomy at Aarhus University in Denmark, has worked for years to overcome complex challenges in quantum computing.
Along the way, he played a pivotal role in quantum imaging — going so far as to help develop a high-resolution system that can trap a single atom.
But it wasn't until one morning in 2010, while riding his bike to work, that inspiration truly struck.
"Why not gamify these complicated problems and ask players all around the world to help us?" Jacob thought.
The result was Quantum Moves, a citizen science game designed by researchers, data scientists, game developers, and designers at Aarhus University — who now collectively form ScienceAtHome, which Jacob leads. The game, according to the Human Computation journal, "pits human players against computer algorithms, combining their solutions into hybrid optimization to control a scalable quantum computer."
More than 300,000 players worldwide have explored the game, helping the team at ScienceAtHome accumulate valuable data on problem-solving characteristics. Analyses of the results have been published in both Nature and Proceedings of the National Academy of Sciences (PNAS).
These early successes encouraged the ScienceAtHome team to use gamification to solve additional problems — ranging from behavioral psychology to linguistics.
Today, ScienceAtHome is working to revolutionize research and education through games such as Skill Lab: Science Detective, a platform that surveys cognitive skills in people of different ages, genders, and cultural backgrounds. And, through the Center for Hybrid Intelligence, the organization is researching optimal interactions between human and artificial intelligence.
"Our vision is to perform global data collection in an effort to provide researchers with amounts of data that can parallel that collected by top tech companies," Jacob, who now serves as director of both the ScienceAtHome project and the Center for Hybrid Intelligence, told us. "Unlike them, we will not use the knowledge to maximize profit."
In contrast, ScienceAtHome will openly conduct large-scale science experiments and publish its findings for the general population to consume.
A Denmark-Based Team of Scientists, Developers, and Designers
Carsten Bergenholtz, Senior Social Scientist at ScienceAtHome, told us that while the team is based out of Aarhus University's Department of Physics and Astronomy, it's also focused on social science. In fact, linguists, psychologists, and cognitive scientists have joined in on the effort.
"Science is supposed to be interdisciplinary, but we really reach across boundaries," he said. "We have physicists, computer scientists, game developers, IT experts, and psychologists. Yet we all come together, and it's surprisingly easy to communicate because fundamentally, we're all interested in the same problems."
Gamification works particularly well as a research strategy for the ScienceAtHome team, which Carsten attributes to several factors. For instance, the technique tends to draw in larger crowds than the typical science experiment, increasing sample sizes.
This may help researchers avoid a methodological issue that often plagues the field of social psychology: the replication crisis. In these scenarios, researchers find it hard to replicate scientific studies, in part due to variability in small sample sizes.
"If I, as a researcher, have to recruit people at my university to participate in some sort of test, I may come up with 300 or 400 candidates," Carsten said. "But if we are going for sample sizes that are not just bigger, but orders of magnitude bigger than what's currently possible, that's one way to try to solve this crisis."
It's easier to attract participants through gamification for one simple reason: Games are fun. That's especially true when compared to traditional cognitive ability tests, which may require users to focus on mere black and white dots on a screen.
"Our games are available on a phone, on an app, with colors — and that speaks to our core philosophy," he said. "Sure, you can run a proper cognitive ability test with a psychologist sitting in front of a test subject for an hour — and in some cases, you might need that. But we can run something in 10 to 15 minutes that that still provides results that are quite robust when compared directly to the traditional, psychological tests."
Skill Lab: Transparently Measuring the Cognitive Abilities of Users
With Skill Lab: Science Detective, for example, the idea is to take a responsible, democratic approach to data collection — and make it fun for contributors.
"Skill Lab aims to break the monopoly that tech companies have on large-scale data on human behavior," Jacob said. "It is a set of minigames that allows for game-based assessment of the cognitive profile of the players."
ScienceAtHome launched the game in collaboration with Danish public broadcasting service DR under the name "Denmark's New Superbrain." So far, more than 20,000 residents have signed on to participate in the large-scale mapping of cognitive profiles.
Jacob also sees promise for large-scale, portfolio-based IQ studies on complex soft skills such as creativity. To that end, ScienceAtHome's interdisciplinary and international consortium of researchers is assembling a game portfolio consisting of existing creativity tests as well as games that have previously been studied in the context of creativity.
"Our aim is not to reduce creativity to a single number but to have enough data to infer a set of variables, each explaining a dimension of creativity," Jacob said.
The researchers will then validate whether these dimensions are sound via real-world test settings before going through a cyclical revisions process, he said.
Exploring the Intersection Between Humans and Algorithms
In addition to ScienceAtHome, Jacob is the brains behind the Center for Hybrid Intelligence. As an arm of ScienceAtHome, the Center for Hybrid Intelligence focuses on the cognition and psychology of players to better understand the workings of the human mind.
The organization welcomes users to become a part of the research community, volunteer in multiple aspects of the research cycle, and learn about topics that interest them.
"In our interdisciplinary Center for Hybrid Intelligence, located at Aarhus University, Denmark, we bring together diverse scientific fields as state-of-the-art experimental and theoretical quantum research and produce computer games for citizen science in physics, mathematics, chemistry, psychology, cognitive science, behavioral economics, and corporate innovation," Jacob said.
Ultimately, the organization leverages games to evaluate the strengths and weaknesses of human and artificial intelligence and foster optimal interactions between the two.
"If you have very structured problems with a systematic search, an algorithm is a really quick and effective way to find results," Carsten told us. "But there are other situations where we need the human tendency to make sort of big leaps in our beliefs about what works and try new things."
Next Up: Investigating Collective Problem-Solving via Gaming
ScienceAtHome has several new developments up its sleeve, including a game that will systematically test human problem-solving skills as players explore an unknown landscape. The game will explore differences in behavior between players who are alone versus those on a team.
"We are looking to discover how information sharing leads to efficiency when searching for the best possible solution," Carsten said. "It's a very simple game in many respects — you join a team, you search for the best solution and get points, and maybe even win. The challenge is that, just like it is often the case in real life, you don't really know what the best possible solution is, and we are curious to see how people respond to this."