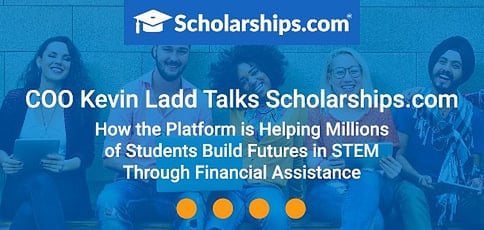 TL; DR: Founded in 1998 as a financial aid search engine, Scholarships.com has bloomed into a one-stop-shop students can peruse for a comprehensive breakdown of scholarship opportunities in STEM and other fields. Today, it's more than just a tool to locate funding. Scholarships.com also provides students the resources they need to ensure a smooth transition into college life. We recently caught up with COO Kevin Ladd, who told us how the site helps more than 16 million registered users discover brighter futures through financial assistance.
It's no secret: College is expensive, and, in one form or another, we all need a leg up. But what happens when the student loans intended to launch your career send you spiraling down a rabbit hole of debt? Sure, you can claw your way out eventually, but the cost burden can be oppressive.
According to recent data from the Federal Reserve Bank of New York, US student loan debt had ballooned to $1.3 trillion by the end of 2016, and it shows no signs of stopping. While scholarships and grants can deflect at least some financial doom, finding programs you're qualified for can be a tall order.
Enter Scholarships.com, a directory of more than 3.7 million college scholarships and grants that quickly matches user profiles to scholarships via the site's robust search algorithm. Users can also browse through numerous categories on their own, from opportunities based on artistic and athletic ability to those targeted around academic majors.
Students pursuing degrees in science, technology, engineering, and math (STEM) fields, for example, can often find considerable financial aid opportunities to offset educational costs. But opportunities certainly don't end there.
"There may be four, five, a dozen, or two dozen new scholarships submitted for inclusion in the database on a daily basis," Scholarships.com COO Kevin Ladd told us.
And, since day one, the company has been focused on making sure that information is both relevant and accurate.
"One of our top priorities is to manage the data," Kevin said. "You have to be sure you are constantly QCing the database to ensure it is providing good information for the students."
Now nearly 20 years old, the site is constantly evolving to keep step with the industry. Today, Scholarships.com not only offers students $19 billion in financial aid opportunities, but also leverages its relationships with colleges and universities nationwide to supply detailed information on topics such as tuition, admission requirements, and degree offerings. Significantly more than a search engine, Scholarships.com now provides users with the resources they need to navigate the often-unfamiliar maze of college admissions and funding.
Keeping Pace with a Shifting Educational Landscape Since 1998
Scholarships.com was founded in 1998 as a digital alternative to the bulky resource books of the past. As search engines advanced, the team realized an online scholarship directory could free students from having to thumb through pages for hours on end.
"We thought, well, if you could do basically a Match.com for scholarships — if you could just plug in a profile, what would that look like?" Kevin said.
So they started from scratch and began reaching out to the organizations offering scholarships.
"They were mostly nonprofit in nature, and some were very geo-targeted, like the community foundation of Michigan," Kevin said.
Others, such as The Patrick Kerr Skateboard Scholarship program, established in memory of an honor student with a passion for skateboarding, are less conventional.
"There's all kinds of different scholarships that don't really have anything to do with college, except they are there to help you pay for whichever one you wanted to go to," Kevin said.
As the team built its database into a vast catalog of scholarships and grants, it was also forced to roll with the punches in terms of web design. In the early 2000s, the group's goal, design-wise, was to ensure site compatibility with NetScape Navigator and Internet Explorer. But it wasn't long until Safari, Firefox, and Chrome joined the browser bandwagon, and raised compatibility concerns that were further compounded by mobile optimization requirements.
"The constant struggle for web designers and front-end developers ever since then — and even more so now, maybe — is finding a way to create a perfect, responsive website that looks good no matter what device you pick up," Kevin said.
At the same time, financial constraints in the college education market were making Scholarships.com increasingly relevant.
"It's like a perfect storm, Kevin said. "When people in the upper middle class who have three kids can't afford to send their kids to school, and they have to have scholarships — that's how you know there's a problem."
An Engine Featuring Nearly 4 Million Scholarships and Grants
Building and maintaining Scholarship.com's handcrafted database is no easy task. Kevin told us the platform isn't automated because there's too much at stake to remove the human component.
"That challenge, of course, involves hiring people who are intelligent and know how to vet all of the scholarships to make sure they are a good opportunity for the students, include all dates and deadlines, and ensure that we're providing the essential information for them to determine whether they should apply for that particular scholarship," Kevin said.
Today, the site has millions of entries, and the team at Scholarship.com makes it a point to review them individually. The goal, Kevin noted, is to achieve 100% accuracy when it comes to the information published on the platform.
Scholarship.com strives to keep the listings fresh, with daily additions and updates geared toward careers in STEM fields, among others. A quick look at the site's scholarship directory, which feature awards for students pursuing degrees in Applied Science & Technology, Computer Engineering, Computer Science, Information Systems, Web Design, and more, speaks to this. From scholarships for women in web security to awards for Pacific Islander Americans majoring in STEM, there are plenty of options on the table.
Compare 4,000+ Schools to Find a Tech Program to Suit Your Needs
Over the years, Scholarships.com has built connections with colleges and universities across the country, and those relationships are largely symbiotic.
"Colleges want — and need — to work with us to get legit, warm leads of people who want to go to their schools because they're competing fiercely with each other," Kevin said. "There are too many schools competing for too few kids for too much money."
These relationships also keep the site free to users. Kevin told us the schools pay Scholarships.com to promote campaigns and to obtain data on students who want to hear about their programs.
Scholarship.com's direct relationships with admission and enrollment departments also open up opportunities for schools to recruit students.
"Right now they're targeting high school seniors, and freshman and sophomores going to two-year schools, for transfer opportunities," Kevin said.
Perhaps most importantly, colleges and universities supply the site with detailed information on tuition, admissions requirements, varsity teams, degree offerings, student enrollment, and more, making it a breeze for students to compare institutions in the search for their dream school. Looking for a four-year institution in North Carolina with a leading computer and information science program? The site's search algorithms make narrowing your choices a snap.
The Goal: To Deliver Financial Resources to Students and Educators
While Scholarships.com was initially launched as a database of information on scholarships and institutions, the company soon expanded in a thought-leadership capacity, offering academic calendars, reference guides, checklists, and other resources to students approaching higher education — as well as the educators, counselors, and parents helping them get there.
In addition, the site's blog provides direction for those new to the college experience, with topics geared around preparing for college and coping with college life.
"It became a little more nuanced," Kevin said. "We started building more and more content, hired writers to write about how to move into a dorm, how to pick your roommate, et cetera."
After all, the transition to college is a significant milestone for most students.
"We are trying to quell some of the fears and the anxieties for students who are going to be living by themselves, or with another 18-year-old, with no parents around," Kevin said.