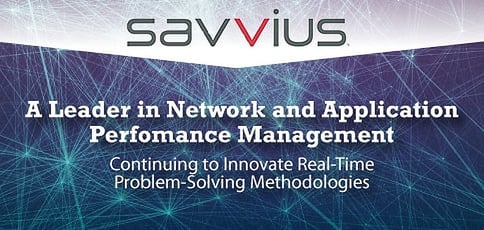 TL; DR: As a leader in network and application management for nearly three decades, California-based Savvius has both adapted to a changing market and dictated its future. Rooted in protocol analysis, the company has grown to support more than 6,000 customers worldwide in troubleshooting, real-time monitoring, and insightful analytics resulting in a reduction of mean time to resolution (MTTR) through actionable network visibility. Over the years, the company's portfolio has grown increasingly comprehensive without showing any signs of stopping. We recently spoke to Jay Botelho, Senior Director of Products at Savvius, who delivered the scoop on the company's evolution and continued dedication to innovation.
The evolution of Savvius from infancy to its place in the modern tech world is, in essence, a coming-of-age story. The company wrote the rules of its business as it grew, allowing for experimentation with different identities along the way. It was founded in 1990 by Mahboud Zabetian and Tim McCreery as AG Group, a software company focused on protocol analysis.
"We were originally founded as a software company, and we still consider ourselves a software company today, founded on the basis of the simplicity of protocol analysis," said Jay Botelho, Senior Director of Products at Savvius. "That's really where things started."
AG Group began offering a PC-based protocol analyzer for ethernet networks and soon changed its name to WildPackets Inc. Back then, the only tools available for protocol analysis were command-line oriented and DOS-based.
"So Savvius — WildPackets at the time — developed the first graphical protocol-analysis solution based on Mac and not Windows," Jay said.
Things took off from there. Jay told us that stack continued to build, and Savvius conducted deeper decodes of the packeting in the protocols.
"It became a complete protocol analysis solution," he said.
Soon, protocol and driver designers, as well as small, medium, and large companies started using the tool for network troubleshooting. As Jay noted, users could actually look at all the traffic on the network, decode it, and quickly solve complex problems.
The company then expanded to include a wireless offering. "When 802.11 started to become popular we offered the first wireless protocol analysis solution out there," Jay said. "A little later in the decade, around 2003-2004, we saw a major transition in the company where, instead of offering only software that one would run on their own, we started to offer software that could be embedded into the network in different areas, so you could do continuous network monitoring."
Up until that point, the software was typically installed on laptops and plugged into network devices for troubleshooting. However, Savvius realized there was a strong market for allowing organizations to run this software 24/7 in the network and constantly monitor traffic and capture network data.
So, in 2015, WildPackets reinvented itself once more, changing its name to Savvius and placing increased attention on network security.
"Today, although we still consider ourselves a software company, we sell a range of high-end appliances that are designed to be wrapped and perform network monitoring and analysis on an ongoing, 24/7 basis," Jay said.
Packet data is key to that service, whether monitoring is done from a performance or security point of view.
"It's the one true source of information on the network," Jay said. "Everything we do takes the perspective of having the ability to capture, analyze, and store that actual packet data on the network at very high speeds."
Cut MTTR with Actionable Network Visibility Trusted by 6K+ Enterprises
Today, more than 6,000 customers in 60 countries depend on Savvius for not only complete but actionable network visibility that reduces mean time to resolution (MTTR) when dealing with performance and security issues.
"It's truly an amazing thing in terms of the ability that we are able to provide to solve problems so much more quickly," Jay said. "In the end, that's what it really comes down to."
Jay said it's not uncommon for Savvius customers — who span a range of sectors including healthcare, banking, retail, education, pharmaceuticals, manufacturing, and government — to vouch for the product at annual trade shows.
"It never fails to amaze me — the customer will come to the booth talking about the improvements we bring to their workflow and how much more quickly they can solve problems with our solutions and start advocating for it to other prospects in the booth," he said.
Savvius prides itself on delivering actionable visibility. And, as Jay noted, this involves four key aspects: acquire, monitor, analyze, and retain.
"We acquire all of the network packets, all of the actual data on the network; monitor those packets very quickly to provide core and user functionality in real time; analyze post-incident to really get into the depth of protocol analysis, should that be necessary; and retain, saving that data on an ongoing basis, whether it's metadata or the packets themselves," he said.
Savvius Omnipliance and Omnipeek: A Robust Network Analysis Portfolio
The Savvius solutions portfolio includes Savvius Omnipliance, an industry-leading packet capture appliance; as well as Savvius Omnipeek, software used for network analytics and diagnostics.
Omnipliance, designed using the company's vast packet intelligence expertise, enables real-time and post-event network analytics at up to 20 gigabits per second for 1G, 10G, and 40G networks.
"Omnipliance is there in the background capturing all the data," Jay said. "Omnipeek is that window into the packets themselves — into the actual detailed network data that you're not going to analyze at 20 gigabits per second."
Omnipeek makes it easy to analyze segments of that data for enhanced problem solving.
"Where Omnipeek plays into that is when the end-user, IT manager, or network engineer needs to dig into the network data itself," Jay said. "What does it look like packet by packet? Is the network acknowledging requests very quickly, but the application is taking a long time to respond to those requests? You can see all of that through Omnipeek."
Savvius Omnipliance Ultra: Packet Capture & Analysis with Spotlight
Key to network performance investigations is Savvius Spotlight, software that provides actionable network visibility for performance monitoring.
"The issue we have seen with most network performance management and application performance management tools is, in some cases, they do too much analysis," Jay said. "With all that data, the user still has to know what they're looking for."
Spotlight takes a more targeted approach. The goal is to shine a light on an organization's problem areas.
"For example, we focus on application latency, network latency, utilization, and overall quality of the network connection — those are the four things that we analyze in detail at 30-plus gigabits per second," Jay said.
The software allows network engineers to be on constant lookout for undesirable outcomes.
"It's like a red beacon," Jay said. "It's called a spotlight for a reason; it puts the spotlight on the problems so the end user can say, 'OK, there's the problem, now I want to use Omnipliance to see what exactly is going on in that area, what the packet data looks like for that user or for that subnet, and why are they experiencing those problems.'"
Omnipliance Ultra combines Spotlight with Omnipliance for the ultimate in packet data capture and analysis.
"The beauty of it is you can take Spotlight and run that same software on an Omnipliance — we call that Omnipliance Ultra — so it's all one package, the overall monitoring and then the packet storage capability," Jay said. "Or, you can separate them out. It all depends on the use case for the customer."