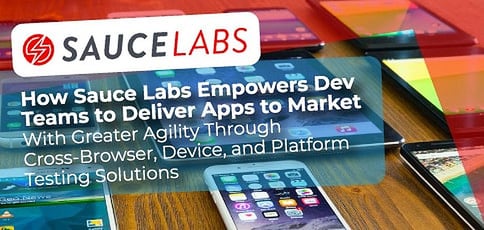 TL; DR: Sauce Labs, which was founded in 2008 by Jason Huggins, the creator of the industry-standard software-testing framework Selenium, is set to blow out the candles celebrating its 10th anniversary in 2018. Since its inception, the company has been providing automated testing solutions for web and mobile applications, offering cost and time savings that outperform traditional in-house testing methodologies. We recently sat down with Senior Director of Marketing Bill McGee, who told us Sauce Labs is committed to continuing its goal of empowering teams to deliver high quality apps to market faster.
The modern software industry is a high-pressure space where quality and pace directly correlate to a company's success or failure. However, speeding up development lifecycles for the sake of being first to market can sometimes have a detrimental effect on software quality and functionality.
As a result, many organizations are seeking to become more agile in their approaches to product development. And integral to any agile methodology is a robust testing, iteration, and feedback stage to ensure applications are performing and functioning seamlessly across the platforms on which they're built to run.
For the past decade, Sauce Labs has been delivering a cloud-based continuous testing platform that enables dev teams and businesses to accelerate development lifecycles while ensuring high-quality software builds.
"Speed and quality are a competitive advantage," said Bill McGee, Senior Director of Marketing at Sauce Labs. "There is no shortage of statistics on how quickly people will abandon a website or mobile app if it doesn't work the first time."
Bill told us the company's continuous testing cloud solves for both development efficiency and quality assurance. The solution works across platforms — supporting an exhaustive list of browsers, operating systems, mobile devices, simulators, and emulators.
Faster & More Reliable Testing Leads to Better UX and Higher ROI
Since its inception a decade ago, Sauce Labs users have completed over 1.6 billion tests. Bill told us many of the companies that turn to Sauce Labs not only improve time to market, but that testing continuously throughout the development cycle also helps ensure they're rolling out the best iterations of their applications.
The result: The user is guaranteed a better experience, which is crucial to the success of not only an app but a business
"There's the potential for a negative impact on a brand's image if someone has a bad experience with a website or mobile app," Bill said.
But, with the Sauce Labs Continuous Testing Cloud, businesses can ensure they're delivering optimal customer experiences. One example, Bill noted, came with a large, omnichannel retailer that leveraged Sauce Labs' testing framework to ensure additional platform and OS coverage.
"By adding just one additional browser and OS combination that had not been included in their test coverage, the retailer was able to generate a significant increase in revenue," Bill said. "Now, an additional segment of its buying audience is able to successfully use their application. There really are competitive and branding benefits to ensuring your software works across as many different device, browser, and OS combinations as possible."
Don't Just Check Boxes: Continuous Testing is the Way to Go
Sauce Labs operates with the goal to empower development teams to test as fast as they can code ideas. And the automated nature of the company's solution enables such speed. The company's Continuous Testing Cloud allows developers and QA automation engineers to kick off tests at every stage of the development cycle, ensuring no stone is left unturned before an application is launched.
Bill sees Sauce Labs' service as not only a competitive advantage, but also as a tool with the potential to have significant impact on revenue.
"Working with a clipboard or an Excel worksheet and just running down a list of 'go to this page, click this button, type in this text' is no longer an effective way to approach testing," Bill said.
Bill told us testing is non-negotiable — apps must be tested. The difference is whether you surmount the financial, technical, and logistical hurdles to do it yourself, or vend it out.
"You can either hire an army of manual testers or maintain your own test infrastructure," he said. "There's definitely an advantage to outsourcing things that are not your core competency and focusing resources on adding more developers, creating cool new features, and expanding your coverage so that more customers or prospects are able to use your product."
The Sauce Labs platform offers thousands of virtual machines and real mobile devices so that automated tests can be run on demand and in parallel without the costs and technical complexities of building an internal test lab. Tests can be written and run using Selenium, Appium, Espresso, or XCUITest scripts. The results of your app tests are presented in numerous ways accessed via a dashboard.
A video recording of the entire test session lets you see your app in all the different browser and operating system combinations, emulators and simulators, and real devices with which Sauce Labs' platform is compatible. Users can see the details of every executed command along with screenshots for every command, as well as logs and metadata. Advanced test analytics offer deep data and statistics for every test run so that your team can evaluate with specificity your app's performance across all test environments, and help developers debug much more quickly.
Moving Beyond the Limitations of a Selenium Grid
Creating a Selenium grid in-house is an available means of building and hosting a test infrastructure, allowing you to distribute test execution across several virtual means, each with a different browser and OS combination. But, while this is a workable alternative, it can also be limiting.
A Selenium Grid can't be maintained effectively without constant, labor-intensive updates. For example, if Firefox or Chrome auto-release an update, then at least one image in the grid needs to be rebuilt; typically it's many more than one image. Of even greater consequence is that the maximum number of nodes you can have on a Selenium grid is 50.
"We've got customers who are spinning up hundreds of concurrent sessions across multiple browsers and operating systems and they can't be harnessed by the fact that the infrastructure is limited to 50 sessions," Bill said.
Sauce Labs offers more than 800 browser and OS combinations, over 200 emulators and simulators, and upward of 2,000 real devices, all available for simultaneous, automated testing of your app. Even using Selenium, Sauce Labs isn't subject to the usual 50 nodes limitation because the company has built its own special cloud servers to execute testing instances.
"We don't use a shared public cloud like AWS or Azure," Bill said.
That also directly impacts the security of your app and its data.
"We maintain our own data centers, which gives our customers a high degree of confidence from a security standpoint," Bill said. "We completely tear down the virtual machine at the conclusion of each test, so your test data would never be exposed to another user. The approach we take toward maintaining our own data center and the security it delivers satisfies the requirements of some of the world's largest financial institutions, the US government, and other enterprises with rigorous data and privacy concerns."
A Test Automation Veteran Celebrates a Decade in Business
Celebrating its 10-year anniversary in 2018, Sauce Labs is a veteran in the industry. Moreover, the company actually invented much of the modern testing technology on the market today.
"One of our co-founders, Jason Huggins, was the creator of Selenium," Bill said. "Selenium is a framework for automating browser interaction. With it, you can essentially automate front-end testing to ensure that your website or your application is working across different browsers and different operating systems. The WebDriver protocol is on track to become the W3C standard later this year, which is a huge milestone for Selenium."
Bill told us it's also useful for taking very large tests and breaking them into bite-sized chunks and running them in parallel. That way, developers can get their testing done in a matter of minutes instead of drawing out the process.
"At the time Sauce was founded, there was a company by the name of Mercury Interactive, which was purchased by Hewlett-Packard," Bill said. "Mercury was only Windows-based. They didn't have anything to do with Mac OS, and it was a very big vendor lock-in. It wasn't open-source. When Jason needed to come up with a name for his project, he chose Selenium because the element selenium is an antidote for mercury poisoning. We thought that was pretty clever."
Selenium is now the standard and is open-source for cross-browser testing — just as its companion automation and testing framework Appium is for mobile testing. Appium, which came from iOSAuto, is built using Selenium-style syntax for app testing. Sauce Labs backed Appium in 2013, releasing a new iteration that replaced the old Python version. Thus, Selenium is in the DNA of Sauce Labs.