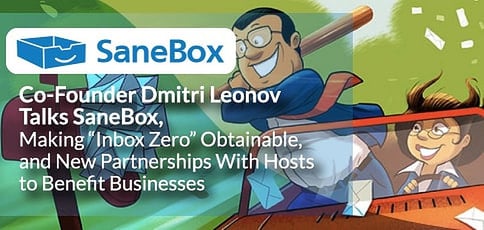 TL; DR: Streamlining your inbox into a stress-free zone is an attainable goal with SaneBox, an email management service that integrates seamlessly with multiple platforms, including Gmail, Yahoo!, Outlook, Apple iCloud, and Office 365, among many others. By employing algorithms responsive to each individual user's needs, SaneBox takes a smart and simple approach to organizing your inbox in whatever way works best for you. With SaneBox's "SaneBots" on the job, users can abandon the hours once spent sorting, shuffling and filtering spam, and focus on responding to the messages that matter most.
When SaneBox entered the market in 2011, email had long been established as the dominant form of communication for businesses and individuals alike. And, as Co-Founder Dmitri Leonov put it, many people found themselves drowning in messages.
"One of the things we noticed was that some of the more prominent public people — bloggers, entrepreneurs, writers — had started to complain about their email volume," he said.
As the landscape of digital communication grows and evolves across the globe, keeping up with overflowing inboxes can be a stressor for professionals, small- and medium-sized businesses, and others who receive swaths of email on a daily basis. And many agree that the onslaught of daily messages is enough to drive a person to the brink of "email insanity."
And that's what SaneBox's email management platform was built to prevent.
"We saw email overload as a trend," Dmitri said. "We realized a solution to this was to analyze how you interact with your inbox — what you mostly open, what you respond to, and how quickly you respond and how often — to figure out what you think is important."
For those who receive dozens and even hundreds of emails daily, the concept of "Inbox Zero" may seem no less mythical than the fictional utopias of Camelot, Arcadia, or Shangri-La. But, with SaneBox, it can be a reality.
Email Management With Secure, Multi-Platform Functionality
Dmitri told us ease of use and security are the cornerstones of SaneBox's approach to email management. And a big part of simplifying implementation of the service is seamless integration with popular platforms, including Gmail, Outlook, Office 365, iPhone, and Android.
"The overarching feature is that it works anywhere you do email today," he said. "There's nothing to install locally and no change to your workflow tools."
On the security and privacy front, SaneBox examines only email headers — never invading the body of messages — to determine which should be prioritized, and organizes the rest into folders where they can be read later.
"The email always stays on your mail server, and so all SaneBox really does is look at headers and ask the server to move unimportant stuff into a separate folder and keep the important stuff in the inbox," Dmitri said. "By the nature of this architecture, we work with literally any email provider, any client, and any device because basically everything is just a folder in your email."
Most services authorize SaneBox without a password, while some, like Apple's iCloud, create a unique passkey just for SaneBox as an added level of security.
A Fully Customizable Solution Built to Work Specifically For You
Dmitri said the SaneBox team is committed to turning to its user base to determine what features are working well and what may be useful to add to the toolbox.
"We listen to customer feedback for pretty much everything," he said. "We do user testing, and certainly look at what's coming from our customers. We try not to build things that we want to build, but really what our customers want us to build."
By employing sensible algorithms, SaneBots are trained by each user's email habits to work behind the scenes prioritizing messages. As a result, users only see the most important emails in their inbox, daily, while non-urgent messages are delegated to a SaneLater folder.
The SaneDigest provides a daily, hourly, or customized summary of unread messages with which users can interact to teach SaneBots which emails are most important.
SaneBox also features a SaneNews folder specifically for newsletters and mailing list items, as well as the SaneBlackHole, which captures all current and future inbox items from senders you'd rather not hear from again, and eventually sends them to the trash — a safer, quicker and easier solution than unsubscribing. The SaneNoReplies folder holds copies of sent emails until users receive a reply from each recipient.
SaneBots monitor users' spam folders, scooping up any items that may have been mistakenly filtered as spam and delivering them to the SaneNotSpam folder. SaneBox ensures those items are included in users' Daily Summary.
"Nobody is really doing this across the board for any platform," Dmitri said. "Two months after we went into beta in 2011, Gmail launched Priority Inbox, which is their version of email filtering. At the time, we had about 100 users in beta."
Dmitri said half of SaneBox's users left when Gmail launched its management solution. But they weren't gone for long.
"Pretty soon, most of them came back because they found — and we still see to this day — that Gmail's algorithms aren't as personalized," he said. "They seem to take a global approach, whereas we look at your individual behavior."
New Partnerships With Hosts Deliver Value-Adds to Businesses
The list of partners and business that trust SaneBox with email management speaks to the efficacy of its service. Professionals from eBay, Groupon, HootSuite, LinkedIn, and TechCrunch, among many other companies, swear by the boost in efficiency SaneBox delivers.
Dmitri told us SaneBox is now partnering with hosting providers to add value to web hosting packages and tiers of service.
"One of the things that jumped out at me is that for anybody who's really working in the hosting space and around email, there are really three categories of concern: email migration, security, and email archiving," he said. "But hosts haven't really been offering email management as part of their plans."
After returning from the recent Cloud Fest conference in Europe, Dmitri realized that hosts were very receptive to the kind of value-add a service like SaneBox could bring to their offering. Standing out in the crowded hosting market where most providers bundle similar services together is a tall order. But SaneBox is helping make differentiation a bit easier for hosts.
"The kind of enthusiasm we saw was surprising but really heartening to see," he said. "SaneBox is really solving a problem. The people who came up and talked to us saw how we can help their customers and add a lot of incremental revenue to their bottom lines."
Dmitri noted SaneBox's goal in the hosting space is to allow partners to deliver perks site owners and online businesses can leverage to streamline their operational efficiency.
"We're not just replacing something every host already has, like archiving and security, but providing an opportunity to get more of a share of wallet from their customers," he said.
A Company Culture That Understands the Importance of Communication
SaneBox emerged as a concept in 2010, a time when popular business models were just approaching the cusp of a new age in globalization. Today, the company leads the way in defining remote business culture, and believes firmly that thoughtful communication practices lie at the root of successful collaboration.
"The core engineering team that built the product worked together before and moved away to be closer to their families. We really embraced remote work culture from the beginning," Dmitri said. "Seven years ago, working remotely was kind of looked down upon, but nowadays more companies are open to this — especially engineering firms. Engineers love being able to wake up and walk 10 feet to their desk and be able to pick their kids up after school. That's really helpful."
While SaneBots are hard at work maintaining their inboxes, busy professionals now have the time to truly focus on the people, partners, and messages that matter most. Thanks to SaneBox, inboxes can be a tranquil communications space.
"There's something that happens the minute you sign up, and all of the sudden your inbox was 5,000 and now it's more like 50," Dmitri said. "You just see how all that noise is in its place, and you can delete it all in bulk, keep it, or do whatever you choose to with it. There's kind of an emotional thing that happens where it feels really light. It's hard to describe the kind of happiness you experience."
If you're interested in getting up and running with SaneBox email management, HostingAdvice readers can enjoy a $15 discount by clicking here.
Advertiser Disclosure
HostingAdvice.com is a free online resource that offers valuable content and comparison services to users. To keep this resource 100% free, we receive compensation from many of the offers listed on the site. Along with key review factors, this compensation may impact how and where products appear across the site (including, for example, the order in which they appear). HostingAdvice.com does not include the entire universe of available offers. Editorial opinions expressed on the site are strictly our own and are not provided, endorsed, or approved by advertisers.
Our Editorial Review Policy
Our site is committed to publishing independent, accurate content guided by strict editorial guidelines. Before articles and reviews are published on our site, they undergo a thorough review process performed by a team of independent editors and subject-matter experts to ensure the content's accuracy, timeliness, and impartiality. Our editorial team is separate and independent of our site's advertisers, and the opinions they express on our site are their own. To read more about our team members and their editorial backgrounds, please visit our site's About page.