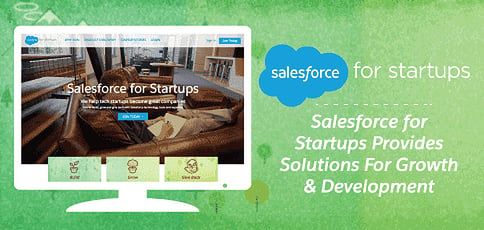 TL; DR: Julia Barrett knows startups. She recognizes their need to stay ahead of the curve and continuously innovate, but also realizes many may not have access to, or know of, the tools to best help them succeed. So, she created Salesforce for Startups. Julia poured her heart and soul into this program aimed at helping emerging companies make decisions on the products and solutions that will best help them build and grow. Salesforce for Startups offers self-service guidance on tools beneficial to businesses at any stage of development, from Build to Growth and on to Giving Back to the community. With plans to grant an easier path for startups to get in front of more than 150,000 enterprise clients in the AppExchange Marketplace, Salesforce for Startups is an ideal venue for new companies looking to develop and scale their businesses.
The world of the startup is fast-paced with goals always centered on what's coming next and how to keep moving forward to stay competitive. The team at MasterTech is all too familiar with this fact. One of the almost 60 startups growing in Cubo, Brazil, MasterTech operates with the goal to grow by 50% each quarter by pumping out new web and mobile applications for their clients within 8-week build cycles. That's a tall order when trying to manage multiple enterprise-level clients.
"I chose Sales Cloud to organize my leads and all the opportunities we are having," said Felipe Barreiros, MasterTech's CEO. "The CRM is a much better tool than just an Excel spreadsheet. When a project is sold, we know who's going to take it."
Sam Vasisht, CMO of AI startup MindMeld, has found the same to be true for his company. With long development and rollout cycles and a customer base extending into the many thousands, his company needed solutions to manage and market their products to the right people.
"Because we need to pick and choose customers who are suited to us from this very large base, it takes many touchpoints for us to really identify who the right prospects are," he said. "We use Pardot for marketing automation, content marketing, outbound marketing, and tracking so we can measure and qualify prospects before handing them over to sales."
Mastertech and MindMeld are ideal examples of startups who have found the right tools to help build and scale their businesses. Though, the quest to find the right products ideally suited for a startup's specific needs hasn't always been easy. Salesforce for Startups provides a solution.
"I understand how startups operate. I understand the small team dynamics of five or six people sitting around a table figuring out which products they're going to use," said Julia Barrett, Global Program Director of Salesforce for Startups. "Our goal is to create awareness for startups of the best possible products available that best suit their company's stage of development."
Launched to Raise Awareness of Solutions Relevant to Startups
Salesforce for Startups was launched at Dreamforce '14 after a realization that some of Salesforce's products being employed by enterprise clients could really benefit small, emerging companies. The problem? Many of these startups only knew Salesforce for their flagship CRM.
"The program is really necessary," Julia said. "Salesforce provides customers, like Coca Cola, Virgin America, and ADT, with access to all the great things our customer success platform offers, but those stories are one or two steps beyond what startups actually need."
Julia and her team found the startup community wanted to use Salesforce products, but they either just didn't know how to employ them, or didn't really know which would be right for them.
"Whether they're still trying to choose a platform, or they're at a growth stage and trying to think through customer service or marketing automation, we have a lot of these tools startups aren't even aware of," Julia said.
The solution was to create a centralized, self-service platform to empower the startup community to make educated decisions on the products right for them. That, Julia said, was the foundation of the program. Salesforce for Startups operates with the goal of educating startups so they understand Salesforce is much more than their famous CRM. The program presents what is relevant to startups and eases the decision-making process.
Resources Drive Product Discovery at Any Stage in a Startup's Journey
The beauty of the Salesforce for Startups program lies in how its resources are organized. Companies need different solutions at different stages in their development. Salesforce for Startups recognized this and laid out their program accordingly.
"The program is international, and terms, like "early stage," for example, mean different things in different countries," Julia said. "So, we looked at the products we actually thought were relevant for startups, and it made sense for us to break them out into Build, Grow, and Give Back."
The program is available to make it easy for many different types of companies to consider Salesforce at the product discovery stage. To become a member, startups are asked a series of questions during signup and asked to identify themselves as a tech entrepreneur, a SaaS, or consumer startup. Most members of the program identify as tech startups, but, as Julia pointed out, other types of businesses can also take advantage of the resources offered.
Identifying the Tools That Best Fit Your Needs Drives App Builds & Company Growth
Once businesses are signed up as members of Salesforce for Startups, access to resources is aimed at their stage of growth. Companies at the build stage can learn about how to prototype applications using platforms like Heroku and Force.com.
"You're ready to build an app and are thinking through which platform makes sense to you. We at least want to be part of the consideration," Julia said. "We want you to know Heroku is a Salesforce product. We want you to know that Force.com is a legitimate platform that can help you sell your product in the marketplace down the road."
On the growth side, Salesforce for Startups gives businesses information on products and tools to help scale their products and companies. Tools, such as Desk.com for customer service and Pardot for marketing automation, are presented so startups can make informed decisions about how to best market and grow their businesses.
"I want to empower startups to make a decision within 10 minutes," Julia said. "People don't want to cruise around a website to try to figure it out. We present all the relevant information in one place so they can see the products they'd like to explore more."
In addition to marketing and customer service solutions, Salesforce for Startups provides information on how startups can enter into the the Salesforce AppExchange Marketplace. Access to this marketplace puts applications in front of a channel of more than 150,000 enterprise customers — a place where every SaaS startup wants to be.
Introducing Philanthropy at an Early Stage Produces Big Returns
One of the tenets Julia insisted in baking into Salesforce for Startups was the Salesforce philosophy of giving back to the community. At the same time she was building Salesforce for Startups, Salesforce (alongside other technology companies, including Atlassian and Rally Software) had begun building out Pledge 1%, an effort to help startups integrate philanthropy into their business model at an early stage by pledging to give 1% of their equity, time, or product to charity.
"It was great we were starting at the same time," Julia said. "I was able to work very closely with their team to make sure they were the product behind our give back component."
Julia told us the goal was to promote Pledge 1% just like she's promoting products such as Heroku or SalesCloud. She said startups are almost always willing to engage in charitable giving and make it part of their culture. Though, many startups don't know where to start. Pledge 1% gives them the information they need to get up and running with charitable efforts.
Surprisingly, giving back can result in big returns in both recruiting and image in the eyes of prospective customers.
"More and more, millennials are making employment decisions based on how good they're going to feel at a company," Julia said. "It's a differentiator for retention and for customers. As a consumer, I'm much more apt to go with a company I feel good about supporting — even if they lack one or two features another company provides."
Another misconception Julia said she has been confronted with is that people think investors won't support charitable giving for startups. However, she noted the opposite is true.
"Giving back tells investors you're in it for the long haul," she said. "If you're thinking about giving back something that you think will be worth something later, like 1% of your equity, it sends a good message to your investor that you plan on that 1% being worth something someday."
The Future: More Product Integrations & an Easier Path to AppExchange
With integrations of more products into their portfolio on the horizon, Julia is excited about the future of Salesforce for Startups.
"Two years ago, we launched our Wave Analytics platform. It's a very powerful analytics platform, but at the time it wasn't really right for a startup," Julia said. "Now, the platform features, pricing, and UI are at a point where it makes sense for startups to take advantage of it. A few of our startups tested it out, and they really like it, so we're going to add it to the products we recommend for growth."
One prospect that has many members of the program talking is obtaining easier access to Salesforce's AppExchange Marketplace. The program has historically been difficult for startups to onboard; however, the AppExchange Marketplace team is working closely with Julia's team is working hard to smooth the path and make the process easier.
"In the near future, we'll be able to promote the AppExchange Marketplace to the startup community more proactively," she said. "I hope to educate startups on how they can build an app on Force.com and publish it there to provide value to our 150,000 customers."
Julia expects the expansion of Salesforce offerings for startups to continue. Her goal is to show there are useful products available to startups across their entire journeys — whether they're building or growing.
Startups Reap the Rewards of Years of Hard Work Put Into the Program
The past year brought Julia many "proud mom" moments. The program she helped launch and poured her heart and soul into is now showing some very big returns.
On a recent trek around Europe to gauge this success, Julia found startup communities thriving and putting the knowledge obtained on Salesforce for Startups to use. She heard stories from numerous venture capital firms in Lisbon that conveyed astounding responses from the startup B2B community.
In Amsterdam, she participated in a brainstorming and networking session with a host of startups and a Salesforce Enterprise Sales Account Manager. The Account Manager, who has relationships with massive companies throughout the Netherlands, proved to be a valuable source of information. Julia told us the startups were able to pick his brain to see how they might gain access to some of those large companies.
Overall, the big takeaway Julia obtained from her journey was hearing all the success stories from these startups.
"The trip was very motivating for me," she said. "It showed me the last two years of hard work is really starting to pay off. We really are showing startups how to employ the tools to effectively build and grow their businesses."
Going forward, Julia hopes to feature more success stories on the Salesforce for Startups website. Stories, like those of MindMeld or MasterTech, show just how valuable Salesforce's tools can be for emerging companies. She wants startups to know Salesforce is more than the flagship CRM.
"If you look at our site, there's a map that contains our startup success stories," she said. "In this next year I want to double down on that. I'm calling it Project Map. My personal goal for next year is to flood the map with stories of companies we've helped."