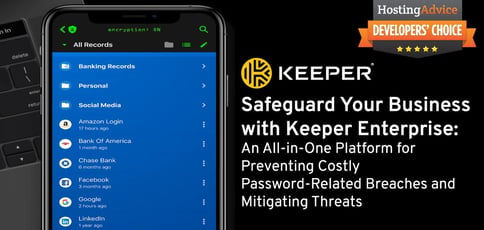 TL; DR: Keeper Enterprise is a cybersecurity platform designed to prevent password-related data breaches at enterprise scale through simple and affordable management solutions. The user-centric approach includes an intuitive admin console and 24/7 hands-on support, empowering employees to take ownership of security — which is why it's earned our Developers' Choice endorsement. To ensure onboarding is easier than ever, Keeper is currently focused on making the migration process from other password managers even more seamless and secure.
Online threats may be increasing in magnitude and frequency, but that doesn't mean businesses are prepared. According to Keeper Security's 2019 SMB Cyberthreat Study, 60% of senior decision-makers at SMBs say they do not have a cyberattack prevention plan, and only 9% of businesses rank cybersecurity as a top priority.
The same research shows that even though 67% of SMBs experienced a cyberattack in the last year, leaders continue to underestimate online risk, with 66% of respondents saying they believe a cyberattack is unlikely.
"Another really shocking thing that we learned from this study is that few can identify within a business whose job cybersecurity actually is," said Craig Lurey, CTO & Co-Founder of Keeper. "So, if there is a lot of confusion about who is responsible for cybersecurity and also misconceptions about its importance, it's easy to see how roughly 3 out of 4 companies are being attacked."
The study, carried out online between June 28 and July 5, 2019, in partnership with YouGov, also found that CEOs, Chairs, and Owners were more likely not to know company password policies, despite the fact that 75% of companies have systems in place to encourage or require that employees update them regularly.
Keeper Security, a cybersecurity platform designed to prevent password-related data breaches through simple and affordable management solutions, was founded to help businesses mitigate these threats. With Keeper Enterprise, the platform can be deployed at the enterprise scale, supporting large and complex environments. Now, to streamline the onboarding process, Keeper is focused on making the migration process from other password managers even more seamless and secure.
At the Forefront of Password Protection and Management
Keeper Security, based in Chicago with offices in California and Ireland, was founded in 2009 by Darren Guccione, CTO, and Craig. "We strive to be product-centric and very hands-on as co-founders — we invented the technology and continue to manage the engineering and design to ensure the most secure and easy-to-use product," Craig said." As a company, we are constantly tracking cybersecurity and tech trends to grow Keeper and adapt to the changing market."
While many associate password management with the consumer use case, Craig said Keeper Security is a superior password hosting platform for larger companies, in part, because it provides the auditing, analytics, and reporting tools businesses need to maintain compliance standards. Specifically, Keeper Enterprise supports industry compliance with HIPAA, DPA, FINRA, and GDPR, among other standards.
"In addition to SMBs, we're seeing entire governments and municipalities suffering from cyberattacks right now," Craig said. "Meaning it's not something that's just affecting consumers or small businesses — it's affecting everyone."
Aside from compliance, Keeper Enterprise meets the requirements of large companies with robust features such as advanced integration with Active Directory, SSO, SCIM, and developer APIs for scalable user provisioning. Role-based access controls allow leaders to customize permissions based on the roles and responsibilities of team members, while advanced sharing capabilities empower users to manage records and encrypted folders across teams.
Employees can also create separate Keeper Vaults for business and personal information and easily switch between them on an unlimited number of devices. Beyond just passwords, employees can encrypt and store any data in their vaults, including digital certificates, private keys, codes, lists, notes, confidential documents, and media files.
An Intuitive Admin Console and 24/7 Support
Craig told us that Keeper's admin console is a fan favorite in that it provides IT admins and security professionals with the ultimate in security protection while ensuring rapid development and easy employee adoption.
There is no upfront equipment or installation cost, and easy integrations make setup a snap. "The admin console makes it so easy to set up and deploy that a business admin could do it," she said. "At the same time, it's incredibly secure."
Keeper is known for its Zero-Knowledge Password Management Solution, in which all information stored in Keeper is only accessible by the end user. All data the user sends to the platform is encrypted both in transit with Transport Layer Security (TLS) and at rest, and unencrypted data is never available to any third party, including Keeper Security employees.
"Whoever is administering the technology has zero-knowledge of your password and any information that you have saved, whether that's your work credit card, your personal credit card, your passport — anything that you would need to keep locked down," Craig said. "That zero-knowledge architecture makes it secure and ideal for businesses."
Craig said the company's robust support also serves as a significant differentiator for the company. Keeper offers 24/7 email and phone support, plus resources including white papers, case studies, webinars, video tutorials, and a comprehensive user guide.
"We often see users come over to us from competitors that have raised their prices multiple times in one year and still lack customer support," she said. "We're also constantly tracking cybersecurity trends, finding out what's new, and we're making sure that we're always on top of our game."
Empower Employees to Take Ownership of Security
Keeper Enterprise is also invaluable in terms of ROI. Research has shown that, on average, the impact of a data breach is approximately $3.86 million globally. In the U.S., the average cost of a data breach is even higher, totaling roughly $7.91 million in 2018.
"The amount of money you invest in making sure that your employee doesn't cause a data breach is worth the millions you could potentially save in the end," Craig said.
To that end, Keeper also empowers employees to correct their bad password habits, as opposed to reinforcing them. Craig said many employees use the same passwords for work as they do at home, which puts them at an even higher risk.
To mitigate the risk of data breaches, Keeper creates strong, unique passwords, stores them in a secure vault on all of the users' devices, and automatically fills them into sites and applications. The system also boosts employee productivity in that it eliminates the need to reset, reuse, and remember passwords.
"Cybersecurity starts with password security, and, if you have no idea how to start, this is the easiest way to do it," Craig said. "It's giving you a jumping-off point."
A Seamless and Secure Migration Experience
Moving forward, the Keeper team is focusing on how to make the migration process easier than ever.
Craig said customers are frequently compelled by Keeper's ease of use and affordable price points, so it's important to help them make the leap seamlessly.
"We're launching new, secure and seamless ways to migrate from other password managers to ours," she said. "We also have some other exciting things coming up, so keep an eye out for future announcements."