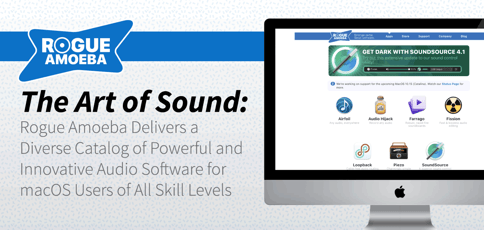 TL; DR: Boston-based Rogue Amoeba is a globally distributed software development company that delivers a comprehensive suite of audio-related tools for macOS. From recording and editing applications to soundboard and mixing software, the company's diverse product set was designed to meet the needs of hobbyists and studio technicians alike. With a commitment to continuous development and top-notch customer service, Rogue Amoeba plans to build upon its history of almost two decades in the industry.
Life as a unicellular, jelly-like mass may not appear all that impressive, but amoebas are fascinating creatures indeed. After all, few organisms have the ability to alter their shape for a variety of purposes, ranging from feeding to surviving harsh environmental conditions.
Considering these facts, it doesn't seem all that strange that a multipurpose software company would take on an amoeba as its mascot and namesake. Rogue Amoeba, a Boston-based company with offices around the globe, has developed a suite for Macs that features audio apps of many shapes and forms.
These include Airfoil, a home audio streamer; Loopback, a mixing tool; Farrago, a soundboard; Fission, an editor; SoundSource, a sound controller; and Piezo and Audio Hijack, two popular recording applications.
"We did give our company and products a bit of panache," said Paul Kafasis, who told us he goes by the title of CEO/Lackey to downplay the pretension of the former designation. "Our name alone is strange and eye-catching, as was our logo at inception. Even the name 'Audio Hijack' drew people in. But our main focus has always been on creating quality tools to help users."
Since its founding in 2002, Rogue Amoeba has focused on releasing products that anyone interested in audio — from home users to studio technicians — can appreciate. Along the way, the company has earned several awards, including 2018 Mac App of the Year for Audio Hijack. Moving forward, the company aims to further perfect its suite of audio apps through carefully considered upgrades based, in part, on user feedback.
Audio Hijack: Record Anything That You Can Hear on Your Mac
It was half a decade before the release of the first iPhone and well before the mobile app revolution when Paul founded Rogue Amoeba in 2002 with Alex Lagutin and Quentin Carnicelli. Software applications and independent software vendors had been around for ages, but still, Paul told us it was much less common to start a software company than it is today.
On Mac, however, there was a long tradition of quality third-party software development, including shareware and retail boxed software. "We wanted to situate ourselves somewhere between those two things, providing high-quality software without the overhead of physical products," Paul said. "The web, and online payment processing, really made that possible."
The popularity of Apple's iPod also helped Rogue Amoeba take off, as it sparked an interest in music and audio on the Mac. As makers of audio software for Macs, this put Rogue Amoeba in a prime position. In July 2006, as podcasts became mainstream, Rogue Amoeba released an update to its popular recording app, Audio Hijack, allowing users to record Skype audio.
"We made it easy to record both ends of a Skype conversation, and this really got us in front of a lot of users," Paul said. "The word of mouth from having a useful tool to help folks get started podcasting continues to benefit us to this day."
Today, Audio Hijack remains the company's flagship solution, allowing users to record audio from essentially any source on your Mac — from software applications and web streams to hardware, such as microphones and mixers. According to the company, if you can hear it on your Mac, you can record it with Audio Hijack. What's more, the application makes it easy to understand the recording process by visually demonstrating how audio will flow.
"Audio Hijack's ability to record any audio is the most interesting feature we offer, and it appeals to the largest number of people," Paul said. "It's a big hit with podcasters, but there are dozens of other smaller use cases for recording audio, and most anyone who hears about Audio Hijack thinks of a way they would use it."
Looking for a Simple Audio Recording Solution? Try Piezo
Audio Hijack was the company's first product and remains in active development today. And while Audio Hijack is about as robust as it gets, Paul said Piezo is essentially its little brother, serving as an entry point to the more powerful audio recording application. "Audio Hijack requires a bit more experimenting and learning, but it provides substantially more in the way of power and options," he said.
If you're searching for a super simple alternative to Audio Hijack, Piezo may be just the ticket. Paul said it's incredibly easy to use and saves time in terms of setup with one-click recording and a streamlined configuration process.
"Piezo was originally created to bring audio recording to the Mac App Store back in 2011," he said. "It was a very simplified version of Audio Hijack, designed to be very easy to use. With just a few clicks, you can record audio from a microphone, a web browser, or a VoIP app like Skype."
Today, Piezo is sold exclusively through the Rogue Amoeba website due to fluctuating rules and restrictions in the App Store. But since direct sales of third-party Mac software are still thriving, Paul said users find the technology.
"Still, Piezo really does serve as more of an on-ramp to our more powerful recorder, Audio Hijack, which dramatically outsells Piezo," he said. "Most folks who first learn of Piezo wind up purchasing Audio Hijack. That said, it's nice to offer a simpler option to get folks started. If that's all a user needs, that's OK too."
A Full Suite of Apps for Audio Editing, Streaming, and Mixing
Aside from its popular recording solutions, Rogue Amoeba has developed a collection of applications to meet the audio needs of Mac users. Airfoil, which is available for both Mac and Windows, empowers users to send audio from their computer to several devices through the home, including the Apple TV, AirPort Express, Google Chromecast, Bluetooth speakers, iOS devices, and other Macs and PCs, among other hardware.
"For a long time, Airfoil was our most popular product, and certainly our most fun," Paul said." It's frequently used by folks hosting parties who want to have music all over their house without needing to run speaker cables everywhere."
Another interesting app Rogue Amoeba offers is Loopback, a mixing tool that enables users to create virtual audio devices that can be used in real-time by other audio apps. Loopback is frequently used by podcasters looking to combine a microphone with other audio sources or gamers who wish to record gameplay with audio and commentary.
"With Loopback, it's possible to pass audio between applications on the Mac, with the application acting as a virtual mixer," Paul said. "It replaces the need for a lot of physical hardware, and it's been a real boon to a whole lot of audio professionals."
SoundSource, on the other hand, offers the ability to control audio from individual apps, improve quality using effects, and access settings for Mac's audio devices. "SoundSource 4 is perhaps our most broadly focused app to date," Paul said. "With it, users can adjust audio on a per-application basis (make a movie louder, or mute a web browser), and even apply audio effects, like an equalizer, to music from Spotify."
When it comes to the company's development efforts, Paul said Rogue Amoeba isn't tied up in the latest trends. "We're very slow to adopt new technologies or features, usually preferring to wait until they're more fleshed out," he said.
For example, when Apple unveiled Dark Mode in late 2018 as part of macOS Mojave, Rogue Amoeba exercised restraint. "Rather than dropping everything to implement this in all of our apps, we experimented with it a bit, and decided that we could add it more gradually," Paul said. "Now, nine months later, we're starting to ship updates that include Dark Mode support."
Continual Updates and Improvements on the Horizon
As for what the future holds, Paul told us Rogue Amoeba will continue to produce stable, feature-rich products. The company is always busy with updates on its full product lineup of audio tools and promises more improvements to come.
User feedback is an invaluable part of the company's development process, and the company's devoted support staff works diligently to keep track of input to guide future updates. When considering requests, Paul told us he often urges developers to seek out the root of a problem.
"Users will often come to you with a very specific request to suit their needs," he said. "However, that may not be best for your product, your user base, or even that particular user. The better you understand their problem, the better you'll be able to solve it."
In addition to striving to develop high-quality products, Rogue Amoeba is laser-focused on satisfying customers. "Over time, we've been recognized for it," Paul said. "That's always very gratifying, even if it's not something that is immediately obvious to most users."