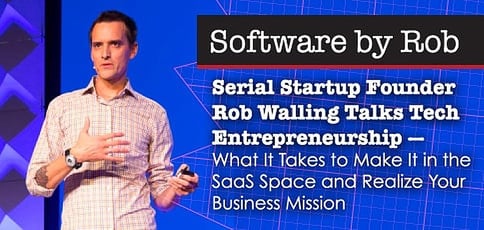 TL; DR: Nearly two decades ago, Rob Walling began a career in software development and soon discovered the space was ripe for entrepreneurship. After a few semi-successful endeavors, Rob found a winning formula with the launches of the successful SEO and email marketing companies HitTail and Drip. Today, Rob's on a mission to give back, and broadcasts his expertise in the SaaS startup space via his blog Software by Rob, books, podcasts, and speaking engagements to help inspire and educate aspiring tech-sector entrepreneurs. We recently sat down with Rob, who gave us the scoop on bootstrapping vs. fundstrapping, the future of SaaS, and how tomorrow's founders should chase freedom — not dollars.
In the early 2000s, Rob Walling was a software developer with an all-too-common problem. While he made good money, he didn't want to be nailed down to the everyday 9-to-5.
"I realized that working for other people wasn't going to be the ideal situation for me," he said.
He couldn't find a job that fulfilled him creatively, and he wanted more freedom than most companies were willing to offer employees.
Things started to change in 2005 when he read a post on an online forum. It was by a developer who had written an invoicing software and needed marketing help. When Rob checked out the developer's online demo, he so was blown away that he bought the company.
After fine-tuning the product, he got to a place where it made roughly $3,000 per month.
"It wasn't enough to retire on, but I asked myself, 'How many more of these do I need before I can quit my job?'" Rob said.
That's when he began to get serious about buying and launching businesses.
Soon, he made a value play that changed his life with a company called HitTail.
"With my last $30,000, I bought a SaaS SEO keyword tool called HitTail," he said. "By the time it was done growing, it was making about $30,000 a month, and most of that was profit. That was my first glimpse of the good life. I thought to myself, 'Wow, I make $200,000 to $300,000 a year.' It really allowed me to do different things."
But he ran into problems. Every six months, Google would change its algorithm and he would have to remake his product. With his entire livelihood based on one app, Rob said he felt like his future was anything but secure.
"I like challenges," he said. "So I started looking for the next idea. I wanted it to be bigger, but I knew I didn't want to raise funding. By thinking through the issues I was having with HitTail, I came up with a new idea."
The result was the email marketing firm Drip, which was a seven-figure business when he sold it in 2016.
Rob went from developing software to buying companies and hitting the jackpot. Today, he wants to show other striving visionaries how they can replicate his success through his blog Software by Rob, books, podcasts, and speaking engagements — and his strategies aren't the same connect-the-dots, fill-in-the-blanks game plans that many modern entrepreneurial guides suggest.
Not All Startups Need Venture Capital: Bootstrapping vs Fundstrapping
Nearly 20 years ago, when Rob first started trying to break out of his software development career, he spent his free time on personal projects.
"I was like most developers, building stuff on nights and weekends," he said. "But I just wasn't having any success. Looking back on it now, I realize my problem was that I kept trying to bootstrap ideas that really needed venture funding. It took me a while to learn the difference, which meant that for about five years I didn't accomplish much except for dumb failure."
When he eventually did succeed, Rob did it without venture capital.
"That's why I've always talked about bootstrapping, self-funding, and not taking funding," he said. "It's not that I'm anti-VC. But I am against the idea that the only way anyone can start a business is with the help of VC."
While he used to think bootstrapping and venture capital were the best two ways to build a company, Rob has recently discovered a third way in which he sees a lot of potential.
"I started doing some angel investing and learned about a concept created by Colin Nederkoorn from Customer.io," Rob said. "He calls it fundstrapping."
Rob told us Fundstrapping is a hybrid model, where startups raise a small round of $250,000 to $500,000 and stop there.
"It's great because you don't have to give away any control," Rob said. "You don't have to bow to the pressure of institutional investors. Everything you raise is private angel money."
Although Rob's been a big proponent of bootstrapping in the past, he's now also trying to spread the word about this new fundstrapping model. And he noted that both approaches give entrepreneurs an incredible amount of freedom.
"I imagine something like 90 or 95% of startups will still bootstrap, but for that other 5%, fundstrapping is a great model."
Populating an Information Desert with Blogs, Books, and Podcasts
When Rob started trying to launch his own SaaS businesses, there were no blogs or any other educational materials that covered the subject.
"There was no Patrick McKenzie. There was literally nothing," he said. "So in 2005, when I started having some success, I started blogging."
People who were curious about what Rob had learned rushed to the site. And the questions immediately started pouring in.
"I wrote about the projects I was working on and about ideas that caught my attention," Rob said. "The blog really took off."
He saw his blog as a reality check. While others wrote from a theoretic or academic perspective, Rob wrote from the point of view of an actual entrepreneur.
"One of the reasons I wrote my first book was because I was so irritated," he said. "I read so many startup books, and none mentioned bootstrapping. They only talked about raising funding. The few that did mention the concept were written by journalists who didn't have a good grasp on what it actually took to bootstrap successfully."
Rob thought to himself, "I'm doing this, so why don't I write a book about it?" The book he published is filled with examples from his successful startups, failures he experienced, and useful stories from his friends, colleagues, and fellow founders.
"Since then, far more information has become available. It's great," Rob said. "There are even communities built around SaaS like MicroConf and SaaStr."
Nevertheless, Rob noted that there's a downside to so much free and plentiful help.
"It gives young entrepreneurs a leg up, but it also makes the field far more competitive," he said. "So it's kind of a balance."
From 2000 to 2020: The Past and Future of Tech Entrepreneurship
Over the last two decades, Rob has experienced every twist and turn of the wild ride that is the tech industry.
"When SaaS was born back around 2005, people didn't even understand what it was," Rob said. "By 2010, it was growing rapidly. If you built a vertical SaaS for, say, florists or marketers, your business could explode very quickly. By 2012, Wall Street realized it was a golden ticket."
Rob told us that today things have changed a bit.
"You'd be hard-pressed to start a horizontal SaaS today. It can be done, but trying to go head-to-head with Salesforce or those other big SaaS companies is very difficult. The odds are way more against you than they were six years ago."
Still, smart entrepreneurs can find opportunities.
"If you bootstrap or stairstep, you might be able to find a niche in which you can be successful."
Rob's Advice: Chase Freedom, Not Money
Rob noted one of the reasons he found success is that his goal wasn't simply to make money.
"It's much more about freedom," he said.
While stockholders might demand higher returns and investors want faster growth, those aren't always his primary concerns.
"I'm a seeker," Rob said. "I build businesses to achieve my lifestyle goals and my personal goals, not to be famous or make a million dollars."
His advice to aspiring entrepreneurs: Build a business that you want to run.
"It should be one that gives you and your family the time to hang out — something that makes you happy," he said. "Everything I do — my conference, my books, my podcasts — that's the unifying tenet that ties them all together."