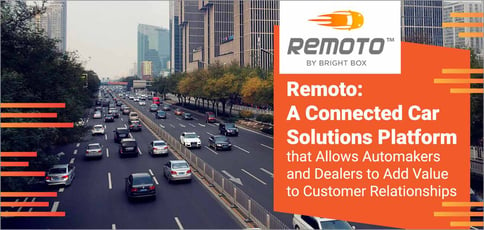 TL; DR: Bright Box designed its Remoto connected car hardware solution to meet the needs of the entire automotive sales chain — including manufacturers, dealers, and car owners. Remoto gives automakers and dealers digital tools to establish post-sale relationships with car buyers that lead to customer retention and future revenue streams. And car owners can control features on their cars, see maintenance alerts, and receive offers on services at the right time through the connected platform. Remoto also allows dealers to quickly identify inventory location and provide the type of responsive sales experience customers enjoy.
Millions of connected vehicles are already on our roads, and it won't be long before all new cars come equipped with wireless internet access. One forecast predicted that the global connected car market will grow 270% in the next few years, with more than 125 million connected passenger vehicles shipped by 2022.
The connected car space will also cause traditional automotive retail models to shift to include more digital engagement with car buyers. Today, many of those buyers see post-sale support and tech services as integral to their purchase — which is good news for automotive dealers who want to increase customer retention.
But the snag for many dealers has been to find a way to stay in touch with connected car buyers, understand their needs, and identify revenue opportunities.
Bright Box designed the Remoto connected car platform to serve as that conduit. Its hardware provides a digital support system that leverages the connected car concept to benefit all levels in the supply chain — automakers, dealers, and vehicle owners.
For Bright Box, the idea of uniting dealers and their customers is not a new one. The company has been helping car dealers stay in touch with their customers since 2012.
"We started with a subscription-based platform for dealers and their customers that enabled basic applications — including booking a test drive and viewing an auto parts catalog," said Bright Box Chief Operating Officer Alexander Dimchenko. "However, feedback from dealers indicated that car owners were not using the app as much as they hoped."
So the company introduced the Remoto connected car solution, which is a hardware device and mobile app that integrate with an automobile's computer system to remotely control its functions.
"For example, you can open and close doors, start the engine, or activate the air conditioner, and so forth," Alexander said.
Along with remote functionalities, Remoto can also alert car owners when maintenance is required and help dealers identify problems quickly. Those features can save time, money, and lead to lasting customer relationships over the life of a car — and beyond.
Helping Automakers Bring Connected Cars to Market Faster
In today's competitive auto market, dealers don't enjoy it when customers drive a car off the lot only to never be seen again. An ongoing relationship with car buyers leads not only to post-sale servicing opportunities but also increases the likelihood they'll return when the time comes to trade-in for a newer model.
"Bright Box's Remoto lets automotive manufacturers and their dealers build and manage valuable, durable relationships with buyers of connected cars," said Alexander. "The platform leverages advances in cloud, mobile, and even AI technologies."
For automakers, a primary advantage of the Remoto platform is its speed of deployment. The auto industry thrives on innovations, and these must be brought to market as soon as possible.
"Remoto delivers a solution in a shorter time than anything else out there," Alexander said. "It already offers out-of-the-box compatibility with many car brands."
Consumers can find Bright Box technology embedded in automobiles from global brands, including BMW, Honda, KIA, MG/SAIC, Mitsubishi, Nissan, Hyundai, Toyota. According to Alexander, the company also stands out in the market because it can update and implement new products in months, as opposed to years.
"Now our launch time is three to four months, while our competitors have taken up to two years," he said.
And Bright Box achieved that acceleration by developing its technology in-house, rather than outsourcing it to third-party contractors. That also means better service from people who understand the products — because they made them.
Dealers Enjoy Inventory Management and Customer Relationship Tools
Remoto also supports a range of key features designed to optimize the management of both inventory and customer relationships. Those features often help automakers and dealers on a car's path to market.
That's because Remoto devices allow dealers to see the exact location of each of their vehicles.
"They can save a lot of time locating the right vehicle at the right lot," said Alexander.
Dealers can also analyze automobile app data — including mileage, hard accelerations, and heavy braking — and invite customers in for maintenance services when they're warranted. They can also check the car's battery health remotely and be prepared to change it if necessary.
"Automakers and dealers want their customers to return to them so they can raise customer retention throughout a car's lifecycle. To accomplish that, they need to know more about their customers. So dealers need to stay in touch with them," Alexander said. "With Remoto, dealers can make personalized offers or even send important push notifications when they need to."
The company pointed to its record of service retention improvements and said it sees a retention rate increase of at least 20% with its connected car customer base.
An added benefit for dealers who lend cars is that they can quickly locate and monitor mileage on those Remoto-enabled vehicles. They can also receive alerts when specific vehicles enter — or leave — pre-set geographic regions.
Positive Customer Experiences Drive Value-Added Car Ownership
For car owners, Remoto provides a way to accentuate the capabilities of the new era of connected driving, Alexander said. Excellent customer experience is critical to ensuring that drivers will make the Remoto app a key component of their connected car ownership.
"Car buyers can get greater value from their investment with a host of driver-centric features," said Alexander. "We make vehicles more attractive with features like remote car control, car health-check, vehicle status indicators, smartphone i-Keys, mobile payments, and other convenient features."
Remoto app users can also arrange new car test drives quickly and easily, avoiding the lengthy process of calling around to dealers.
Another key differentiator cited by Alexander is that Bright Box continually collects feedback from Remoto customers. And, based on their reviews, the company improves its products and value.
"We identify the features that automotive customers desire the most and focus on those features," Alexander said.
Alexander predicts an essential role for AI in support of digital customer retention solutions. Bright Box believes that advanced technologies can create compelling possibilities for reading and analyzing data coming from various automotive sources.
Bright Box even published a white paper entitled "How Artificial Intelligence is Transforming Automotive Industry Monetization Models," in which it outlines key opportunities for automotive sales channels to optimize the gamut of data generated by connected cars.
Remoto: Pushing Digital Innovation in the Auto Industry
Bright Box is focused on innovating products that mirror the same digital user experience that car buyers are accustomed to in other areas of their lives — including cloud-based solutions and AI-powered devices. To accomplish that, Remoto aims to be scalable and reliable; but its deployment speed is also a significant differentiator.
Connected cars will serve many purposes other than transporting people to their next destination. Automakers have invested millions in technological development and want a way to optimize their return. Although the possibility of direct customer engagement is a debate within the automotive industry, most manufacturers still rely on their frontline dealers to build buyer relationships.
And digital engagement is the preferred method of interaction for most customers today. With tools like Roboto, dealers can connect with customers, retain them, and ensure they stay close to leading-edge digital sales tools. For car owners, connectivity will increasingly influence buying decisions as a value-add to a purchase.
Alexander said he believes connected cars will bring a new era of technology-driven revenue opportunities for the auto industry.
"We are continually looking for ways to improve the Remoto platform," he said. "And the Bright Box company culture is invested in a healthy willingness to take risks, and a focus on using cutting-edge technologies."