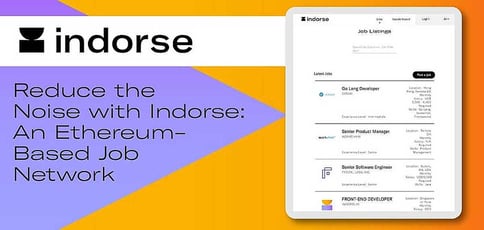 TL; DR: Indorse, a decentralized, Ethereum-based tech career platform, empowers users to take ownership of their social and career networking data. The tool provides simple, objective skill verification through an internal rewards system that incentivizes members to add their programming accomplishments and endorse those of others. With plans for ongoing product development and new partnerships on the way, Indorse is working to reimagine the social networking landscape.
One of my favorite pieces of content marketing advice comes from entrepreneur, author, and journalist John Battelle: "Do not build your brand house on land you don't own." Yes, Google, Facebook, Twitter, and LinkedIn are easy to use. And yes, they make it a snap to reach audiences.
But there is profound logic around the theory that it's better to own than rent. For one, many social networks own all photos, content, and data you post. As your network grows, they often give away rights to your data while recording your activity on their platforms. Meanwhile, you, the content creator, receive nothing. Secondly, in terms of platforms like LinkedIn, the human tendency toward personal bias means skill endorsements are fundamentally flawed.
For these and other reasons in 2017, Co-Founders David Moskowitz and Gaurang Torvekar launched Indorse — a revolutionary skills validation platform that employes tokenization and decentralization to reinvent professional social networking.
"The three motivations behind starting Indorse were to create a tool that provides users with data ownership, rewards contributors for their contributions, and gives credentials a degree of validity," said Gaurang. "Right now, I can go on LinkedIn and state that I'm an expert in Java, but there's no way for you actually to verify that I'm telling the truth — you have to take me at face value."
Indorse's solution is objective skills validation through decentralized consensus by anonymous judges, as well as automated real-time validation. The company also ensures users receive rewards for activity on the platform in the form of tokens that may be traded or used to purchase services such as advertising.
Take Ownership of Your Personal Data
Indorse was designed to empower social network users to regain data ownership of their online identities. Gaurang compared the platform to a decentralized cross between LinkedIn and Instagram with added verified claims and endorsements.
Traditional social networks are centralized, meaning they're controlled by a hierarchical structure of intermediaries. But Indorse is built on Ethereum, an open-source blockchain-based technology for decentralized applications that provides the transparency needed for a rewards-based social network.
Because blockchains are digital ledgers, and thus difficult to alter after creation, this method of storing data entries is virtually tamper-proof. "The nature of Ethereum makes it a natural fit for the project," David and Gaurang stated in a company white paper. "Indorse is decentralized and transparent, with its own ecosystem of decentralized applications (dApps) that feed into and rely on the platform for information."
With Indorse, content contributors receive compensation for their actions through an in-platform system that also features mechanisms to penalize those who make false endorsements. The platform leverages Indorse Rewords (internal) and an Indorse Score (a reputational system) to encourage members to display their skills and endorse those of others.
Advertisers may purchase space on the platform with cryptographic Indorse Tokens (INDs). Afterward, Indorse shares a portion of these INDs with members who created the content.
Validate Your Skills Through Simple, Objective Methods
Every so often, I receive a friendly skills endorsement from a past or current coworker on LinkedIn. They're a nice little ego boost, but sometimes I wonder whether recruiters and hiring managers view them as legitimate. After all, a coworker once endorsed my skills on QuarkXPress, but I haven't touched the publishing software since my college years.
"There is no authenticity in the LinkedIn's skill endorsements — anyone can simply endorse a friend and ask for an endorsement in exchange," Gaurang said. Therefore, hiring managers must spend time validating candidates' LinkedIn skills. This uncertainty results in recruiters spending more time to verify the qualifications of a candidate found on LinkedIn.
With Indorse's decentralized professional network focused on programming skills, job seekers share their code or use GitHub Repositories. Next, a panel of randomized expert coders will evaluate the codes and either approve or reject them. These expert validators must be validated as experts by Indorse, pass a one-on-one interview, and demonstrate expertise in Python, JavaScript, Java, PHP, Ruby, or C Sharp.
"Tech companies spend time conducting multiple rounds of candidate interviews, sometimes devoting one to three weeks to interviewing developers and examining their code," Gaurang said. "Indorse's expert coders can help save a lot of time and money, not just for the hiring manager, but for the development team."
Curious about Indorse's expert validators? The company's Leaderboard features top validators. In addition, Indorse's Meet Your Validators blog series offers an in-depth look at the developers who assess skills on the Indorse platform. For example, there's Liam Williams, a validator in Java, JS, Python and C Sharp, who also works as a senior developer at the media and telecommunications company Sky.
"I see Indorse as a way for employers gaining additional confidence that a candidate is up to standard by relying on the validators for the first round of screening," Liam said in an interview on the company's website.
Showcase Your Company on a Decentralized Professional Network
In addition to proving their skills, Indorse provides simple solutions to help candidates find the right job. Indorse's Job Listings database presents job seekers with a range of opportunities searchable by location, job title, and skill and ranked by experience level.
In that way, the tool benefits a range of parties: Companies looking to recruit talent receive access to a pool of qualified candidates. For those candidates, Indorse provides the ability to stand out from the pack.
Gaurang said compared to LinkedIn, Indorse's decentralized network has many advantages. For example, LinkedIn requires users to fully complete their profiles if they wish to rank high through the platform's search algorithm. This requirement often causes recruiters to bypass potential candidates. In other cases, hiring managers may overlook a potential candidate's LinkedIn profile due to an error as minor as a missing keyword or incorrectly abbreviated skill.
"With the Job Listings database, essentially the idea is that you can hit the 'Apply Now' button, and candidates will have access to the results on our platform," Gaurang said. "We can instantly send a report on the candidate's endorsements and validations to the company or job board."
Ongoing Product Development and Expanding Partnerships
Over the last year or so, Indorse has announced partnerships with various companies to drive the business forward.
In March 2018, the company announced that it would partner with FundRequest to validate and reward open-source blockchain developers. A few months later, Indorse unveiled a partnership with independent research platform ICOCrunch in which Indorse will verify the legitimacy of projects reviewed on the ICOCrunch site. Then in July, Indorse announced a similar partnership with DREAM, a marketplace for blockchain talent. The collaboration will enable customers to verify freelancers' credentials before making hiring commitments.
Gaurang said there are no plans to slow down on the partnership front anytime soon. "We have been working with some really interesting companies with products/services that are quite compatible with Indorse," he said. "In the future, we plan to continue product development based on customer feedback and expand partnerships as appropriate."