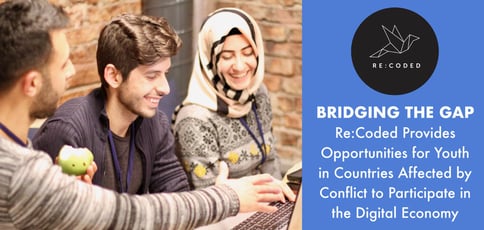 TL; DR: Re:Coded is on a mission to help displaced youth from war-shattered countries tap into the digital economy. The group, headquartered in New York, is already preparing emerging tech talent in Iraq, Turkey, and Yemen to take on leadership roles where they can grow and thrive. With a personalized, independence-focused approach to teaching, Re:Coded is committed to improving the learning experience in any way possible. In our current state of crisis, that also means taking a look at enhancing online educational opportunities.
Alexandra Clare, Co-Founder and CEO of Re:Coded, was working in northern Iraq in June 2014 as the historic city of Mosul succumbed to ISIS forces.
The Islamic State's black flag rose above government buildings, infrastructure was reduced to rubble, an estimated 500,000 civilians fled, and at least 2,463 died.
At the time, Alexandra was using her background in global affairs to identify opportunities to help children and young adults in the area, who were increasingly being recruited to participate in armed conflict. After the fall of Mosul, she saw firsthand how combat brings education to a screeching halt.
"It was a tragic situation — lots of people were displaced," said Marcello Bonatto, Co-Founder and COO of Re:Coded. "Formal education didn't begin again until six months into the crisis, which left a lot of people unsure of what to do. That was particularly concerning due to the potential for radicalization and instability."
Even before the attack, Marcello, whose resumé includes work for NGOs and the United Nations, had been studying how to reinstitute and improve the quality of education post-conflict. So when Marcello and Alexandra joined forces, their mission was clear.
"We wanted to understand what education and employment opportunities we could bring to build up these communities," Marcello said. "After a bit of research, we came to the conclusion that a lot of the youth in Iraq wanted to learn computer skills."
In 2016, Marcello and Alexandra launched Re:Coded as a pilot project intended to prepare displaced Iraqi youth for leadership roles in technology and entrepreneurship. Today, the organization continues to nurture emerging tech talent in Iraq, Turkey, Iran, and Yemen while finding ways to enhance the learning experience. In our current global crisis, that means taking a look at advancements in online educational opportunities.
Preparing Talented, Disadvantaged Youth to Become Tech Leaders
Marcello said the 2016 pilot involved a steep learning curve, but he and Alexandra came out of the experience with a solid understanding of what needed to be done moving forward. After registering as a 501(c)(3) nonprofit organization in 2017, the group began operating in Iraq before quickly expanding to Turkey to serve a growing population of refugees.
"The vision we have is that anyone, anywhere should be able to actively participate in the digital economy," Marcello said. "Technology is progressing quickly in terms of access to information and knowledge, but there are global disparities when it comes to accessing that technology. As we move forward, the gap is widening — and quickly."
To bridge that gap, Re:Coded aims to prepare talented youth in conflict-affected countries — where the company says average pay is low and exploitation is high — to enter the modern workforce as leaders in software development and technological entrepreneurship.
The company achieves that goal through five-month boot camps featuring a rigorous front-end web development curriculum spanning everything from HTML and CSS to JavaScript and React. In addition to its programming track, Re:Coded now offers a boot camp in Qaraqosh, Iraq, 15 minutes outside of Mosul, focused on digital marketing and graphic design for women.
No matter what role they aim to take on, Marcello said the company looks for people who have an understanding of what it takes to thrive in the industry — and the motivation to meet those requirements.
"We have a comprehensive selection process that takes six weeks to complete," Marcello said. "We go through five phases to make sure we're selecting the right people."
The program's job prep framework includes private coaching sessions with career team members, a resumé review, and interview practice, among other resources that help students secure careers. So far, the company has successfully equipped more than 700 children and young adults — 40% of whom are female — with coding skills. The majority (85%) find employment within 120 days of graduation.
Helping Tech Talent Thrive in Iraq, Turkey, and Yemen
Re:Coded has evolved significantly since the company's initial pilot course, held July 18, 2016, in Iraq. It was a blistering 131 degrees Fahrenheit, and the generator at the training facility had blown up a few days before.
"You're not in a good situation in Iraq without a generator due to the power cuts that happen several times a day," Marcello said. "We had no electricity, no air conditioning — we were just standing there in front of 30 developers, hoping everything would be OK."
Today, Re:Coded helps hundreds of students in cities across Iraq, Turkey, and Yemen learn to code and find lucrative careers, but the challenges continue. In 2017, for example, an independence referendum for the Kurdistan Region in Iraq led to a diplomatic crisis between the Kurdistan Regional Government (KRG) and Iraqi Government.
"There was a huge crackdown from Baghdad — they shut down the airspace and had military operations around Kurdistan," Marcello said. "At one point, the Iraqi military was just 20 kilometers away from the boot camp, so we had to evacuate. But after a couple of weeks, things cooled down, and we were back on track."
2019 also proved difficult amid anti-government protests that began in Baghdad, where Re:Code was hosting a boot camp. "Everyone had to stay home, and we shifted the program online," he said. "The next step the government took was shutting down the internet because people were organizing protests on Facebook."
Ultimately, the boot camp was shuttered for about three weeks before returning to normal.
A Personalized Approach to Learning Focused on Independence
Despite the challenges, Re:Coded has grown incredibly fast since its inception. Marcello told us the amount of heart and soul the Re:Coded team puts into its mission makes such achievements possible.
"The ethos behind the organization is that it's not really about what we teach, but how we teach," he said. "We take an individualistic approach where we care about human beings rather than just teaching a skill. That gives our students a lot of confidence to go on and do amazing things."
The educational landscape is shifting with advancements in technology, and that trend is only accelerating. Whereas a traditional college degree used to be nearly mandatory in achieving success, now, alternative forms of education can be just as lucrative.
"We try to find ways to upskill students really quickly, giving them the tools, resources, and knowledge they need to thrive in a market that is constantly changing," Marcello said. "This is especially important for people who have had their lives disrupted. Oftentimes they're not going to be able to go back to university or find a meaningful job with the degrees they already have."
At the same time, the Re:Coded team ensures that students do not grow dependent on their staff. The goal is to encourage them to continue growing professionally, whether that means learning additional programming languages or finding new job opportunities.
Enhancing Online Learning and Employment in the Face of a Global Crisis
To help maximize employment outcomes, Re:Coded recently started Re:Coded Labs, a for-profit development agency serving purpose-driven clients. The team is employed by a mix of senior talent and coding boot camp graduates, and a share of the profits are reinvested into the company's nonprofit efforts.
As for what's on the horizon, Marcello said the question amid a global pandemic is how to replicate — and even improve — the group's in-person educational efforts in an online format.
"My pledge to you is that, if we have to do this online, it's going to be better than in person," he said. "So right now, we have the whole team trying to think about how we will provide the best online learning experience possible."
Re:Coded is also piloting a program in Mosul geared toward systemic change at the university level. The company currently trains an average of 25 people per boot camp and 200 per year. But what if it could train thousands annually?
"We are training university professors to better deliver content for their computer science students and making sure that they are doing this in harmony with what is expected from the market," Marcello said. "If we teach these trainers to educate their university students in the same efficient manner we would be training people in our programs, we'll have a much larger impact."