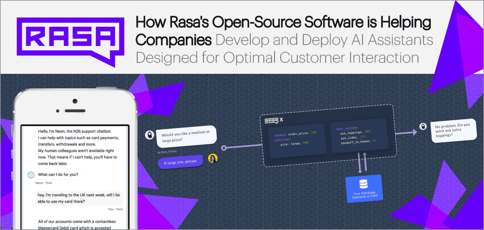 TL; DR: Rasa, an open-source AI assistant development company, understands that conversational AI interfaces are often difficult for businesses to implement. That's why it creates technologies that simplify the creation and deployment of smart chatbots and assistants. When Rasa launched in 2015, many chatbots lacked the customization necessary for the industries that could most benefit from those tools. So Rasa developed strategies for simplifying the actions, responses, and tones that AI assistants use in conversations. Further, because the software is open source, developers can learn from both the struggles and successes of others.
Talkspace, a service that connects clients with mental health therapists, wanted to create an AI assistant that could engage in initial — but important — conversations with users. The company also needed to meet privacy requirements that existing chatbot development tools didn't offer.
That's why Talkspace turned to Rasa, an open-source AI assistant development company founded in Germany, to develop a customized solution. Within a few months, Rasa helped create an assistant that could hold natural, relevant conversations with potential Talkspace users.
The assistant asked users questions to determine how soon they'd like to start communicating with a therapist and even helped predict the type of therapy they needed.
"Rasa gave us exactly what we wanted while allowing us to deploy the AI on our HIPAA-BAA compliant infrastructure," said Bonnie Ray, VP of Data Science at Talkspace. "In addition, the contextual dialogue technology allows for more natural conversations that can adapt to the needs of the client in the moment."
Rasa attracts clients from many different industries, including travel, banking, and insurance. Most of these companies run into the same problem: developing a chat assistant that responds to their unique visitors. Rasa is an ideal partner because it understands the challenges of chat technologies, and guides clients through the challenging customization process. And, since the software is open source and customizable, it acts as a horizontal solution that can be leveraged for any number of use cases.
Rasa works hard to simplify chatbot development through shared tools, strategies, and ideas. And the platform has found a dedicated following. By 2019, its tools had been downloaded more than 500,000 times, and the company counted over 300 contributors to its open-source software.
Leveraging Conversational AI for a Competitive Advantage
Dominik Rosenkranz, Rasa's Business Development Representative, said the company's founders began developing a chatbot in their Berlin kitchen using the tools available.
"At that time, the tools on the market had limited customizability for single use cases, and were running in the cloud only," Dominik said.
Rasa's founders weren't the only ones who found the tools lacking. They talked to other developers who faced similar struggles in developing the chatbots that were supposed to revolutionize their businesses.
"After talking with developers with similar goals, feedback indicated a significant market for the right open-source solution, and the idea for Rasa was born," Dominik said.
The first offering was the Rasa Natural Language Understanding (NLU) library, an open-source repository designed for intent and entity recognition, which opened in 2016.
Over the next three years, the company developed other tools to help a variety of AI assistants and chatbots. Today, those tools allow customers to build contextual AI assistants that can hold conversations or program automated one-on-one conversations for lead generation. Its tools can also automate internal processes for HR or finance departments.
And Rasa's team doesn't think that conversational AI has reached its full potential yet.
"Although we've seen a lot of development in the industry recently, conversational AI is still in its very early days," Dominik said. "Last year, we outlined the path towards what we call Level 5 'Autonomous Organisations of Assistants', which explains what level we're at today and where the future may lie."
Rasa plans to make strides in conversational AI development over the next few years to meet those goals. The next step in its plan is creating a standard infrastructure layer for text and voice assistants.
Simplifying Dialogue Creation Across Channels and Languages
Since Rasa's release, the marketplace and expectations for conversational AI have already drastically changed. In 2016, most projects were simple and developed through third-party technology. Today, though, companies are more interested in developing in-house knowledge and developing a conversation-first approach.
"Our main goal is to give these product teams the right tools to make it easier and more efficient to build AI assistants at scale," Dominik said.
Rasa users can customize the assistant to their specific needs and data. Further, they can use language support, integrations, and their own channels without limitations.
Rasa also offers tools for high-volume, repetitive tasks that provide the potential for automation. That means employees can focus on more complex jobs that create value within the company.
Users receive immediate responses to simple questions and can find more in-depth answers if they require clarification after that.
"You can keep full control over your data and run everything on-premises which provides numerous benefits," Dominik said. "That can lead to a quicker time to market — especially in an enterprise segment."
The most significant benefit, though, is that companies can control their automation, rather than relying on developing tools from scratch or using whatever standardized, one-size-fits-all technologies are available.
"I believe there is a strong connection between benefits," Dominik said. "Further, large enterprises have strict requirements for launching a new tool in production."
Free and Paid Versions Offer Clients the Right Level of Support
Businesses can choose different versions of Rasa based on their needs. Some prefer the free version of the platform, which allows them to annotate conversations, manage different models, and receive feedback. The free version also includes community support resources that can be helpful for developers interested in building a product's success over time.
"Already more than 300 developers from all over the world have contributed to our product helping us build features that businesses need," Dominik said. "We work very closely with both customers and the community in our product development, which makes us less focused on trends and more on delivering features that the community wants — or builds itself."
The paid version of the platform, which Talkspace used to develop its chatbot, provides companies more support in developing tools. For example, the Rasa X Enterprise Edition offers service-level agreements (SLAs), deployment and installation support, and expert advice from the Rasa team.
And the company plans to continue its growth by adding new features and even inspiring its own team. One internal event is called Founder Stories, in which founders from other startups talk about the challenges they faced and the decisions they made.
"I think this really resonates with the team, keeps us grounded, and helps us adapt to our own challenges and thus the long-term success of our open-source approach," Dominik said.
Further, Rasa will host its largest event ever, the Rasa Developer Summit, in San Francisco in September 2019. The event will include speakers from companies including Lemonade, Facebook, and Adobe, all to discuss their conversational AI cases.
The event perfectly aligns with Rasa's central philosophy: connecting developers to simplify conversational AI production.
"I'm very excited to meet our community members in person, talk about the projects they are working on, and have a fun event with everyone together," Dominik said.