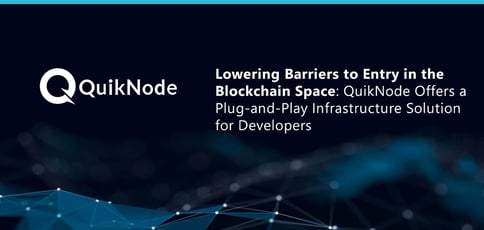 TL; DR: QuikNode provides a simple way for developers to build, maintain, and grow distributed apps (dApps) using its robust global infrastructure. The platform's convenient control panel makes it easy to access everything from elastic APIs and dedicated nodes to powerful tools and analytics. Currently, QuikNode offers an end-to-end solution for accessing Ethereum and Bitcoin APIs, but the company plans to expand its chain offering while continuously improving infrastructure moving forward.
Decentralized applications (dApps) — which run on peer-to-peer networks, such as those powered by blockchain technology — have become ubiquitous in recent years, and for good reason. They're open-source, encouraging widespread development; censorship-resistant with no single point of failure, and less vulnerable in terms of downtime.
When it comes to scalability, however, the technology leaves a lot to be desired due to the limited rate at which Bitcoin and Ethereum can process transactions.
Instant popularity in the dApp world, therefore, can leave developers in an unfortunate situation if they haven't prepared properly.
"You would have to hire at least two sysadmins to monitor your dApp 24/7, and they would really have to know what they are doing," said Dmitry Shklovsky, Director and Co-Founder of QuikNode. "These open-source node clients can be relatively cranky — talented people write them, but the technology isn't polished yet."
QuikNode's solution is an accessible core infrastructure that empowers developers to scale their blockchain ecosystems.
"Our motto is it just works," Dmitry said. "You can start with our launch plan, which is $10 a month, and if you find overnight success due to, say, the Oprah Effect and gain thousands of users, our platform will scale with you. It's one less thing you have to worry about."
The platform's convenient control panel makes it easy for developers to access everything from elastic APIs and dedicated nodes to powerful tools and analytics. The result is peace of mind: freeing developers up to focus on their core competencies rather than cloud server management and associated tasks.
"We have CEOs come to us and say, 'Our CTO is spending hours a day trying to resync our node,'" Dmitry said. "Instead of hiring a sysadmin to help, they would rather spend a few hundred dollars a month with us. You're not going to hire anybody for that kind of money, let alone pay for your cloud infrastructure."
A Global Team Helping Blockchain Ecosystems Scale Since 2017
QuikNode was launched by Dmitry and Co-Founders Alexander Nabutovsky and Auston Bunsen as a node provider during the blockchain boom of 2017. The company's multinational team, based in Miami, boasts more than 40 years of combined experience managing datacenters, high-speed networks, and distributed systems.
Dmitry told us the agile company has successfully adapted to the fast-paced change inherent in the industry.
"We started as a node provider because the two or three existing infrastructure providers were overwhelmed," he said. "At one point, one company decided to run a token sale, and everyone flooded its servers. Ultimately, the entire ecosystem that relied on that company came to a halt."
With few players in the industry, Dmitry and Alexander had an opportunity to apply their prior experience and make a difference.
"Coming from distributed systems and data centers, single points of failure were a total no-no for us," Dmitry said. "We understood the pain points of people working with dedicated hosting, cloud hosting, and content delivery, so we could essentially solve the same problems but for blockchain data."
Soon, the Quiknode team started seeing the emergence of blockchain-enabled dApps. Again, because there were only a handful of providers, the company decided to adapt its service to include tools and shortcuts for developers. "That's been the story for the last year and a half," Dmitry said.
Today, trends in blockchain development and distributed infrastructure continue to evolve. For example, Dmitry told us that decentralized finance has become a major use case for Ethereum smart contracts.
"There are lending platforms, compound interest platforms, and then dApps that aggregate multiple platforms into a single one," he said. "That's been our main use case, but there's definitely been a shift where it's not so many little experiments — established quote-unquote legacy businesses are exploring blockchain technologies and approaching companies like ours to help them get to market quicker."
Helping Push Blockchain Technology into the Mainstream
Since 2017, QuikNode has helped numerous blockchain projects launch on the ETH MainNet and others to power some of today's most popular dApps. Ultimately, the company's mission is to underpin the blockchain ecosystem with education, developer tools, infrastructure, and educational resources, serving as a true partner in the third-generation web.
The QuikNode platform offers a full list of features, including simple control panel, a native JSON-RPC with familiar APIs and SDKs, advanced analytics for insights into node performance, and flexible connectivity via HTTPS and WebSockets.
Dmitry said it's value that connects all of these services, attracting and retaining the company's customer base.
"We also do our best to give back to the community," he said. "We have a blog where we publish articles, tutorials, and other helpful resources for developers. And we have a newsletter that helps our partners, the people that we're working with, and friends that we meet along the way, to get their product out there in front of people."
In addition, QuikNode sponsors several hackathons around the world, including ETHNewYork, ETHIndia, and ETHDenver. "Just last month, we sponsored ETHIndia online," Dmitry said. "We have a good presence in India, where people tend to be very-tech forward and interested in blockchain."
The company even takes a unified stand with its competitors. "We're all in this together," Dmitry said. "We're all trying to push blockchain into the mainstream."
Achieving the Ideal Balance of Price, Performance, and Support
QuikNode achieves that goal by making it easy for developers to power and scale their blockchain applications.
"The pain point we're trying to solve is that a lot of people who try to interact with blockchain come to a certain point when they need to connect their application to infrastructure," Dmitry said. "They need to fetch chain data, run a cloud server, play with the command line."
The problem is, the newest wave of developers aren't all that interested in the intricate details of managing cloud servers and command lines. Largely, they prefer one line of code they can plug into their app to achieve the desired result. And that's what QuikNode delivers, while carefully balancing price, performance, and customer support.
The QuikNode platform offers developers a full end-to-end solution, including both an API tier and dedicated nodes. The elastic, highly available API is best for developers who wish to start playing with Web 3.0 technologies or developing a basic framework for a dApp.
Established applications can use the QuikNode API for global distribution, elasticity, cost-savings, and performance benefits without worrying about infrastructure.
QuikNode Dedicated is best for developers who are looking for an isolated environment, reliable HTTPS and WebSocket connectivity, no set limits on batch transactions or burst requests, and no overages.
Both options are constantly optimized to perform at their highest level. Prior to releasing QuikNode version two, the company only offered paid plans. "Now we offer a free tier, and that sits really well with those who can't afford $10 or $20 but want to get started playing with the platform," Dmitry said.
Expanding Chain Offerings and Improving Infrastructure
As for what's next, QuikNode is looking to expand its chain offering on the API. Both Ethereum and Bitcoin are currently available on dedicated nodes, but only Etherium is available via the API. "We're also planning to support a number of other chains and smart contract platforms," Dmitry said.
In the future, QuikNode is looking to include additional tolling resources, a speed test (created since our interview), and more analytics to help users understand how to make their apps faster and more responsive. Lastly, the company is planning on continuous improvements to its internal infrastructure.
"We want to make sure that we're still the fastest, we're performing better than our competitors, and driving adoption," Dmitry said. "Our platform is one thing, but we want to see more people get involved and educated on the opportunities and possibilities of blockchain."