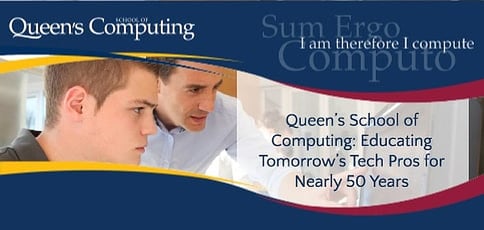 TL; DR: For nearly five decades, Queen's School of Computing has been laying the foundations for thousands of students looking to jump-start careers in the computer science industry. Known internationally for its diverse educational environment that fosters a family-like atmosphere, the school offers programs in a wide range of IT specialties, including software design, mathematics, computer architecture, and programming, among many others. Maintaining pace with changing markets and technologies, Queen's School of Computing has evolved its offerings to give aspiring computer science professionals the tools they need to succeed in today's competitive, tech-focused business environment.
It was probably a scary moment for Layan Nahlawi when she stepped off the plane in Kingston, Ontario. She was in the market for a master's degree in computer science, but she must have been questioning how her chosen career path brought her across the Atlantic — from Lebanon to Canada — to pursue her education.
Though, as soon as she arrived at Queen's School of Computing, Layan's fears were quickly allayed. The college had assigned her a student buddy to ensure her transition would be seamless. Layan's new friend was available to answer questions regarding the college, city, and attractions.
However, her student buddy wasn't the only one who helped her. Some of Layan's professors introduced her to other lab members who spoke the same language, and whenever she experienced any difficulties with courses or life, there were many people willing to assist. She quickly realized that her professors weren't just knowledgeable in their disciplines but also served more as mentors than supervisors.
"Due to this lovely, family-like environment, I grew a big circle of friends with whom I share my life in Kingston and who support me," Layan said. "Now, as a Ph.D. student in this great school, if I were to go back…to that period when I was choosing universities, Queen's School of Computing would be the only application to fill out."
For nearly 50 years, Queen's School of Computing has helped thousands of students, like Layan, launch careers in computer science. The school's five-decade history gives it a unique vantage point from which to anticipate and cater to the changing needs of students in the ever-evolving technological landscape.
The faculty at Queen's School of Computing is committed to sitting at the cutting edge of research in computer science, which is why the college is able to offer a broad range of IT industry-related specializations. For Queen's, it' all about developing skills in students that lead to fulfilling careers in computing. And, with the increasing demands for new talent from the technology sector, the school is positioned to meet this goal well into the foreseeable future.
Evolving Alongside Technology & Market Demand for 5 Decades
Established in 1969, Queen's School of Computing has managed to become one of the leading academic institutions for computer science. Through research and scholarship, the college is expanding its concentration areas of software design, engineering, and biomedical computing — and how these disciplines can be applied and modified for current needs.
Initially, computer science departments offered only mainstream computing or software design with some applications thrown in.
"Now, what I see in most schools is a high interest in computer science," said Hossam Hassanein, Director of Queen's School of Computing." This applies to the biomedical field, cognitive studies, and things like data analytics and machine learning."
Students have come to know that these disciplines have become extremely important. Hossam told us there was a dip in the appeal of tech-related disciplines after the dot-com bubble burst, but that didn't last long.
"There has been a steady increase in interest in computing science," Hossam said. "And now we are possibly at such an all-time high that we can't accommodate all the students who want to go into computing."
However, Hossam does not believe this upward trend in interest stems from yet another tech fad. Instead, he expects the demand for computer science instruction is here to stay because of the pervasive role technology plays in almost every aspect of modern life.
"This is going to be permanent," he said, "because it has been realized that computing is an essential part of almost all the world's applications and industries."
Strength Through Diversity: Offering an Array of Specializations in STEM
Queen's strength comes from the diversity of its curriculum evidenced by its standard specializations such as software design, biomedical computing, and cognitive programs.
However, it also has a unique program called Computing in the Creative Arts, which allows the more artistic students concentrating in subjects, such as film studies, music, drama, or history, to also be involved in the applications of computing.
"These students work on projects for 3D reconstruction of historical buildings, creating images and songs from the past, or generating game-like movies or graphics," Hossam said.
For the more analytically minded, Queen's also offers computing in mathematics, and is starting talks about a computing in business program.
To diversify its curriculums even further and provide more options for students, the college also has a minor program. Students involved in any major computing discipline can also earn a minor in another discipline in arts and science.
Some of the benefits of attending Queen's are a top-quality education, the ability to work on current computing issues, and knowing that faculty are monitoring trends so they can be translated into developing courses.
Graduate students work on hot topics, such as biomedical computing and computer-aided surgery, and, as a result, Queen's students have a very strong presence in the medical field.
"We have very good interaction with the hospitals at Queen's and in Kingston," said Hossam. "Our students are trained in software engineering and software design, and they participate in ultra large-scale systems. This type of programming is required by companies such as Blackberry, IBM, and the like."
In addition, students also work in and have plenty of interaction in security.
Undergrad students work on current issues via a capstone project or course. This capstone project-based course allows students (with help from their instructors) to gain hands-on experience by identifying and solving problems as they happen.
Through research and observation, the school converts trends in student interest and studies into Queen's formal curriculum.
Cultivating an Educational Atmosphere Leading to Gainful Employment
Students enrolled at Queen's not only gain a great education, they are part of one of the top computer science programs in Canada. At Queen's, students have access to renowned instructors who are experts in their subject areas.
As Layan stated from her experience, Queen's relationship with its students is leagues above many computer science colleges. And Hossam agrees.
"There is a wonderful relationship between faculty, staff, and students," he said. "So the overall atmosphere is unique and comforting for those involved in school."
Queen's strives to build a close relationship with its student body, and students know they can turn to the school's staff, including undergraduate coordinators, with questions or concerns. Students are passionately involved in many aspects of the college, including an undergraduate association that is highly active and works to create involvement with other graduates and faculty.
To combat the well-known lack of women and minorities in the technology sector, Queen's spearheaded the Women in Computing program, lead by Wendy Powley. Thanks to these efforts, Queen's now boasts about a 35% female student body in its programs, which is a significantly higher than the 18% of women enrolled in computer science majors in 2014.
"We attract a lot of women to our program, and we will continue to do that," Hossam said.
With this attention to diversity and network development, Queen's students can increase their chances of employment.
"Many of our students go on to become very successful in their jobs and make great money," Hossam said. "We are promising them good paying salaries and rewarding careers."
A Continued Dedication to Live at the Cutting Edge of Research
With an eye toward the future, Queen's wants to make sure that it lives at the cutting edge of data analytics and machine learning research.
"We want to establish a unique program in data analytics and machine learning that would be very beneficial in many disciplines, including all the physical sciences for businesses, banks, and other industries," Hossam said. "We are in the era of big data."
Also looking to expand on its biomedical computing and bioinformatics program, Queen's will offer a bioinformatics degree program for health sciences students and professionals starting in 2018. According to Hossam, graduates of the program will be, "well acquainted with the computer sides of things," allowing them to become bioinformatics professionals.
With these initiatives, Queen's School of Computing is sure to continue to help students, like Layan, cultivate the skills necessary to succeed in today's technology-centered landscape.