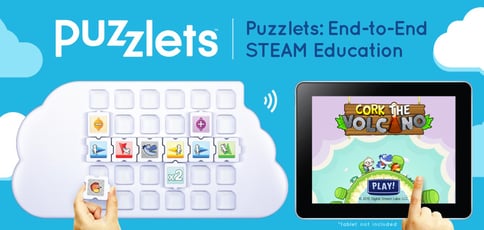 TL; DR: Digital Dream Labs is furthering its commitment to making learning accessible through tactical technology with Puzzlets, an app-enabled toy that leverages gameplay to teach STEAM-based concepts. The all-in-one hardware and software-based technology includes lesson plans and programming guides to satisfy mandated classroom standards in an imaginative new way. Ultimately, Digital Dream Labs hopes to create a product that will grow with students throughout their education, imparting a lifetime of lessons along the way.
In 2013, at the height of the EdTech boom, former Google executive Max Ventilla founded AltSchool, a series of micro-institutions that used cutting-edge software to equip students with science, technology, engineering, and math (STEM) skills.
Just six years later, the startup — backed by millions of dollars in funding and Mark Zuckerberg himself — folded and was reimagined as a software company for professional development services.
Jacob Hanchar, CEO of Digital Dream Labs, said AltSchool's fate is a reflection of the industry as a whole, in which many EdTech companies are dropping like flies as momentum wanes. Still, even as the head of a company that sells hardware and software for science, technology, engineering, art, and math (STEAM) education, he's not concerned.
"You can't just throw money at a startup and expect it to succeed like Mark Zuckerberg did," Jacob said. "We continue to grow today because we're solving a real problem: When it comes to technology, educators are overwhelmed. They're being forced to teach technical concepts they're uncomfortable with to comply with state standards. That's where we step in."
Through Puzzlets, Digital Dream Labs delivers a simple gaming platform designed to make educators' lives easier and students' lives more fun via digital and physical games aligned with government-compliant lesson plans.
"It's a one-stop shop that covers every single need a teacher has in terms of STEAM education," he said. "From the beginning, we have maintained a holistic view of education — it was never the goal to create a one-off product."
Jacob said the overarching goal of Digital Dream Labs is to create an education system that will grow with students throughout their education, providing lifelong knowledge at each stage. Upcoming game releases aimed at older students will be the first step in accomplishing that goal.
A Hardware and Software-Based Approach to STEAM Education
Digital Dream Labs, based in Pittsburgh, Pennsylvania, formally launched Puzzlets in 2015 after Jacob, a neuroscientist pursuing his MBA at the time, and his colleagues met at Carnegie Mellon University.
"Puzzlets was initially designed as a tactile learning tool younger kids could use to grasp concrete concepts," Jacob said. "Rather than just tapping and clicking or pointing at something on a computer, they could actually feel a block of code, or lay out scripting by hand."
Today, Puzzlets is an app-enabled toy and gaming platform that combines STEAM learning with gameplay to encourage critical and creative thinking through trial and error. The system includes a rechargeable, Bluetooth-powered Play Tray; 22 Puzzlets, or programming tiles; and a USB cable.
It also includes a download for Cork the Volcano, a game designed to teach children ages 6 and older programming skills as they direct a dinosaur, hippo, and sloth through various obstacles to save their island from the evil King Caldera and his minions.
Students can nurture their artistic sides through the paid Swatch Out! add-on, which includes a download and Puzzlets tiles specific to the game. The arcade-style game features more than 20 hours of playtime with 80 levels focused on color theory topics, including primary and secondary colors, tints, shades, warm colors, and cool colors.
There's an additional add-on option for Abacus Finch, a math-based game where students use arithmetic to move or destroy blocks, creating new paths to the warp zone at the end of each level. The 60-level game teaches addition, subtraction, composition, decomposition, and sequencing, intervals, and balancing aligned with educational standards for the Common Core and P-21 Framework for 21st Century Learning.
Where Learning Meets Fun: Boosting Engagement
Digital Dream Labs is also working on games geared toward older children and young adults at the high school level. The yet to be released Monstrous Molecules, for example, will require players to use their chemistry knowledge to free a chemist from a dungeon full of fire-breathing creatures.
The company also takes an interdisciplinary approach to game design, incorporating characters and imagery appropriate to the learning objectives of specific age groups — such as the inclusion of a Greek mythology theme in Monstrous Molecules.
Jacob said Digital Dream Labs games are much more rewarding than test-style programs that feature pop-up questions students must solve before continuing. "Intrusive tests block you from having fun," he said. "We try to infuse education into our games to make them so entertaining that you don't even realize you're learning. That's key."
In Monstrous Molecules, for example, students must save the chemist from a fire demon by creating the molecular structure of water using two hydrogen atoms and one oxygen atom. "Instead of going through an entire lecture on hydrogen and oxygen, students make molecules of water to prevent a dragon from burning their characters alive," Jacob said. "It's fun, and at the same time, they learn something."
To level the playing field between gamers and nongamers, the company is considering adding a digital cesium atomic clock — used in the real world as a standard for timekeeping — that players can speed up or slow down in accordance with individual skill level.
"You can either go super fast if you're really good — it's called a dash — or you can slow down your cesium clock, which is called frozen moments in gaming," Jacob said. "You're also learning something about the theory of relativity, and you don't even realize it."
A Strong Emphasis on Educational Legitimacy and ROI
Jacob said Digital Dream Labs has a strong understanding of the challenges teachers face when implementing new classroom technology.
To help them overcome all-too-common obstacles, the company has worked closely with digital literacy experts to develop effective programming guides and lesson plans. In addition, all games comply with mandated classroom standards, including that of the International Society for Technology in Education (ISTE), Common Core, and P-21 Framework for 21st Century Learning.
"Educational legitimacy has become a cornerstone of our company," Jacob said. "Teachers love our technology for that reason, and students love it because it is so engaging. Year after year, we see teachers keep it in their curricula, where it becomes a core learning intervention tool."
Digital Dream Labs tests its products to ensure they offer a maximum return on investment in terms of educational benchmarks. For example, the company will compare a control group of children who learn in a traditional manner to a group that plays with Puzzlets.
"We see that the groups that play with the product are approximately 25% better off in terms of reading comprehension, logic, sequencing skills, etc.," Jacob said. "So, not only are the teachers getting valuable time back, but they're improving learning outcomes. That's what sets us apart."
In addition to schools, the company also sells Puzzlets directly to customers who have seen their children playing with the product in the classroom. But direct-to-customer sales are not the core focus at Digital Dream Labs.
"We could probably move a lot more volume on Amazon with a bunch of Google banner ads, but the educational legitimacy, the studies, the white papers — things like that will have long-term benefit and put us ahead of most of our competitors."
The Ultimate Goal: A Product That Grows in Step with Students
According to Jacob, Digital Dream Labs has a number of innovations in the pipeline, a few of which are under strict non-disclosure agreements.
But he was able to share plans for a product involving a smart speaker that will serve as a virtual tutor, a concept for using the Puzzlets game board to play games like chess with international users, and an alphabet and counting tool geared toward early learners.
"We want to do it all: provide games like Monstrous Molecules to serve high-schoolers and present another set of products for toddlers, so you can grow up with our product," he said. "The opportunity to be part of someone's educational experience is what really excites me."