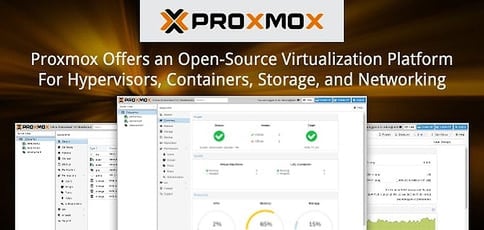 TL; DR: Founded more than a decade ago as a mail proxy for spam and virus filtering, Proxmox now focuses on its comprehensive open-source platform for enterprise virtualization. The virtual server solution integrates KVM hypervisor, LXC containers, software-defined storage, and networking technologies into a single, turnkey package. Marrying these technologies together allows modern businesses greater flexibility and the ability to scale without massive infrastructure investments. With plans in the works to further develop its replication framework and extend functionalities of backup tools, Proxmox is well positioned to continue its mission to deliver open-source server solutions to enterprises well into the foreseeable future.
As a leading manufacturer of music production solutions, Native Instruments balances the demands of staying on the cutting edge of both technology and culture. The company regularly collaborates on product design with the DJs, musicians, and editors around the world who use its hardware and software to create the modern music people hear on the airwaves.
Native Instruments would run costly dedicated hardware to accommodate the scale of testing and data retention needed to integrate user ideas into its products. The need to balance power with electricity load and space limitations led Native Instruments to seek a more efficient approach to its infrastructure. The company's IT team realized that virtualization was the best way to provide effective resource utilization and high availability to its more than 450 employees — and Native Instruments found the solution with Proxmox and its turnkey virtualization platform, Proxmox VE.
"From the beginning on, we really loved the user interface of Proxmox VE, as well as the live migration feature," said Daniel Wedewardt, Director of IT at Native Instruments. "Thanks to that, we could ensure an almost uninterrupted operation — but at a fraction of the cost of its commercial counterparts."
Proxmox VE was an instant favorite among the Native Instruments team of open-source enthusiasts. And, after rigorous fail-safe testing, the company felt confident enough to roll out its new setup, one cluster at a time.
Founded on open-source code, Proxmox's mission is to bring affordable virtualization to businesses that need reliable scaling on a tight budget. As with Native Instruments, many companies are turning to virtualization — especially open-source solutions — to save space, time, and cost.
"Virtualization and software-defined everything is the way to work in 2017 and the years to come," said Martin Maurer, Proxmox's CEO. "The Proxmox VE platform provides enterprises an easy approach that enables them to do more business with less investment."
Built from the Ground Up With a 100% Open-Source Philosophy
Proxmox's team began work in 1999 developing Linux server administration software. In 2005, Proxmox was founded as a company, introducing Proxmox Mail Gateway — a mail proxy for filtering spam and viruses at a time when these e-mail-based threats became more prevalent. In 2008, Proxmox released its flagship product, Proxmox Virtual Environment.
"With our open-source project Proxmox VE, our intent was to build 100% open-source code from the beginning on," Martin said. "We never liked the idea of the commercial open-source approach, which is widely used in the market."
Proxmox sets itself apart from the competition by providing completely open-source products based on a customer-first philosophy. And the company prides itself on being built from the ground up using the team's own investments.
"We never had business angels or venture capital involved," Martin said. "We own and have 100% control over business decisions, and this guarantees our customers a long-term business strategy without pressure from investors."
After more than a decade, Proxmox now powers the virtual infrastructure of more than 8,000 global clients across 140 countries — from NGOs to universities. Its most popular product, Proxmox VE, is one of the earliest platforms to offer full virtualization and out-of-the-box support.
Manage Kernel-Based VMs & Containers With a Single Web Interface
Proxmox VE is a comprehensive open-source solution for businesses looking to scale virtually. Martin told us one of the most important trends Proxmox sees relates to software-defined storage (SDS), which is why Proxmox offers a variety of SDS tools.
Providing a comprehensive solution for virtualization, Proxmox VE allows live migration, bridged networking, and management for containers. Linux-based containers can be run from a single kernel, allowing multiple isolated environments to exist on a single physical server. These containers can be managed from a single Web GUI that looks and functions similarly to leading commercial solutions.
Released in 2008, Proxmox VE was the first software to allow users management over both KVM virtual machines and containers from a centralized interface. At the time, KVMs were only accessible via command line.
"As we ourselves used VMs and containers for our internal development process, we needed an easy-to-use interface," Martin said. "None was available, so we decided to develop our own."
Proxmox VE integrates LXC containers and the KVM hypervisor with storage, network, and compute capabilities. The platform allows businesses to virtualize and optimize their IT infrastructure with a sizeable portfolio of features, and the flexible SDS solutions place no limits on storage definitions.
Users can configure as many VM images as necessary, using six different Debian-based network storage types and three different local storage types, including directories from the existing file system. VMs on shared storage can be easily live-migrated without downtime. Proxmox VE also allows network aggregation and up to 4,094 bridges per host, along with high availability, regular backups, and firewall protection.
Giving Enterprises Greater Flexibility & Scalability With Less Investment
According to Martin, Proxmox operates with the goal to grant enterprises the greatest possible flexibility and scalability with minimal investment.
"Leveraging the complete tool-set in the free software universe is where Proxmox VE has its power," Martin said. "As it is open-source, there is far less monetary investment needed, as no licensing costs arise."
Companies gain greater flexibility because they can integrate other open-source software into Proxmox VE, in addition to using its included tools. Martin told us this approach enables enterprises to scale their infrastructure as their business needs grow.
Proxmox VE's interface includes tools from a variety of sources, allowing users to accomplish many tasks and work with a wide variety of storage types.
"For successful companies, avoiding proprietary storage solutions is an important key factor nowadays," Martin said. "Crucial data has to be stored in open formats in open-source file systems and block devices to also be available in the future."
Closed-source products from single vendors lock users into very limited flexibility. Proxmox's solutions were specifically created to avoid this lack of versatility, and integrate many different storage types for the highest possible compatibility as businesses scale.
Building a Base for Enhanced Functionality in Virtual Environments
By keeping with an open-source development process, Proxmox's business model remains competitive among costly virtualization solutions. An open-source approach guarantees low cost and heavily implemented community feedback.
"An open-source development process is, in my opinion, by far the best and most future-proof approach to build software tools," Martin said. "At the end of the day, it's the discussion with our users that sets the roadmap for new features we're going to implement."
The most recent update of Proxmox VE 5.0 makes use of Ceph Luminous — a block storage solution attachable to VMs. Capabilities include the storage of snapshots and replication.
"This new version includes the Ceph Luminous integration, as well as our newly developed replication framework," Martin said. "These both set the base for great new functionality to come in future releases. Also, BlueStore and CephFS are planned in the near future."
CephFS refers to Ceph's file system, which uses the same cluster system as Ceph Block Devices. BlueStore is a newer, faster storage backend for Ceph, allowing for easier object storage on a single distributed cluster. The use of clusters in virtualization allows workloads from failed servers to be restarted on healthy ones.
Just as Native Instruments sought a more efficient way to manage its equipment and data, many companies are now turning to partial or full-time virtualization to free up datacenter space and ease the burden on IT infrastructure and its maintenance teams. By hosting data on a virtual server and accessing it remotely, work is preserved in the event of a workstation crash.
The demand for virtualization makes affordable and open-source varieties stand out from the competition. Low impacts on bottom lines combined with a need to scale are driving businesses to solutions like Proxmox's virtualization platform. And the company's team is dedicated to continuing to deliver these solutions with an open-source philosophy.
"The Proxmox team is a great bunch of open-minded people," Martin said. "We all love the spirit of open-source and to work with it."
Advertiser Disclosure
HostingAdvice.com is a free online resource that offers valuable content and comparison services to users. To keep this resource 100% free, we receive compensation from many of the offers listed on the site. Along with key review factors, this compensation may impact how and where products appear across the site (including, for example, the order in which they appear). HostingAdvice.com does not include the entire universe of available offers. Editorial opinions expressed on the site are strictly our own and are not provided, endorsed, or approved by advertisers.
Our Editorial Review Policy
Our site is committed to publishing independent, accurate content guided by strict editorial guidelines. Before articles and reviews are published on our site, they undergo a thorough review process performed by a team of independent editors and subject-matter experts to ensure the content's accuracy, timeliness, and impartiality. Our editorial team is separate and independent of our site's advertisers, and the opinions they express on our site are their own. To read more about our team members and their editorial backgrounds, please visit our site's About page.