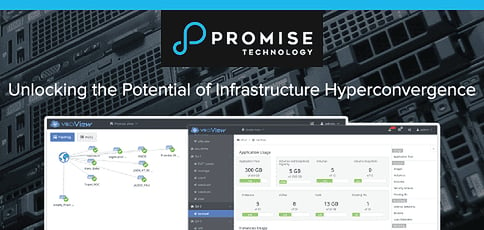 TL; DR: SMBs and enterprise-level businesses have been turning to Promise for its hyperconverged infrastructure solution, VSkyCube, to hyperscale datacenters by marrying computing, storage, and networking. With a centralized management system, VSkyCube simplifies workload migration and disaster recovery. The platform provides high availability and enhanced storage capacities, and requires less investment in hardware, which all work to boost efficiencies and lower operational costs. Promise also allows hosting companies to open up new revenue streams by providing affordable secondary cloud storage for their customers — something any host can get behind.
The IVX, Inc. is in the business of protecting people by supplying high-performance, real-time surveillance solutions to the public safety sector. With the increased demand for higher-definition cameras and all the data generation that comes with them, The IVX found the traditional storage approaches they were using were not enough to effectively serve their clients.
The company tried different proprietary and open-source solutions; however, none proved performance- or cost-efficient. The IVX then turned to Promise and employed its VSkyCube hyperconverged infrastructure.
This solution gave The IVX the ability to integrate computing, storage, and networking into hyperconverged nodes to essentially hyperscale the company's datacenter. As a result, The IVX can now store upward of 250TB of high-definition video data and has reduced operational costs associated with hardware and software by 40%.
To keep pace with growing business demands, enterprises need fast and responsive infrastructure, and Promise delivers.
"By merging storage, compute, and networking into one appliance, businesses can easily scale," said Jason Pan, Promise's Senior Director of Marketing and Business Development. "Our hyperconverged system is affordable and leads to greater business agility."
The VSkyCube platform offers the benefits of seamless disaster recovery, increased utilization rates, and higher availability.
Promise's latest product release, VSkyMotion, was built to sit on top of the appliance and allows admins to migrate workloads to Amazon Web Services (AWS) or private hosting providers. According to Jason, this allows hosts to essentially become mini versions of AWS for clients concerned about privacy on the public cloud.
VSkyCube: Hyperconverged Infrastructure Maximizes Business Agility
Hyperconvergence denotes a software-centric architecture in which storage, networking, and virtualization are integrated, sold, and supported by a single vendor. VSkyCube is designed with small and medium businesses in mind but is also scalable for large datacenters. The platform is manageable through a single window pane that utilizes different nodes. Resources can thus be quickly deployed, scaled, and adapted to fit business needs. Jason told us the difference between workload migration from traditional backups and Promise's solution is significant.
"In the old days, you'd buy a server and pay a lot of money," he said. "We're trying to get away from that."
Instead, workloads are pre-migrated to the cloud and are recoverable in the event of catastrophe.
VSkyCube's centralized management system, VSkyView, makes workload migration and disaster recovery easy and manageable in spite of the chaos that often follows in an emergency. Recovery and migration are achieved by providing an infrastructure in which scaling is nearly effortless.
VSkyView, the centralized management system, allows for script-based orchestration and supports workload migration from physical servers in lieu of the more costly, slow, and burdensome methods of manual migration. VM migration is achievable with and without shutdown, and snapshots of system volumes are also possible. The full integration of virtual machines makes deployment easier for multi-tier applications.
Monetize Disaster Recovery Through Workload Migration for Enterprises
One of the more interesting use cases for Promise's solutions is how it is allowing hosting providers to monetize their clients' needs for workload migration and cloud storage.
"The customer who does not have the budget to set up a secondary site could work through a host," Jason said.
Using VSkyCube and other technologies, hosts can become "mini-Amazons" that provide cloud storage for privately hosted files. These files are stored on private servers and upload quickly despite large sizes. This is especially helpful in the case of video surveillance files, which are useful in possible disaster recovery scenarios and investigations. Because video files are often very large, fast upload times are necessary.
Jason described the ease and mobility of the workload migration process as "the datacenter in the truck," akin to a "giant USB stick."
"It provides value to hosts because now they can be both your host and your disaster recovery solution," he said. "This allows hosts to stay competitive with the AWSes of the world."
The popularity of Amazon storage has been growing exponentially, but companies in need of a different solution due to privacy concerns can find just what they need in a host using Promise.
"Some companies can't put video or data on Amazon because it's private," Jason said. "So these businesses forego popular cloud solutions in favor of private hosting."
Pay as You Grow — Keep Costs Low Through Need-Based Scalability
Promise helps keep costs for hosts low with scalability based on individual needs. Smaller businesses with fewer resource requirements can get smaller packages and upgrade when necessary.
"The smaller guys can enjoy that now," Jason said. "They basically have a primary site, and they can back it up to a physical site or to the cloud. That's the advantage of having the choice… We actually build it from scratch to optimize it."
Clients need only pay for what is absolutely necessary, cutting server costs significantly without requiring a significant upfront cost. Promise takes care of the integration and uses low-cost servers for the cloud environment.
"In addition to the option to purchase the VskyCube as a hardware appliance, a software-only option is also available. The software is charged based on the number of cores it supports, the more powerful the CPU, the more VMs (virtual machines) it will support."
Promise's relationships with hardware companies have also helped keep server costs low. This, combined with hyperconvergence, means Promise has a competitive edge when it comes to both hardware and cost efficiency.
"Because of our legacy over the past 30 years, we have built a lot of good partnerships with manufacturers," Jason said. "We have a very solid foundation."
Offering Businesses a Suite of Products Sitting on One Platform
Promise offers businesses a diverse suite of products, all sitting atop one platform, and VSkyCube is their hallmark offering, paving the way for hyperconvergence. Because centralized workload migration solutions run smoother than disparate systems, hyperconvergence can reasonably be seen as the future of disaster recovery.
"VSkyCube works right out of the box," Jason said. "There's no need to call Dell for the server or call a storage vendor about the drives because everything is integrated and provided by a single vendor."
Companies, like The IVX, are turning to Promise because it offers high availability, enhanced storage capabilities, and a reduced need for hardware, all of which significantly cut costs and boost efficiencies for hosters.