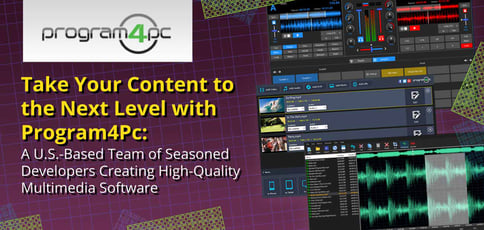 TL; DR: Program4Pc is a development company focused on providing high-quality, user-friendly multimedia tools at affordable price points. The audio, video, and photo software specialists, based in the U.S., take pride in delivering faster customer support than many of its overseas counterparts. With free updates and heavily discounted version upgrades, Program4Pc is putting advanced multimedia software within reach for a broad range of customers.
In today's digital world, accessibility and professional design go hand-in-hand. By creating software with a wide range of users in mind, developers can unlock opportunities for frequently marginalized individuals, improving the customer experience overall.
Whether creating a video conversion application or cutting-edge DJ software, Program4Pc has always focused on inclusivity in design. And, lately, it seems the company's efforts are paying off.
"I recently received an email from an individual with autism who was grateful that our software interface was easy to navigate, with no hidden buttons or complicated menus," said a support team member at Program 4Pc. "It felt amazing knowing that this user thought the software was so easy to understand that he would take the time to type out that kind of feedback."
Program4Pc's expansive range of audio, video, and photo-editing software was built to provide robust yet easy-to-use solutions at affordable price points, putting advanced multimedia tools within reach for an expansive user population.
In addition, the U.S.-based team of developers is trained in the art of delivering customer-centric products backed by knowledgeable support. With free minor updates based on customer feedback and all-new versions in the works, Program4Pc is committed to serving its user base through ongoing improvements.
High-Quality Audio, Video, and Photo Editing Software
Program4Pc introduced its first software product, Video Converter Pro, more than a decade ago. The intuitive, fast, and reliable software enables users to convert their video files to more than 300 formats while also adjusting elements such as screen resolution, audio codec, and frame rate. It also allows users to enhance and personalize their videos using special effects, as well as tools for trimming and merging files.
Today, the company's software suite also includes Audio Converter Pro, a user-friendly tool for converting files between popular audio formats, extracting audio from video, trimming files, recording music, and even creating ringtones for the iPhone.
Program4Pc has also branched out into professional DJ and audio mixing software. With DJ Music Mixer, novice and professional DJs alike can enjoy automated MP3 mixing and beat matching, real-time effects, smart looping functionality, pitch shifting, video mixing, and the ability to remove vocals from any track.
The company's DJ Audio Editor, on the other hand, enables users to manipulate and edit audio files with ease. The software allows users to trim and mix audio files, record audio from any source, apply filters and effects, convert CDs to audio files, extract audio from video, and edit audio tags, among other features. DJ Audio Editor also allows users to save files in a variety of popular formats.
A Full Suite of Multimedia Tools Made in the U.S.
Program4Pc recently rounded out its multimedia software suite with Photo Editor, an intuitive piece of software designed to enable both amateurs and professional graphic designers to customize their images. Among other features, the full-functioning solution allows users to crop, resize, and edit images; create animated GIFs from videos and photos; make custom slideshows; and capture images from videos.
The company offers easy payment options through a credit card or PayPal. After payment, a license code will be sent to customers automatically. To install the software, simply download the free trial version and enter your provided code. If you ever lose your activation code, the company's customer service team is ready and waiting to provide a new one.
Program4Pc outshines its competitors in ease-of-use, affordability, and especially customer service — due in part to the company's convenient location within the U.S. The company's engineers, developers, and customer service team does everything in-house in the U.S.; nothing is outsourced to other countries.
Program4Pc's high-quality software and attentive customer service have resulted in five-star reviews from more than 20 million customers.
Affordable, Easy-to-Use Solutions with Free Updates
In addition to usability and customer service, Program4Pc differentiates itself through affordable price points. Each piece of software may be purchased on its own for a reasonable cost, though discounts of up to 60% are available for bundled packages.
Program4Pc allows all users to download the DJ Music Mixer, DJ Audio Editor, Audio Converter Pro, Video Converter Pro, and Photo Editor for a risk-free trial with watermarks on output video and audio. After purchase, the company provides a 30-day money back guarantee. Program4PC wants to make sure users are 100% satisfied with its software.
Program4Pc also offers bulk discounts upon request to help ease costs for multi-license users. These cases should be routed through the company's customer support center.
And, to help customers saving even more money, the company provides registered customers with free minor updates for all software. Each application includes automatic notifications when these updates are released, ensuring a seamless and stress-free process.
In addition to in-person support, Program4Pc offers detailed tutorials on all products. For example, the online resources for the company's DJ Music Mixer include instructions on how to activate the program, set cue point, change tempo and pitch, apply effects on music, create playlists, remove vocals, and crossfade between decks, among many other professional functions.
Coming Soon: Version Upgrades with Discounts Available
On top of free periodic updates, Program4Pc offers these major upgrades to current customers for 50% off. Of course, users are free to keep the previous version as desired.
"For example, you can buy version 8.1, you can get free updates up to version 8.9, and then purchase version 9 for 50% off," he said. "Or, you can just keep version 8.9 for as long as you want."
With each update and version upgrade, users can expect an enhanced and even more accessible user experience.