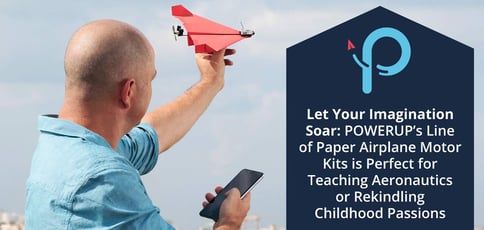 TL; DR: Whether you're looking to teach children STEM concepts or simply entertain your inner child, POWERUP is the place to turn. The Kickstarter-backed company's complete line of motor kits add power, mobile controls, and video streaming to the classic paper airplane, transforming it into an interactive tool for teaching aeronautics or just having fun. With plans for future collaborations and a forward-thinking approach, POWERUP's goal is to continue to inspire customers well into the future.
Paper airplanes are a timeless staple of any childhood. No matter where or when you grew up, chances are you have carefully folded a piece of loose-leaf paper into a makeshift aircraft to see if it could fly.
You'd then show off your creations to your friends, host playful flying competitions, and maybe even use them to annoy your teachers.
Today, paper airplanes remain as beloved as ever before. And because they're accessible, non-intimidating, and fun, teachers are actually welcoming them into their classrooms as tools for teaching aeronautics.
But these aren't your grandfather's paper airplanes. With conversion kits from POWERUP, educators, parents, and children ages 8 and up can add motors, mobile controls, and video streaming to the classic paper plane, transforming it into a vehicle for playful experimentation.
"Everyone, from children and teachers to geeky adults, loves this product," said Shai Goitein, Founder of POWERUP. "It's a multigenerational hands-on way to introduce real-world engineering concepts."
POWERUP offers a wide selection of products that make paper airplanes come to life, from simple propeller units to smartphone-controlled kits with takeoff and landing gear. POWERUP 4.0, the latest smartphone-powered model scheduled for delivery April 2020, includes an onboard flight computer, autopilot, a gyro accelerometer, and flight telemetry, among other new features.
When it comes to future development, POWERUP intends to keep working at full throttle, with plans for upcoming collaborations and new products underway. Ultimately, the company's goal is to create an evergreen product that will continue to inspire children and adults for years to come.
The Kickstarter-Backed Paper Airplane of Our Time
Shai has a wealth of experience in industrial design. After graduating with a Bachelor of Fine Arts from the Bezalel Academy of Art and Design in Jerusalem, he went on to serve as a Senior Product Designer for Creo before becoming the Industrial Design Manager for Eastman Kodak in Israel.
"I've been an industrial designer for more than 10 years, but my passion for flying was always there since I was a small kid," he said.
To satisfy that passion, Shai would volunteer in the evenings to teach underprivileged children aerodynamics and aerospace concepts as part of a larger STEM project. It wasn't long until the experience inspired him to do what he does best — design great products.
"I got the fun, crazy idea to take microelectronics and build a contraption that can make a small paper airplane fly," he said. "As an industrial designer, I approached the problem methodically: How do you take something that's folded, that's not so stable, that's not always accurate, and add controls and propulsion?"
After many design iterations, Shai landed on a winning model. "It was that eureka moment — it worked really well, and it was just too good not to turn into a product," he said.
He turned to Kickstarter to fund the project, which resulted in the 2011 release of the POWERUP 2.0, a simple conversion kit that allows a paper plane to remain airborne for more than 30 seconds on a single, 20-second charge.
POWERUP 4.0: The Newest Smartphone-Controlled Device
As the business took off, it began to introduce new, more complex kits. In 2013, the company released POWERUP 3.0, a sophisticated, smartphone-controlled kit powered by Bluetooth. "It was a novel application of Bluetooth at the time, and it was extremely successful on Kickstarter — one of the most funded projects back then," Shai said.
In 2015, the company introduced POWERUP FPV, which allowed users to experience flight through a live video feed and smartphone controls. And in 2017, it launched POWERUP DART, an app-controlled paper airplane that can take off from the ground, perform tricks, and reach speeds of 25 miles per hour.
These three products were each successfully backed by Kickstarter campaigns, attracting a total of more than 45,000 backers and over $3.5 million in funding. "We've been using Kickstarter as a platform for funding since the beginning with our first production line, as well as for marketing and feedback so we can learn how the product performs, what people like about it, and what doesn't work well. It's a great help in our commercialization process," Shai said.
The company launched its fourth Kickstarter campaign for POWERUP 4.0 in September 2019. Production will begin in January 2020, followed by an app release in March and deliveries in April. The product, featuring a new onboard flight computer, two sensors, and autopilot assist, will be easier to fly, more powerful, and more durable than ever before.
"We made the POWERUP 4.0 more robust, portable, and easier to fly," Shai said. "And, because of the sensor technology, users receive real-time data on the airplane, which they can use to learn how to make it efficient and fly longer. It's actually giving you feedback and educating you on how to make your aircraft."
An Interactive Tool for Teaching Principles of Flight
POWERUP's classroom kits provide a hands-on opportunity for third-graders and up to learn about aeronautical design while improving their problem-solving skills. Each kit offers unique benefits, and academic discounts are available upon request.
POWERUP 2.0, for example, is an affordable way for teachers to introduce origami, physics, and all components of STEM (Science, Tech, Engineering, and Math) to students. The product is sold in sets of four or 24 and includes a lesson plan for teaching aviation and aerodynamics through project-based learning.
"This is more of an entry-level version, where it flies without any control," Shai said. "Many schools like it because it's a low-cost, approachable way for students to understand the causes and effects of the changes they create."
For students in fifth grade and beyond, Shai recommends POWERUP 3.0 for STEM, POWERUP DART for STEM, or POWERUP FPV for STEM. These products were designed for students in upper-level creative and technical classes.
But POWERUP isn't only focused on flying. With the POWERUP Boat for STEM, educators can teach students in third grade and higher about ship design and hydrodynamics. The company also offers a rich source of designs, experiences, and videos via the POWERUP FlightDeck, a sharing platform designed for educators.
Shai said POWERUP strives to listen carefully to customers young and old to understand their pain points and identify room for growth. "Part of success is failure," he said. "We're always looking for incidents where a customer has a challenge so we can improve as we move along."
The Sky's the Limit: Future Collaborations and Long-Term Plans
In addition to the official launch of POWERUP 4.0, Shai said the company has several upcoming plans — though many are under lock and key.
He can, however, disclose that POWERUP recently collaborated with Flite Test, one of the largest radio control events in the world, on a model that will use foam rather than paper.
"We want to make the product look great and ensure it will last for many years," Shai said. "We aren't looking at POWERUP as a short-term project. We want it to be evergreen."