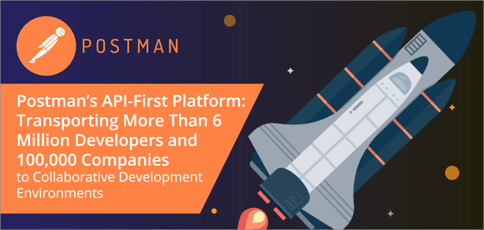 TL; DR: Postman provides an API development environment that helps users worldwide build connected software via APIs. The platform, which serves SMBs and enterprise-level organizations alike, features powerful built-in tools for managings APIs quickly, easily, and accurately throughout every step of the development process. With continuous updates based on customer feedback, Postman is on a mission to bring out-of-this-world transparency to API development and management.
Generally, APIs — the intermediaries that allow applications to talk to each other — aren't created in vacuums. The collaborative process is part of a software development life cycle that includes planning, analysis, designing, testing, and maintenance. To stay in sync, it's essential that members of an API development crew orbit around a single source of truth.
For almost a decade, entrepreneur Abhinav Asthana has been on a mission to perfect a software environment where API developers can do just that. In October 2012, frustrated with the limitations of API tools like cURL, he began working on a side project he dubbed Postman.
The free Chrome extension, initially launched to help developers send and analyze HTTP requests, quickly gained traction within the developer community. In 2014, Postman was formally incorporated as a company, and since then, its journey has revolved around addressing every stage of the API development lifecycle.
"APIs are mostly built through teams, and Postman connects all of the different aspects of the process," said Kaustav Das Modak, Developer Advocate at Postman. "Whatever anyone does, whether they're an API architect, front-end developer, systems developer, or tester, is visible to their team members."
Today, Postman enables more than 6 million+ developers and 200,000 companies worldwide to operate in collaborative API development spaces, ensuring transparency and accountability throughout every step of the process. The company's flexible SaaS products cater to a wide range of users, from freelancers and SMBs to enterprise-level organizations. With flexible, built-in management tools and a focus on continual development, Postman is committed to simplifying the API universe.
Ensuring Transparency and Accountability in the Development Process
The history of Postman is tied closely to the evolution of APIs, which have taken center stage in modern software development. "In the past, the industry still worked through a code-first approach, where APIs were somewhat of an afterthought," Kaustav said. "So if you were building a web application, you would write the code and then consider the APIs you would need."
The strategy often made the API development process unnecessarily lengthy and disorganized. This eventually led to a fundamental shift in software development toward an API-first approach, in which developers put the boundaries where systems interact in place before the coding process.
However, there were two fundamental problems to an API-first model. First, the tools used to build APIs weren't well-integrated, forcing developers to complete many repetitive tasks. Secondly, the teams that used these tools didn't communicate well. Postman solves both of these problems — which is perhaps why the platform grew to support 500,000 users purely through word-of-mouth.
"Throughout our history, we've had the benefit of being very close to the community," Kaustav said. "It has always been about listening to the community — and the trends have organically bubbled from there."
The company now interacts with its community through events such as POST/CON, an official Postman user conference focused on building modern software from the perspective of API publishers, developers, and experts. The first conference, held in San Francisco last June, included presentations, networking opportunities, and in-depth workshops on getting the most out of the platform.
Powerful Built-In Tools for Managing APIs Every Stage of Development
Postman's comprehensive suite of features is also informed by interactions with its users, who come from organizations of all sizes and have their unique requirements. One of the company's newest features, Workspaces, allows users to streamline collaboration across enterprises through control centers they can customize to reflect the structure of the organization.
"We provide a range of features enabling us to work with anyone who builds or interacts with APIs," Kaustav said. "For example, if a large company implements a microservices architecture, we see them build a lot of internal APIs, which means they have a lot of Postman Collections (a group of saved requests you can organize into folders), Workspaces, and internally published documentation, but not much public documentation."
Other users leverage Postman for both internal and external documentation. "We have kind of a mix and match of all of these — and the app itself presents all of these options in one flow," Kaustav said.
Since Postman's birth as a Chrome extension, the company's goal has been to ensure the tool integrates seamlessly within the developer workflow. To that end, Postman has its own API, which allows users to programmatically access data located within a user account.
In addition, Postman Pro and Postman Enterprise users can access third-party integrations that are available to share data or functionality between Postman and other API development tools and resources, including APIMatic, GitHub, PagerDuty, and Slack.
Serving Freelancers, Developers, and Industry-Leading Enterprises
Postman is available as a free app for Windows, Mac, and Linux that supports the entire API life cycle, from design and testing through documentation, monitoring, and deployment. Postman Pro builds upon the experience offered through the free app with a complete toolchain for sharing API requests, variables, and templates across teams.
These tools include mock servers to simulate endpoints and corresponding responses, dedicated IP addresses for API monitoring, documentation, and more.
The API Platform and Ecommerce teams at Kansas City-based AMC Theatres, which is responsible for maintaining hundreds of endpoints across multiple APIs and environments, has used the extended features of Postman Pro to document partner and private APIs since 2016. Prior to that, the team was forced to string together many independent tools and processes while lacking a standardized format for the API.
With Postman Pro, the AMC team can quickly reference endpoints throughout the system and across development environments as they work on new services. "Postman Pro is a great tool that enables team collaboration," said Ian Joyce, Director, API Platform & Ecommerce at AMC. "The sharing capabilities help make onboarding new developers and partners a much easier process."
Postman Enterprise, on the other hand, offers the benefits of Postman Pro plus tools that help users monitor the health of APIs, produce documentation, connect to third-party development tools, and implement an agile testing process.
"The enterprise plans we offer come with specific features of value to midmarket and larger organizations, such as static IP allocation for API monitoring, custom permissions, and dedicated customer service," Kaustav said.
The plan also includes features that allow for more secure team management, such as Single Sign-On (SSO) services, which make it easy to manage a team's identity across all the SaaS products it uses, and audit logs that allow admins to determine when users received an invitation to the team, were added to the team, or performed a specific action.
Into the Future: Increased Accessibility and More Granular Permissions
Kaustav said 2019 will bring a slew of new features, including enhanced custom permissions for the Postman Enterprise plan. "We have been getting a lot of feedback from companies that require greater consent in terms of what individuals can join or leave a specific workspace, and that's something we're focused on," he said. "We expect to release an upgrade around that early this year."
In addition, the team is working on solutions to make the API development life cycle more successful — and more "fulfilling from a development perspective," according to Kaustav. And a feature development roadmap is available for public viewing.
These tools will allow Postman to deliver an even more collaborative process to help API development teams worldwide leverage a single source of truth.