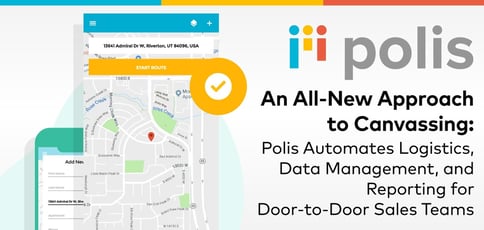 TL; DR: Polis is changing the game for door-to-door sales organizations with its full suite of canvassing tools. The outreach software optimizes outreach with smart technology, which tracks user progress and automates cumbersome tasks, and with targeted data that maximizes sales success. With built-in product testing strategies and plans to train a nationwide sales force, Polis aims to continuously raise the bar when it comes to canvassing.
In Ancient Greece, the term "polis" was used to describe a community structure in which an urban center typically controlled a surrounding territory of land. The ideal government for this type of establishment, according to the Athenian philosopher Plato, was one that could work toward satisfying the common good of its people.
While the ancient city-state has faded into obscurity, Plato's philosophy remains very much alive in the spirit of the aptly-named software company Polis. Its canvassing technology was built to bring sales communities together to leverage the value of in-person communication, taking door-to-door outreach to the next level.
"Polis optimizes door-to-door sales by generating insights about where to target and focus your message based on a feedback loop," said Aditya Sathyanarayan, Software Engineer at Polis. "The tool helps make canvassing easy through the use of smart technology, targeted data, and top-tier partnerships."
With Polis, users can also automate data management, logistics, and progress reporting, empowering their staff to spend less time staring at spreadsheets and more time engaging in face-to-face sales interactions.
The Boston-based company offers a range of products, including the Polis App; designed to enhance team management, targeting selling, and reporting and analytics; Polis Data, a comprehensive data file on 97% of American households; and Polis Direct, a full-service field sales solution.
Ultimately, Polis is on a mission to revolutionize canvassing, making it easier for teams and managers to track activity, zero in on ideal prospects, and grow their businesses through maximum sales success. And, with advanced product testing strategies and future plans to train a nationwide sales force, the company ensures its software and services will remain on the cutting edge for years to come.
Opening Doors to Sales Through Optimized Outreach
Founder Kendall Tucker originally founded the company in 2015 as a resource for candidates and volunteers working on door-to-door outreach campaigns. The platform enjoyed speedy adoption. In 2016, for instance, users with various political interests leveraged the app to knock on more than 3 million doors. By 2017, Aditya said the company began to evolve in the direction of door-to-door sales — particularly after a $2.5 million seed funding round from Haystack VC — and shortened its name to simply Polis.
"About 1.5 years ago, we began to shift toward corporate sales," he said. "Now, we also do a significant amount of work in the solar, telco, and smart home domains, where we help sales teams better manage their canvassing and provide routes to areas where consumers are more likely to be interested in a product or service."
In addition, Aditya told us Polis offers everything from lead generation to team management, targeted selling, and a robust analytics suite. Underlying all these services is a mission to make door-to-door teams more efficient, and, as a result, allow them to enjoy greater success.
"Companies can use Polis to direct and track their sales forces, and canvassers can use the tool to find optimized routes through the neighborhoods they are assigned to," he said.
Maximize Success: Smart Technology and Targeted Data
Aditya told us Polis users enjoy a number of competitive advantages, from more effective targeting to better engagement rates to higher returns on investment. The company essentially provides businesses with a management council and sales people with the data they need to prepare them for interactions with the people they will meet behind each door.
From the management perspective, Polis streamlines the operation significantly. "Tasks like creating walk list assignments can quickly become cumbersome when your sales team is canvassing a large area," he said. "With Polis, you can just use your smartphone to keep track of what your team is doing and direct them toward particular areas based on their location."
The company's National Data File is created with information from face-to-face interactions, making its data points on demographics such as gender, age, ethnicity, political affiliation, and income all the more reliable. Polis Direct, the company's full-service product, uses Polis App, Polis Data, and internal trained field sales reps to sell products of strategic partners.
The company uses artificial intelligence-based insights, as well as guidance from expert advisors at Polis, help businesses identify key opportunities for growth. In the energy industry, for example, a company could explore whether renewable energy is purchased more often by high-end smart-home owners or those worried about climate change, and execute a strategy, complete with customized offers, accordingly.
"Our partnership with Polis allows us to utilize technology to enhance our member experience at the point of sale," said Dipin George, Senior Manager, Sales Operations at Inspire Energy, in a review on the Polis site. "Polis' software leverages data to help us offer individual value to each of our members with personalized offers, which we've seen increases their loyalty to Inspire."
Updates Via Built-In Product Testing
When it comes to updating the platform, adding new features, and testing new ideas, Aditya said the company's customer feedback and customer success teams lean heavily on its customers. For brand-new ideas, the company depends on a feedback loop — somewhat like built-in A/B testing.
Features like the company's APIs — which complete the flow of data into customer CRMs, onboarding apps, compliance systems, and more — were based on developers' close ties with customers.
"We have a product team who are in constant touch with our customers," he said. "To get feedback on new features, we transfer a set of users to a beta program, they test the technology for us, and, based on that feedback, we will make changes or integrate the feature to be deployed."
The development process mirrors the Polis feedback loop used to help sales forces to obtain the best results based on the experiences of others. As the company continues to grow, Aditya said its customer feedback and success team will also expand.
"We currently have a development office in Boston and a remote location in Brazil," he said. "We are looking to hire rapidly for the Boston office into the next year."
Up Next: Training a Nationwide Sales Force
Exciting developments are on the horizon for Polis moving into 2020, with the ultimate goal of building a distributed sales force nationwide.
Aditya said his team is working on sales training technology that will remove barriers for personnel looking to enter the field.
"We have great sales people knocking on doors across the U.S. with the help of our tools, but we are also looking at training non-sales people to use the tool and become good at it," he said. "To achieve this goal, we're actively expanding our tech team and hiring sales representatives as well."