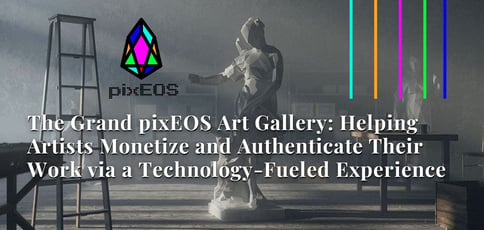 TL; DR: pixEOS is a technology company focused on finding real-world solutions for difficult problems in the art world through top-notch development. Artists, collectors, and buyers can use the company's innovative solutions to monetize content, prove ownership, and verify authenticity. Whether it means working on a collaborative, NFT token-powered piece of art or a physical art collectible authenticated by distributed ledger technology, pixEOS is committed to elevating the art world to new and innovative heights.
For art collectors, one of the biggest determinants of an item's value is its provenance, or history of ownership. Traditionally, provenance records have come in the form of appraisals, invoices, bills of sale, archives, or museum inventories.
But in the digital world, the process of authenticating artwork is far more thorny. For one, today's technologies make it easier than ever for criminals to forge or counterfeit ownership documents for physical works of art.
Secondly, online art theft has become somewhat of an epidemic. It happens so frequently, in fact, that some artists avoid sharing their work on the internet altogether.
To encourage a flourishing online art environment with legitimate records of authentication, pixEOS is tapping into the strengths of modern technology with its Grand pixEOS Art Gallery, an international marketplace for collecting art on the blockchain.
"Every piece of digital artwork in our gallery has an immutable certificate of provenance issued in the blockchain proving that it is original," said Fred Nogueira, Founder & CEO of pixEOS. "It is just like in a physical gallery or museum — you can reproduce the original artwork as much as you want, but in the end, ownership is specified by the certificate of provenance."
The company's other projects include pixEOS Avatar Maker and pixEOS Paint Flash Edition (FE), a collaborative, token-powered canvas. Both aim to help artists monetize and authenticate their content while cutting out the middleman using distributed ledger technology.
Ultimately, through a range of efforts, pixEOS is on a mission to create a highly evolved art ecosystem that treats both digital and physical works of art as valuable and verifiable assets.
Applying the Advantages of Blockchain to the Digital Art World
Fred, who has been an art collector for more than 15 years, has always dreamed of finding technology-based solutions to problems inherent in the art world — especially those that address authentication and provenance issues.
"Later down the line, I got acquainted with the blockchain and crypto space and found that immutability, encryption, and all the other advantages the technology offers were super fitting to the arts," Fred told us. "After some research, we started to work on our business vision."
In just a year and a half, pixEOS's small group of entrepreneurs, developers, and partners generated a large community of individuals from both the art and blockchain scenes. Since its launch in November 2018, the company has also attracted interest from the mainstream market.
The group first focused its efforts on the pixEOS Paint App, a commemorative online canvas using pixEOS tokens and stored on the blockchain. The first of its kind with a native token reward system.
"It was the first organized canvas with a native token that was ever coded," Fred said. "Everything was immortalized on the blockchain. We launched it in record time — about two months."
pixEOS has been hard at work developing other products to help artists monetize and authenticate their intellectual property — all while cutting out the middleman in true distributed ledger fashion.
Fred said the Grand pixEOS Art Gallery, which allows artists and collectors to sell and curate digital assets, is gaining significant traction.
"We have been able to onboard new artists every day — mainstream artists, not only crypto artists, are starting to monetize their work and their content using the gallery," he said. "They can actually sell their digital art pieces, backed by an NFT token."
Unlike some cryptocurrencies,
pixEOS the NFT Token is not a financial asset, per se. "It is a unique token in that the value is not in the token but the piece it represents, and our platform token is the utility that allows artists to publish and collectors to collect art," Fred said.
A Collaborative, Token-Powered Canvas: pixEOS Paint
The company's first project, the aforementioned pixEOS Paint FE, was inspired by The Million Dollar Homepage, a website created in 2005 by a 21-year-old student in Wiltshire, England, who wanted to raise money for his college education. The site, which featured 1 million pixels on a grid, offered 10 by 10 blocks of image-based links at the price of $1 per pixel.
"It was a huge hit once companies discovered it," Fred said. "It attracted the attention of major businesses and made more than $1 million in five months."
pixEOS Paint, a 1.000.000-pixel canvas, was crowdfunded by the pixEOS community when it was first launched. The platform, billed as an entertainment and art products source, raised close to $1 million.
The token economy worked largely by rewarding participation. The system allows users to purchase pixels owned by another player for 1.25 times the previous pixEOS price. When such a transaction occurs, the previous owner earns back 100% of the pixEOS tokens that they paid. The 25% increase is then distributed between the previous owner, the top three players per 24 hours, and proceeds for platform resources needed such as CPU and RAM.
"In addition to pixEOS Paint, we launched a smaller version where people could just have fun with our utility token," Fred told us. "People can create pieces within the canvas and export them to the gallery. We also have plans to integrate designer tools into the gallery so you can create your artwork, publish it there, and monetize it directly."
The pixEOS Avatar Maker: An Experiment in Immutability
Since its success with pixEOS Paint FE, the young company has continued to create unconventional consumer products that highlight the benefits of distributed ledger technology — such as the pixEOS Avatar Maker.
Fred told us the service shouldn't be confused with Gravatar, a service from Automattic that provides a personal image that appears when a user performs a specific action, like posting a comment on a blog.
"Gravatar is a well-known, sustainable business," he said. "But unlike Gravatar, the pixEOS Avatar Maker can assure each user owns their personal avatar, because it is registered to their blockchain account. You're not just posting any proprietary image as your avatar."
The pixEOS Avatar Maker is fairly simplistic in its current form, which is highly pixelated but unique to each user.
"The app is not monetized yet, but we are further developing the platform," Fred said. "Right now, you create your personal avatar, and it's connected to your blockchain account. You've created a piece of history, and it's yours forever. It breaks records on blockchain calls per second and it's a very powerful 'free to use' example of how blockchain can be used for non-financial applications."
In the future, users will be able to transfer and sell the avatars they create, as well as pay for a premium platform featuring a non-pixelated image creator. "We're working on improving all the aspects of this product," Fred told us.
Up Next: Physical Collectibles with Digital Provenance
The pixEOS team is currently anticipating the launch of its first set of collectible statuettes.
"We will launch one of the first, if not the first, physical collectibles in the history of blockchain," Fred said. "The statuettes are powered by a near-field communications (NFC) chip that connects the figure to a digital provenance and a blockchain token of authenticity. They'll be limited edition and sold for art market prices according to the significant innovation they bring for the art world."
The company also plans to create tamper-proof stickers that artists can use to digitize physical artworks.
"We're expanding the technology to the physical world so that it will be applicable to any kind of art business, such as a museum," Fred told us. "It would be possible to digitize their whole collection, so if they lend their artwork to an exhibition or another museum temporarily, all of their information will be immortalized in a distributed ledger. A supply chain, but for art institutions — with the possibility to display and showcase the collection to the public, but also keep important information like provenance, insurance, security, and insurance in an immutable and immortalized way."