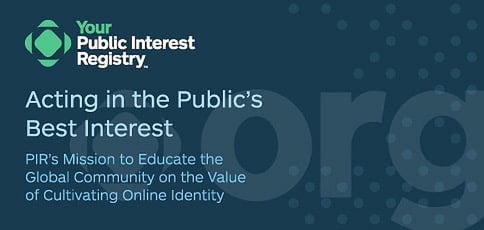 TL; DR: Since 2002, the Public Interest Registry has been committed to serving the global community by managing top-level domains (TLDs) that allow organizations to define their online identities. First as the operator of .org and more recently as the proprietor of .ngo and .ong — TLDs reserved solely for nonprofit, non-governmental organizations (NGOs) — Public Interest Registry strives to bring those without internet access online, educate users on how to effectively leverage the power of the web, and shed light on security risks unique to the nonprofit community. The goal is to advance the public good by connecting the world through technology and collaboration.
Most of us can't fathom a day without our smartphones, let alone a lifetime without internet access. But, for nearly half of the world's population — 48% as of June 2017, to be exact — the latter scenario is the norm.
Bringing the life-changing benefits of internet connectivity to that underserved group is one of the core missions of the Internet Society, an international nonprofit founded in 1992. A decade after its inception, with the domain market still in its infancy and internet use continuing to rise, Internet Society created the Public Interest Registry.
"Internet Society's initial goals were to promote the open and interconnected internet for all and educate government, industry, and civil society on the potential of the internet," said Brian Cute, Public Interest Registry's CEO. "Public Interest Registry was founded to educate and serve the noncommercial community on effective internet use and offer these organizations a trusted identity online — the .org domain."
Today, the two organizations share a common purpose, with Public Interest Registry funding Internet Society's efforts to improve privacy, security, and accessibility online. Whether advancing causes through additional domain extensions exclusive to nonprofits or helping them prevent and defend against virtual threats, Public Interest Registry remains focused on unlocking the potential of the internet for users worldwide.
Shaping the Online World Through a Trusted Top-Level Domain
When the CEO role at Public Interest Registry became available in 2011, Brian said two things immediately attracted him to the job.
"The first is that Public Interest Registry is both a non-for-profit with a clear mission, as well as a wholesale registry business, which to me offers the best of both worlds," he said. "Secondly, I wanted the opportunity to lead a passionate team. I really believe in the model of teamwork and having a strong organizational culture and wanted to be in a place where I could motivate people and teams to take on big goals and accomplish them."
Fortunately for Brian, Public Interest Registry was no stranger to achieving big goals. In 2003, the organization was involved in the biggest transfer in internet history when more than 2.6 million .org domains were switched to Public Interest Registry from the previous operator — a task that was accomplished without affecting a single .org registrant or website. It has been operated by Public Interest Registry ever since.
As a top-level domain (TLD), .org was originally created in 1984 along with .com, .net, .gov, .us, .edu, and .mil. Today, it remains one of the most popular, with more than 10 million .org domains registered worldwide, serving a wide range of organizations.
"We are fortunate that .org is viewed around the world as a trusted TLD, and that we are a recognizable brand that people associate with trusted information," Brian said.
Advancing Causes Through Domain Extensions Exclusive to NGOs
Although .org is commonly used by nonprofits, it's unrestricted and therefore open to a multitude of organizations, including for-profit businesses. So, as part of the company's global internet expansion initiative in 2012, Public Interest Registry submitted applications to the Internet Corporation for Assigned Names and Numbers (ICANN) for domains exclusive to charitable non-governmental organizations (NGOs).
To extend global reach, the .ngo and .ong domains are now sold as a package, with .ong signifying the translated equivalent of .ngo for regions where Romance languages are commonly used (for example, "organización no gubernamental" in Spanish). The domains are only available to the NGO community, requiring adherence to Public Interest Registry's registrant eligibility requirements.
In addition, .ngo and .ong domain holders are automatically listed in Public Interest Registry's NGO directory, OnGood, which provides instant visibility, access to a community of peers and supporters, and resources such as event listings, webinars, and guides.
OnGood's mission to help charitable and nonprofit organizations raise funds and increase public awareness of their existence is very much in line with Public Interest Registry's focus on education.
"Our greatest challenge, which is one that all TLDs face, is continuing to educate users on the value of an online identity like a .org or .ngo," Brian said.
Helping Nonprofits Prevent and Respond to Web-Based Threats
In his tenure with the company, Brian has witnessed both geographical and generational shifts in the industry.
"We've seen significant growth in northern hemisphere markets, including deep internet penetration, an uptick in domain names, and overall use of the internet," he said.
From a generational standpoint, Brian said millennials and Gen Xers are increasingly turning to social media to connect, establish their identities, and find peer communities.
"Helping the new generation understand why domains are important to their online identity and educating them on what a website can offer is important to us," he said. "We want this generation to learn and embrace the power that comes from managing their own content and data."
With these changes also come significant challenges in terms of emerging risks. Brian told us evolving digital threats have created an environment of increasing mistrust among web users who have seen rising cases of data breaches and malware attacks.
Public Interest Registry seeks to help NGOs in particular through education on security challenges and data privacy.
"We want to help make nonprofits aware of the threats they face online, and give them actionable recommendations for how to both protect themselves and respond to online threats," Brian said.
As part of that effort, Public Interest Registry recently published a three-part series on NGOs and Data Security that shares best practices for data breach prevention, recommendations for developing a data breach action plan, and insights on what to do in the aftermath of data breach.
In addition to security education, Public Interest Registry provides tools to help educate organizations on the importance of a trusted online identity, such as the NGO toolkit and Internet 101 Survey.
"It's a priority of ours to help the user community use the internet effectively, help them understand the importance of trust, identity, and security, and explain the benefits of their domain," Brian said.
Playing a Role in Bringing Clean Water to Uganda and Kenya
As a big player in the nonprofit space, it makes sense that Public Interest Registry also places a large emphasis on enriching global communities.
Beyond its extensive work in helping organizations advance their causes through trusted domains, Public Interest Registry works closely with WaterSchool, an organization that equips families in Uganda and Kenya with access to clean drinking water using simple tools and training.
It's a relationship and a TLD that Brian is particularly proud of.
"Water School works in partnership with community leaders and grassroots organizations to help provide clean water to 28 million people in Uganda and Kenya, and we were lucky enough to have the opportunity to help them develop an online presence in the form of a .ngo domain," he said.
Brian worked with WaterSchool in Kenya, where he saw firsthand how the group's three-step approach involving solar disinfection, simple household infrastructures, and training on hygiene practices improves health, boosts local economies, and allows children to focus on school rather than walk long distances to find water.
"It's these types of experiences that remind me of the great opportunity we have to support organizations truly making a difference in the world," Brian said.