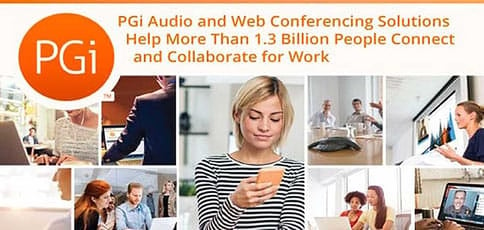 TL; DR: Modern organizations need to stay connected — with remote workers, multiple offices, and their clients. For more than 25 years, PGi web conferencing and collaboration technology has delivered reliable and easy-to-use solutions to meet the needs of both small and large organizations. PGi drives innovation in the web conferencing space with its innovative and updated GlobalMeet solution. The company's products are an invaluable tool for today's rising remote workforce, and, looking ahead, PGi sees technology continuing to drive the development of virtual meeting spaces.
Over the last five years, 1.3 billion people in 155 countries have used PGi web conferencing solutions to conduct 300 million virtual meetings — a larger audience than watched the 2014 World Cup Final. Those numbers convey the global reach of the world's largest dedicated provider of collaboration software and services.
Atlanta-based PGi formed in 1991 with the goal of empowering businesses and employees to connect and collaborate through virtual meetings.
Today, PGi products, such as GlobalMeet, which delivers streamlined audio, video, and web conferencing in one straightforward solution, are valuable tools for companies with remote employees and organizations with teams spread around the country — or the world.
PGi's portfolio includes a dedicated solution for webinars and iMeetLive, for both webcasts and webinars. Its products are accessible on mobile devices 24/7, which meets the continuous needs of both small businesses and enterprise organizations.
"Regardless of company size, industry, or job function, PGi helps teams improve collaboration and get results through conferencing solutions," PGi Chief Technology Officer Patrick Harper said. "PGi knows that businesses of all sizes rely on speed and efficiency, communication is critical, and every penny counts. We offer around-the-clock customer service, flexible deployment, and custom pricing to make it easy for IT teams to deploy our solutions."
The video conferencing and webinar products are accessible to budget-conscious small businesses and also help reduce travel costs. They allow on-the-go owners and employees to participate in meetings from their mobile devices, and prospective clients can access meetings without needing to download software.
For IDEA Harvest, a small product development firm, PGi video conferencing significantly reduced its sales cycle length, replaced email chains and phone calls with more personal video meetings, cut travel costs, and increased the number of meetings with clients.
Mercedez-Benz USA used the audio conferencing integration tool to conduct user-friendly conferences and increase employee engagement, meeting attendance, and productivity. The luxury automaker also uses PGi's intuitive GlobalMeet Audio tool for internal training sessions.
PGi clients receive customer support in eight languages, multiple levels of security for up to 125 different users on a single conference call, international conference calling, and the collaborative software tool for file and project management.
PGi's entire portfolio of products is designed with collaboration in mind, and it provides businesses with the tools to connect any way they need to.
Updated GlobalMeet Solution Improves the User Experience
PGi started 2018 with a splash by introducing GlobalMeet 5.0, an upgraded version of its flagship audio, video, and web collaboration solution. Patrick said the unified communications and collaboration (UC&C) platform improves user experience by making it easier for participants to join, share, and interact with each other online.
"GlobalMeet allows quicker and more effective team engagement and collaboration while also meeting the needs of global IT teams," he said.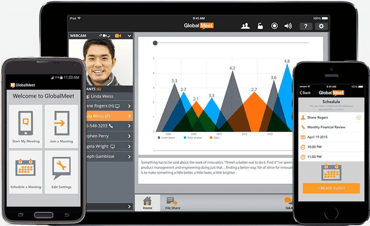 The revamped GlobalMeet features one-click meeting access from any browser or device, HD video, rapid onscreen content sharing, 24/7 customer support, and high-quality audio on all phones.
The latest version of GlobalMeet also offers an intuitive user experience, engaging interface, and can scale to meet the needs of enterprise organizations. Plans are offered for a low price per user and are all-inclusive — meaning no features are reserved for higher tier subscriptions.
Seamlessly Connecting an Increasingly Remote Workforce
PGi's 2016 Global Telework Survey found that 67% of North American knowledge workers who responded said their workplaces viewed telecommuting positively and have adopted it more widely. The survey also found that more than half of remote workers were Gen Xers, and 30% were millennials.
"PGi is a big proponent of working smarter. For many in this age of digital transformation, working smarter means having a more nuanced approach to what constitutes 'working,'" Patrick said. "Work used to be exclusively tied to a fixed location, but remote employees can be your most engaged and productive workers when you've got the right collection of tech in the toolbox."
PGi collaboration technology keeps businesses seamlessly connected with those remote workers. Hosted voice phone services allow unified communication on any device and from any location. Video conferencing offers a higher level of engagement than email or a phone call and webcasts of meetings and conferences relay information to remote workers and measure engagement.
And accommodating remote workers is proven to benefit companies. In one study, 95% of employers said telework had a significant positive impact on employee retention.
"Telecommuting is a great way to ensure you have the best team members in place — regardless of location," Patrick said. "With the right tools, your remote workers will feel connected, engaged, and productive. The best part is that, contrary to popular belief, remote workers don't come with heavy costs. In fact, PGi's annual survey showed that employers, on average, save around $10,000 in commuting and equipment costs when their employees elect to work remotely full-time."
Technology Drives Innovations for Virtual Meetings
PGi has been an industry leader in virtual meeting and business collaboration technology for more than 25 years. Today, the company has nearly 50,000 enterprise customers, including 75% of the Fortune 100. Looking ahead, Patrick said technology will continue to drive innovation in the web conferencing and collaboration software space.
"We are excited about the development of smart meeting technologies and virtual assistants as part of collaboration platforms," he said. "What if you didn't have to spend time sending emails to coordinate calendars and book meetings? What if notes and transcripts of a meeting were emailed immediately at the end of a conference call?"
PGi is working on the answers to those questions, as well as ones that will arise from the growing reliance on mobile devices and apps.
"How do we integrate messaging apps with collaboration software? How can we power a better mobile audio experience?" Patrick said. "The potential to develop and refine a mobile approach for the knowledge worker of today is a big opportunity. PGi sees so many ways to innovate as we bring in new technologies to our upgraded GlobalMeet collaboration platform."