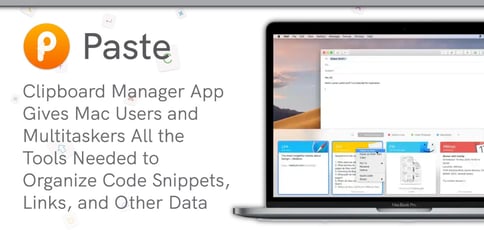 TL; DR: Paste for macOS and iOS acts as a time machine for your clipboard. The app holds onto anything you've tried to copy and organizes it for future use — no more losing track of important text, images, or other information. The well-rated app was engineered to maximize users' workflow efficiency and continues to keep an eye out for other modern, beneficial features Mac users come to expect. Accessible with a simple keyboard shortcut, the Paste app is poised to assist developers, writers, and other high-powered users to save time and headaches when hard at work.
Copy and paste are one of the first actions introduced to modern operating systems and one of the first keyboard shortcuts young computer users learn. And, yet, very little has been done to innovate the command beyond its early functionality.
Once you copy a code snippet or email address, creeping paranoia sets in to immediately paste the information at its destination for fear of losing track of the coveted data and having to dig through endless browser tabs or documents to rediscover the factoid.
To extend their copy-paste power, users must rely on various apps or utilities — and many turn to Paste. The modern, Mac-only application pairs a stunning, lightweight user interface with streamlined pinboards that gather and store all your copied items for use whenever you're ready.
By keeping all your information at your fingertips, Paste enables Mac users of all shapes and sizes to maximize efficiency and minimize keystrokes. And there have been hundreds of thousands of surveys and reviews where users have described Paste's effortless user experience and time savings.
"Paste tightly integrates into any workflow and supercharges the good-old clipboard with unlimited capacity across all devices," a Paste representative said. "Once you start using Paste, it becomes an essential part of your everyday workflow."
User-Friendly Features Store and Organize Important Information
Paste has regularly been compared to another ubiquitous, user-friendly Mac application — Time Machine. The simplicity of the built-in backup software, with its automated file backups, storage, and restorations, is what the development team envisioned for Paste.
"I'd say that all the features in Paste complement each other, and all of them serve the same purpose: Make everyday tasks easier to complete," the Paste representative said. "We call Paste a personal clipboard time machine."
Paste seamlessly integrates with macOS by operating similar to Mission Control — the app can be configured to load when the computer is turned on, and users can access Paste's drawer-style layer with an intuitive keystroke.
There, Paste displays your recently copied items, whether its text from an email, a formatted section of a Word document, or image — the visual representations mean users can find what they need extremely quickly.
The app's unlimited history enables users to store everything they've copied and pasted, and an intelligent search function helps them rediscover lost links, recipes, phone numbers, and other information. On the other side, frequently used items can be gathered in prominently displayed pinboards for easy access.
Securely Store and Share Only What You Want Across Devices
Designers and developers represent the largest pool of Paste users, and a large number of writers, customer support specialists, lawyers, and other professionals rely on the app for productivity boosts.
"There are a lot of different ways of how you can use Paste," the Paste representative said. "It's designed to be universal and flexible. But the main benefit is productivity, I believe. Paste just makes your workflow more efficient."
Because of the occasionally sensitive and business-critical information Paste users handle, the app follows all of Apple's security standards. Users can also set up flexible rules that exclude certain applications from storing data in Paste.
"Paste does not use any third-party, or even our own, services for storing your data," the Paste representative said. "Everything is stored on the local drive and in your personal iCloud drive if you enable that feature, which uses end-to-end encryption."
The optional iCloud storage is especially helpful to users who may want to deploy Paste on multiple devices. By integrating with a user's personal cloud storage, the Paste app provides an option for users to sync clipboards and pinboards across other Macs, iPhones, and iPads.
"If the iCloud sync is on, all your data is securely stored in iCloud as well," the Paste representative said. "If you lost your data locally, you can always restore it from iCloud, even on another device."
Paste also plays well with the Universal Clipboard introduced in iOS 10 and macOS Sierra. The Paste app for iOS hit the App Store in early 2018, boasting 467 hours of work and 379 under-the-hood improvements.
Streamlined User Experience and Intuitive Interface Bolster Productivity
With productivity-minded applications such as clipboard managers, beauty and success are often found in simplicity. These apps give users only the bare essentials they need to optimize a process, and avoid unnecessary buttons or components.
That approach is what has Paste team taking a skeptical view of many potential new angles of development.
"We're extremely picky when talking about new features," the Paste representative said. "Our goal is to keep Paste as simple to use as possible, so that's why we have to say no to ourselves many times a day."
Balancing a fast, lightweight codebase with a visual user interface that integrates so well with what Mac users expect from their operating system means the self-imposed restrictions keep the Paste team in tune with the feedback they receive from customers via surveys, reviews, and support conversations.
"Our users are our main source of inspiration," the Paste representative said. "We listen to them a lot because they are the ones we build Paste for. Our focus in development is user experience and relatability because Paste is used millions of times a day. It has to do its job fast and easy."
Interested users can download a free trial of Paste from the app's website, or upgrade to the Pro version for $14.99. The app is also available in the App Store and via Setapp.