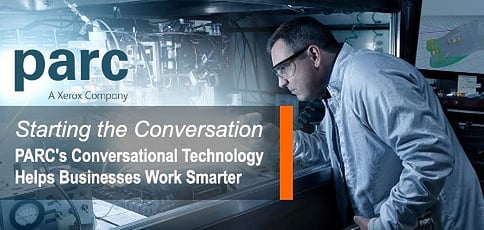 TL; DR: The business unit behind many modern computing mainstays and innovations, PARC (Palo Alto Research Center) enjoys a deep, rich history of contributing game-changing innovations to global markets. Founded in 1970 as a research arm of Xerox, PARC introduced such technologies as the personal computer, laser printing, graphical user interfaces, the WYSIWYG text editor, ethernet, and object-oriented programming. Now, some of the team's scientists, researchers, and engineers are creating intelligent conversational programs that enable businesses to work more effectively. Research Manager Kyle Dent shared how his team envisions reshaping how people communicate and interact with technology.
To hear Kyle Dent describe the explosion of voice technology over the past two years, seemingly everyone has a system controlled by speech. For instance, Amazon has Alexa, Apple has Siri, and Google has an unnamed assistant — all ready to deliver information, control your thermostat, and learn exactly what you need.
The Research Manager's team at the Palo Alto Research Center (PARC), however, began exploring the notion of conversational interactions with technology years before with the goal of helping businesses work more efficiently.
"There was practically nothing out there," he said. "We pretty much started from scratch."
Kyle and his colleagues embarked on the project by studying literature about human-to-human communication and interactions. By understanding the conversational mechanisms that people use with each other, PARC developers and engineers can craft intelligent assistants that can readily help automate companies' workflows and boost internal knowledge.
"We don't actually want to pretend to be human, but we want it to feel like a normal interaction," Kyle said. "We think it'll be more efficient, more natural, and more comfortable for people. It's this idea of having both humans and technology work together to achieve some goal."
How Evolving User Interfaces Dictate Our Interactions With Technology
By examining human interactions, Kyle and PARC aim to make a clear distinction between voice and conversational technology systems.
"If people perceive tools to be not good or awkward or clunky in some way, they're very good at going around those tools and figuring out more efficient processes," he said. "If we can provide truly conversational interactions, what kinds of things might that enable in technology that we can't do today?"
To Kyle, conversational technology and dialogue systems represent a major opportunity to change how people interact with computers, likening it to the innovations spurred by the evolution from the command line to graphical user interfaces (GUIs) and smartphones.
"With the command line, you had to sit at a computer and type commands," he said. "You had to have the commands exactly right, and you had to memorize a whole slew of them. GUIs made that kind of input much easier because it was visible, and you could click on things. That enabled applications that wouldn't have been possible with just a command line."
Just as a GUI made working with spreadsheets, for example, much simpler than the command line, Kyle said he sees a similar push of momentum with mobile interfaces.
"The user interface is changing again, in the context of the smartphone that you have with you all the time," he said. "Devices are now enabled with sensors, including GPS, and cameras, that are really affecting the way people interact with technology. We're doing things with our phones that we wouldn't have dreamed of doing with our desktop computers."
Now, as organizations are beginning to push into the world of conversational interactions with computing systems, even Kyle is curious about what the emerging technology might enable users to do.
"It's not an obvious answer, and I think it's part of what we'll find in the coming years," he said.
Teaching Intelligent Assistants How to Help Businesses
Unlike the consumer-minded products from Amazon, Apple, and Google, PARC instead focuses on business applications of conversational technology.
"We're looking more specifically at enabling that kind of intelligent assistance, but for knowledge workers and enterprises," Kyle said.
That concentration presents a slew of different challenges, according to Kyle. Although Alexa and Siri can answer general questions by relying on widely available sources of information, businesses often have unique processes and store information in several unstructured manners.
"Amazon can integrate their conversational platform with something like Wikipedia," he said, as an example. "That encyclopedia of knowledge exists already. It's been curated and developed by many, many man-hours. As we move intelligent agents into organizations, there's no Wikipedia equivalent."
Instead, PARC is working on tools to streamline the process of gathering information, whether it be from text documents, internal wikis and webpages, or, most challenging, data stored in employees' brains.
"We're far off from being able to make it wholly automatic, where you just drop some crawler into a company and it goes throughout the network to get everything it needs," Kyle said. "As for the aspect of what's in people's heads, though, our enterprise intelligent assistant has the ability to ask experts for information."
Instead of asking HR leaders or department heads redundant and mundane questions, employees can inquire with the conversational agent. If the program can't deliver an answer, it will ask the relevant expert. After collecting the information, the system will store the data for future use.
"Instead of answering questions all day long, the agent saves them from having to do so in the future," Kyle said.
Components of Conversational Tech: Semantics and Machine Learning
Despite several complicated pieces of programming and machine learning, Kyle distills PARC's conversational technology into two main elements: the ability to communicate and the knowledge to identify and deliver relevant information.
"Let's say you have an intelligent assistant that can help somebody file expense reports," he said. "You can just tell the agent what to do, like you might have told a secretary years ago: 'Here's what I did, here's what I spent.' But the agent needs to know about a lot of things related to expense reports such as receipts, amounts, charge codes, and all those things."
The conversational systems start with a program that automatically recognizes speech and converts the voice signals into text. Another module examines and tries to semantically understand what the text is asking, according to Kyle.
"That language understanding piece then goes to a dialogue manager that has to decide, in this context, what is the next best thing to do? Should I answer the question, ask for more information, or should I go do something, get the result, and tell it back?" he said. "There's this decision-making process that it has to go through on every turn of the conversation to figure out what should come next."
Once the conversational agent deciphers the correct response to the inquiry, it generates a semantic object that, in turn, is converted to a textual representation and then passed through a text-to-speech program.
Measuring the Benefits to Workflows and the Bottom Line
Developing high-value conversational technology systems for businesses requires a lot of work and investment, according to Kyle, who added that his team focuses on solving challenges that have the biggest impact.
"We're breaking off very specific tasks within organizations to constrain the problem to something that's manageable," he said. "Our first goal is this first problem, and, from there, we're going to extend it into more and more things that it can do on behalf of knowledge workers and organizations."
PARC introduces intelligent assistance and automation into manual processes in business areas where the return on investment is the most demonstrable.
"There are a lot of cases, such as expense reports, where I'm sure every employee wishes they had something that made mundane things easier, but there's not necessarily a big gain for the corporation," Kyle said. "For the decision makers who are deciding to invest in this technology, they're looking for real economic benefits and obvious returns."
Advertiser Disclosure
HostingAdvice.com is a free online resource that offers valuable content and comparison services to users. To keep this resource 100% free, we receive compensation from many of the offers listed on the site. Along with key review factors, this compensation may impact how and where products appear across the site (including, for example, the order in which they appear). HostingAdvice.com does not include the entire universe of available offers. Editorial opinions expressed on the site are strictly our own and are not provided, endorsed, or approved by advertisers.
Our Editorial Review Policy
Our site is committed to publishing independent, accurate content guided by strict editorial guidelines. Before articles and reviews are published on our site, they undergo a thorough review process performed by a team of independent editors and subject-matter experts to ensure the content's accuracy, timeliness, and impartiality. Our editorial team is separate and independent of our site's advertisers, and the opinions they express on our site are their own. To read more about our team members and their editorial backgrounds, please visit our site's About page.