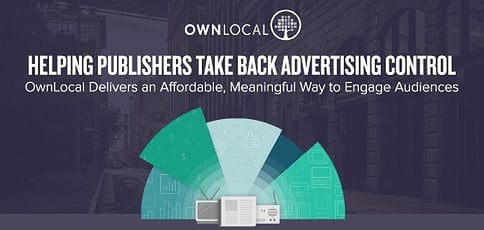 TL; DR: Since 2010, OwnLocal has helped local media outlets and small businesses find success in the digital advertising market. Today, the Austin-based company empowers close to 4,000 media organizations and their advertisers to boost revenue through powerful digital ad conversion software and marketing campaigns. OwnLocal's most recent innovation, Origami, is allowing publishers to harness advertising control with a flexible, interactive alternative to display ads that aims to shatter the status quo and liberate publishers, advertisers, and readers from the confines of traditional models.
It's an all-too-common scenario. You're a website publisher, and your primary goal is to create engaging content that drives traffic to your site. You also want to get paid so you can keep producing that content. But, for advertisers to stick around, they'll need proof their digital display ads are being seen — and that proof comes in the form of clicks.
The trouble is, as Landon Morales, CRO of OwnLocal succinctly put it, the same clicks that keep advertisers around push readers away from your site and into the ether.
"That's super counterintuitive," Landon said. "I'm driving traffic to my site; I'm doing everything I can to build an audience, only then to ask them to leave."
According to Landon, the advertisers suffer, too, as readers' trust in online advertising has waned significantly. Readers have learned from negative experience not to click or engage with display ads because they're not sure where they'll end up.
"It's disruptive to their experience and, frankly speaking, erodes the relationship between advertisers and the reader," he said. "There needs to be a way for readers to engage with online ads without creating that negative relationship."
OwnLocal has long recognized the impact of these dilemmas on local media companies, their advertisers, and their readers. Since 2010, the Austin-based company has helped transform more than 3,500 traditional media organizations into full-service local advertising specialists, boosting revenue and making online advertising intuitive.
Now, OwnLocal is offering groundbreaking alternatives to traditional display advertising with its innovative interactive ad units. Landon told us the new technology was built to liberate publishers, advertisers, and readers, shattering the status quo and retraining audiences to engage with digital ads — rather than avoid them.
The Problem With the Same Old Digital Displays and Banners
Modern local businesses must choose between numerous media outlets for their advertising needs — from traditional print, radio, and TV to the digital counterparts that are increasingly eclipsing them. In many cases, this means advertisers either miss certain outlets completely or stretch their budgets too thin, desperately trying everything.
Without the time, money, or expertise to formulate an online display strategy, many small businesses end up creating digital campaigns that are barely seen.
"They're getting click-through rates with a blended average of around 0.06% across their campaigns, that's from the most prominent position to the least," Landon said. "That's horrible. If someone said, 'I'm going to sell you this sign, but only 0.06% of people that you wave it in front of are going to pay mind to it,' nobody would ever go for that."
The messaging of these ads is also limited. Landon told us putting a tiny box or banner on a site alone isn't going to get someone to engage with content they're not already seeking. According to Landon, very few ads are compelling enough to earn someone's click.
While publishers must sell advertising to support their sites, actually doing so is quite a challenge.
"Publishers are having a difficult time monetizing the real estate on their site as effectively as they should be because the product they're trying to sell has limitations," Landon said. "In most cases, they only sell a fraction of the available space."
Faced with unsold space, many publishers turn to programmatic advertising exchange networks, such as Google's, which use algorithm software to automate the sale and purchase of digital advertising. And Landon told us that the network owner is frequently the only party that truly benefits.
"They're going to give you pennies on the dollar as a website publisher for something they're going to try to sell for five or 10 times that," he said. "They're making billions off this."
Build Robust Online Marketing Campaigns With Ad Conversion Software
To counter these problems, OwnLocal focuses on providing meaningful value by putting the power back where it belongs, in the hands of the advertisers and website publishers. OwnLocal's signature automated digital ad platform, for example, provides local advertisers with digital solutions that go way beyond banner ads.
The platform extracts content from traditional print, radio, out-of-home, and TV advertisements, converting them through an automated process into robust online marketing campaigns.
But it doesn't stop there. OwnLocal is able to pull in and augment content from existing creative on the web.
"We end up creating a really rich profile about a business that we can then repurpose," he said.
From there, OwnLocal circulates the digital ads through a network of local ad partners. The process adds value, extends reach, and drives revenue for small business clients while expanding the media publishers' value proposition and growing their revenue.
Origami: A Flexible, Interactive Ad Unit That Facilitates Engagement
OwnLocal is continuing to evolve in its quest to help publishers deliver more value and provide a more meaningful audience to advertisers.
"We're doing all of the stuff we've always done," Landon said. "We just do it a heck of a lot better, more effectively, and more powerfully. The story grows as we create new things."
According to Landon, OwnLocal has learned that the fundamental problem businesses are looking to solve is how to be found and seen by their target audiences.
"Where historically we've helped businesses be found online, we've learned over the years that companies are taking advertisements out because they want to be seen today," he said. "In light of that, we've more recently created a product called Origami, which is truly unique in that it begins addressing what's broken about digital display advertising."
Origami is a flexible, interactive unit that allows users to explore the advertisement within an existing site without jumping to a new site.
"The reader can completely interact without leaving the website, without disrupting their screen," Landon said. "We've created a rich information profile about the business's services or about particular offers. Readers can call; they can get directions; they can go to their website; they can even submit a lead."
With Origami, site visitors can submit information, discover fundamental information about products and services, and redeem offers, among other actions — all within the frame of the ad. In that way, the platform is liberating publishers, advertisers, and readers from the constraints of traditional online advertising.
"It does a great job for publishers, keeping traffic on their site," Landon said. "And, from an advertiser's perspective, you're really communicating your message in a unique and compelling way — you're really juicing it up, and going above and beyond what you're able to do in traditional formats."
As Much as 10x Higher Interaction Rates Than Traditional Advertising
The technology is already creating quite a stir. Landon told us publishers and advertisers employing Origami are experiencing greater interaction rates than ever.
"We're seeing engagement levels that are through the roof," he said. In many cases, they're 10 times higher than typical display advertising that's out there now. That's pretty damn disruptive."
OwnLocal is in the process of getting its network of local media partners to adopt this technology, which will allow publishers to take back their power and better monetize their websites.
And, as publishers begin to monetize ad positions more effectively, they'll be less likely to lean on programmatic third-party networks to sell out their owned and operated inventory — a dependency that Landon is eager to squash.
"Every time they do that, they're feeding the beast," he said. "We're empowering publishers to take back control of their owned-and-operated ad positions on their websites and monetize them appropriately without having to rely on ad networks."