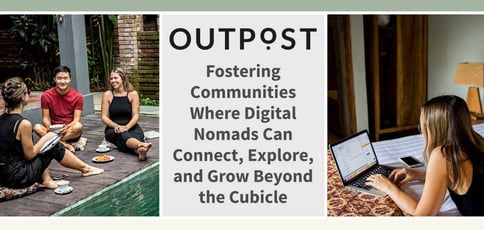 TL; DR: If you're ready to trade in your tired routine for a coliving and coworking adventure abroad, look no further than Outpost. The organization is providing communities of remote workers with unique shared experiences set against the striking backdrop of Bali. With a new location in Cambodia set to open in 2020, the company will further its mission to help workers across the globe satisfy their wanderlust.
Advancements in technology are empowering numerous employees to trade their cubicles for more personalized working environments.
For many remote workers, that means staying at home and sinking into the couch with a laptop. But others are seizing the opportunity to grow professionally while soaking in the scenery at Indonesia's most popular island destination: Bali.
These digital nomads belong to the diverse, supportive communities built by Outpost. The forward-thinking organization provides members with lavish coworking and coliving spaces where they can pursue their passions while nurturing their sense of adventure.
"Our members are entrepreneurial, creative, and internationally-minded," said David Abraham, Co-Founder of Outpost. "They want to explore the world, grow personally and professionally, and connect with others."
Outpost is all about shared experiences. But David said members enjoy the best of both social hostels and private hotels in that they have access to communal workspaces but still get the privacy of their own rooms.
All Outpost locations, known as neighborhoods, are powered by friendly, multilingual staff members and organized via a weekly plan outlining events, meals, workshops, and travel opportunities.
Ultimately, Outpost's goal is to help members experiment with new ways of living in communities united by an adventurous spirit. And, with a new location in Cambodia set to open in 2020, the company is well on its way to furthering that mission.
Comfortable Coliving and Coworking Hubs in Idyllic Bali
David and his business partner, Bryan Stewart, launched Outpost in 2016 after working nomadically for many years.
"After a career that went from the White House to Wall Street, I ran an NGO in Uganda, worked at Japan's Ministry of Economy, traveled for three years doing consulting, and ultimately wrote a book on the resources necessary for a green economy," David said. "In all these travels, I never found a space to be productive and consistently meet fascinating people."
David and Bryan realized that they didn't need to be tethered to a corporation or massive commercial hub to pursue their careers.
"We wanted a place for people like us — those with or aspiring to have international careers — where we could live and work for days, weeks, or months at a time," David said. "At the time, we saw a niche for the 'new nomad' — travelers who shed their backpack for a suitcase and professionals who wanted to leave their loafers and heels for flip-flops."
Coworking spaces seemed to be popping up left and right. Still, David and Bryan couldn't find any that supported the lifestyle they were leading. In fact, they felt existing offerings were merely targeting those looking for a way to extend their backpacking days.
With a hole in the market identified, David and Bryan set out to form communities that combined modern, inspiring living and working spaces with culturally rich destinations. The result was Outpost.
Today, the company has a presence in three Bali locations — Ubud, Canggu, and Ubud Penestanan — where guests enjoy private rooms, private swimming pools, powerful internet connections, onsite dining, and 24/7 access to productive coworking spaces.
Facilitating Shared Experiences for Remote Workers
In recent years, the market for coliving and coworking spaces has expanded dramatically, with varying communities built specifically for women, chefs, and even doctors. But, as two people who lived the digital nomad life well before it was defined in modern culture, David said the goal has never been to replicate trends in coliving and coworking spaces.
For Outpost, staying competitive in a growing industry is a matter of charting a unique course.
"We've realized that the best model is not necessarily copying the leaders of the day," David said. "While the large companies grew with great speed and replicated, we knew we wanted to build our own dream network. And that took a while for us to define. We didn't want to build anyone else's dream."
Outpost differs from coliving outlets in major cities in that it offers a place for people who enjoy adventures. David said people often choose coliving spaces by happenstance — they need a place to sleep, and the opportunity to meet people is just a bonus. But when members join Outpost, it's because they're seeking a radical change in an entirely new community.
"They want more than a place to live," he said. "They want to meet people, hang out in cool locations, and learn about a new destination."
David told us the company is always pursuing new ideas and technologies that will enhance the digital nomad lifestyle.
"The challenge is how to ensure we provide the right mix of services to meet our members' needs — how we can support them to live the life they want, on their terms," he said. "We are always thinking about what we can offer that's unique. And you'll see those ideas roll out in 2020."
A Vibrant Professional Community and Dedicated Staff
Refined living spaces and productivity-enhancing work settings aside, David said the best part about Outpost is the type of people the company attracts, from architects and startup founders to NGO professionals and venture capitalists. He believes that's what keeps people coming back.
"You could join any coworking space or sit in any café with fast wifi and nice chairs, but Outpost is a great place to meet inspiring and entrepreneurial wanderlusts just like us," he said. "When people choose us, it's not for the hand-crafted cocktails at our restaurant (although they are, indeed, amazing). The real benefit is in the strength of the people you meet here."
That level of excellence extends to the company's hard-working global team, made up of people whom David said aren't afraid to roll up their sleeves to get a difficult job done. He gave special recognition to the company's local staff members, who interact daily with members to support their experiences abroad.
"I'm most proud of our local staff — they are on the frontlines of our company," he said. "I'm proud to see their growth, their English language improve, their mastery of Excel expand, and their confidence increase. Our entire team believes that we are not just building a company but a lifestyle."
Outpost boasts high retention rates when it comes to its staff. Of the team members who have decided to move on, David said quite a few have returned to the company a year or two later.
Coming in 2020: An Urban Oasis in Cambodia
Outpost's future is bright. Next year, the company will open multiple new locations, including Cambodia.
"We're really excited about the new location openings to come in 2020," David said. "The first will be in Siem Reap, Cambodia, a location we've chosen strategically as an up-and-coming hub for digital nomads."
The company's living and working spaces will put members in close proximity to the capital city's popular tourist attractions and rich cultural heritage, including Chinese-style architecture, fishing villages, silk farms, rice paddies, museums, and a bustling nightlife.
"Stay tuned for more information to come next year," David said.