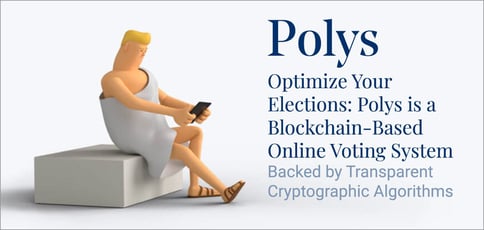 TL; DR: Polys, a transparent and secure online voting system powered by blockchain technology, aims to bring outdated election processes into the 21st century. The anonymous, immutable, and resource-saving solution is useful for private groups, SMBs, and political parties alike. With plans underway for new partnerships and enhanced features, Polys is working to continuously improve upon its modern voting platform.
In our innovative new world, gadgets are in, and paper is out. We've swapped hardcopy books for Kindles, paper checks for electronic payments, and the Yellow Pages for digital marketing. Newspapers are online, receipts are sent through email, and maps have been replaced with GPS technology.
Considering these advancements, you'd think we weren't still waiting in long lines to insert paper ballots into outdated voting machines — yet, somehow, we are.
Polys was built to change that. The blockchain-based online voting platform, backed by transparent cryptographic algorithms, provides a mobile method of voting that's both easy to deploy and use. And because the system is built on a distributed ledger, the voting process and results are immutable, verifiable, and safe from hackers.
Roman Alyoshkin, Head of Product at Polys, said this is what elections should look like in a high-tech, on-demand world. "We want to help political parties, businesses, and communities do away with paper voting in favor of secure, efficient, online election systems," Roman said. "That's the main reason to use blockchain — it's distributed, transparent, and effective against security threats."
Indeed, the information on a blockchain is part of a continually reconciled database in a decentralized location, making voting data on Polys publicly available and easily verifiable. Because of that, it's the perfect solution for a range of use cases in government, politics, and budgeting. With new features and partnerships planned for the future, Polys is determined to continuously improve upon its innovative voting system.
A Web-Based Voting System Ready for the Real World
Polys was brought to life through a Kaspersky Lab Business Incubator that was experimenting with ways to implement innovative blockchain technologies. "In the beginning, it was purely an idea," Roman said. "We conducted resource on the online voting market, and based on the results, we decided to build a small prototype with the knowledge we had acquired."
The project began in 2016, and Polys officially launched at the beginning of 2017. "We have conducted a lot of different pilots between unions, political parties, and governments, and things are going well," Roman said.
According to Roman, the online voting market is in its infancy, so adoption may take time. In addition, he said many people struggle to understand blockchain technology. Still, the platform is generating interest and appears poised for a bright future.
In May 2016, for example, the European Parliament released a research paper on the potential and challenges associated with online voting in the European Union. The study, commissioned and supervised by the European Parliament's Department for Citizens' Rights and Constitutional Affairs, considered the social, legal, and technical implications of online elections and issued recommendations for online voting.
"They suggested that online voting solutions have a decentralized architecture to protect against security threats — which basically described and supported our idea," Roman said. "That document helped us explain why we would build our online voting system on the blockchain."
The paper also stated that a "transparent and participated process" would foster broader political consensus from a political point of view.
Election Perfection: Immutable, Secure, and Resource-Saving
Roman said Polys is one of the most robust online voting solutions on the market. "There are lots of different protocols required for online voting," he said. "To keep the solution transparent, you use blockchain. But on the other side, you sometimes have to hide the intermediate results of the vote because people may change their opinion if they see early votes. In some countries, sharing results is actually illegal."
This meant that the system would need to concurrently ensure voter anonymity, provide protection against "trash" votes, safeguard against trafficking and voter coercion, and enable voters to verify that their ballots are recorded on the blockchain.
Fortunately, Polys was able to reconcile the seemingly contradictory requirements by building a substructure of transparent algorithms on top of the blockchain. These algorithms are used to encrypt the records, ensuring that each vote is anonymous and that the system does not know how users voted.
Roman said the comprehensive solution is gaining traction among educational institutions. "We are a default voting solution for about 30 different Russian universities," he said. "We started with one of them, and now its users are asking us to conduct pilots for them as well."
Saratov State University (SSU), a renowned Russian research and educational center, used the Polys system to elect the chairman of its Council of Students and Postgraduates. A total of 1,059 users cast their votes in the election after entering a unique code on their mobile device. The entire voting process took just seven hours, and turnout increased by 43% compared with turnout the previous year.
"Polys is very simple to use, and most importantly, there's no need for ballot boxes, privacy screens, and lots of election commission members to oversee the voting," said Denis Yashin, Chairman of the SSU Student Election Commission.
Use Cases: Student Government, Politics, Budgeting
Universities, colleges, and schools currently turn to Polys for board, student organization, faculty, and trustee elections, but the platform is a valuable tool for a range of users. For example, it can be used to facilitate voting within trade unions, nonprofit organizations, cooperatives, homeowners' organizations, and other communities.
CryptoChicks, a nonprofit organization attempting to increase gender diversity in the blockchain space, used Polys to select award winners at the CryptoChicks Hackathon conference in Toronto. The elections included three polls with a total of 25 candidate teams and more than 500 voters.
Polys offers similar solutions for businesses, firms, and industry communities that may be leveraged in internal and partner elections. While private groups, communities, and small businesses may choose to create polls with the Polys admin panel, political parties, large companies, and governments looking for a more sophisticated solution can turn to the platform's product customization options.
The Yabloko political party — Russia's largest and oldest democratic parties — recently used Polys to select a primary candidate for the Moscow mayor. The elections, which took place over six days, included 58 votes, 21 candidates, and 3,200 voters.
"The Polys online voting system made it possible to carry out an important party procedure at a perfectly decent level without the need for complex organization and additional investments," said Nikolay Rybakov, Vice Chair and Head of the Organizing Committee of the Yabloko party primaries.
New Partnerships and Enhanced Features
Roman said primary elections like this are just the tip of the iceberg. "Recently we began having additional discussions with governments — which are relatively difficult and require a lengthy process," Roman said. "I think in the near future we will see more traction there."
The company is exploring how it can help municipalities and state governments streamline participatory budgeting votes. "It's a complex process that's not only about voting — there are many steps," he said. "In six to 12 months, we'll have pilots with several governments."
Polys is also looking into the commercial voting space, but Roman said that segment is often difficult to approach due to regulations and existing players in the space. In the meantime, the company is focused on the upcoming release of its Monitoring Dayboard, a streamlined user interface for participating in elections.
Finally, it seems a chance to replace paper ballots with a modern technical solution is within reach.