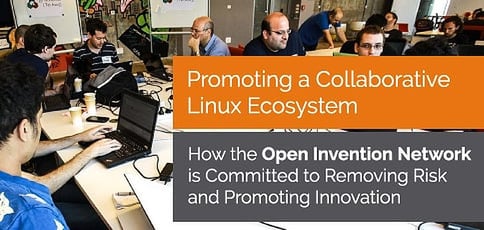 TL; DR: Launched in 2005, Open Invention Network (OIN) strives to shield the open-source software community from unnecessary courtroom battles through a shared patent pool. Now boasting more than 2,400 participants, OIN is the largest patent non-aggression, Linux-focused organization in existence. As Linux increasingly permeates our daily lives — as most recently seen in the automotive and financial service industries — OIN's mission to protect open-source innovation is becoming even more critical. We recently sat down with OIN CEO Keith Bergelt, who told us how the company is helping the open-source community continue to thrive through collaboration.
The open-source code behind Linux impacts our daily lives in more ways than most of us realize. Scouring the internet for the perfect recipe? Most search engines, including Google, are powered by Linux. Catching a flight? The computers managing air traffic control for the FAA depend on Linux to keep you safe. Connecting with friends on Facebook? You guessed it — Linux is running in the background.
Keith Bergelt, CEO of Open Invention Network (OIN), told us the operating systems' relevancy is soaring to new heights.
"A dozen years ago it was a different environment," he said. "Clearly, open-source was maturing, but certainly not at as mature a level as it is now in terms of where it appears and how broad-based Linux really is."
As Keith noted, Linux is behind nearly every electronic interface we touch. And the open-source nature of Linux is precisely what makes it so valuable in fostering innovation.
"The whole idea is that one plus one plus one doesn't equal three, but equals six, or 10, or 20 when you bring smart people together and let them engage and create opportunities for code to solve human problems," Keith said. "The collaborative component to getting increasing returns is compelling because it gets you to new innovation sooner."
Safeguarding that environment is the basis of OIN, established in 2005 to protect companies and developers using Linux from software patent suits. Membership in the OIN community, which is supported by the likes of Google, IBM, NEC, Philips, Red Hat, Sony, SUSE, and Toyota, is free, and the OIN patent license and cross-licenses are available to any party that joins.
"It's grown into the largest patent non-aggression community in the history of technology with upward of 2,400 participants, including some of the largest companies in the world," Keith said.
Enabling Project-Based Breakthroughs with a Shared Patent Pool
Keith said OIN was born out of the need to defend Linux users from legal threats, pointing to a 2003 lawsuit between SCO Group and several members of the Linux community.
"The lawsuit, at the end of the day, was baseless," he said. "But it created a wake-up call that companies are incumbents that are threatened by the advent of an open-source model and the innovation levels that it gives rise to and would look to slow and stall the progress of Linux through whatever means they could."
Keith told us such companies aim to use intellectual property to build up an environment of fear and uncertainty around open-source solutions. That way, their potential customers would be wary of expanding into Linux and open-source and instead turn to their proprietary solutions even if the price points were larger.
OIN's mission is to remove potential risk through its Linux System, a form of patent non-aggression that licenses Linux patents to members of the community on a royalty-free basis. Any organization can join the community for free, provided they agree not to assert patents against the Linux System. This process helps ensure programmers, independent software vendors, distributors, and businesses have open access to intellectual property related to Linux.
"Reduction of risk is the biggest goal," Keith said. "If you're going to suffer less litigation, and you're not going to be a target, it just makes open-source that much more seductive as a modality to buy into and a place to invest to grow technology. If you thought you were going to be walking into a minefield where you'd be subject to litigation, it just becomes that much less appealing."
Being a part of the OIN community alleviates that fear.
Driving Open-Source Software Solutions in the Auto Industry
Keith said the automotive industry is increasingly aware that its future depends on collaborative development, citing Automotive Grade Linux, a collaborative effort by The Linux Foundation to standardize an open-source software stack for modern cars.
"Automotive Grade Linux is evidence that the auto space is moving toward Linux as the digital DNA of vehicles going forward, from model 2019 onward," Keith said.
In this way, Keith said auto companies are re-emerging as technology leaders. "They're not just providing carriage," he said. "They're allowing you to do what you do outside of vehicles, but do it safely inside of vehicles, whether you're transacting, being entertained, or getting information. "
Keith said he anticipates these systems to increasingly scale over the next five years and predicts the rise of smart and self-driving cars will speed this growth. Ford, GM, Hyundai, Kia, Mazda, and Subaru, as well as many other auto companies, have signed on as licensees.
"Most of the major auto companies are participating or will participate shortly," Keith said. "This way they take control of the technology roadmap and they drive solutions that their customers really want."
Just last year, Toyota — the world's largest car manufacturer — joined OIN as both a funding member and licensee. Keith noted the rapid increase in OIN membership among car companies is a matter of relevance.
"We're expanding and growing in lockstep with what's happening on the technology development side," he said. "As projects expand, we expand."
How Curtailing Patent Aggression Promotes FinTech Innovations
In the same vein, patent non-aggression is paving the way for innovations in FinTech. Keith told us banking, financial services, and insurance industry businesses are beginning to participate in OIN's community due to the relevance and wide use of open-source-derived technology.
As anyone in the financial services industry knows, blockchain — a digital ledger of cryptocurrency transactions — is central to the conversation surrounding FinTech. Currently, various organizations are seeking to patent the tech, which supports digital currencies like Bitcoin.
When the issue heats up, OIN will be there. Keith said the company will focus largely on projects, such as Hyperledger, a global, open-source collaboration managed by The Linux Foundation that aims to advance blockchain in 2018.
"Hyperledger is essentially reducing blockchain to significant applications — not just to Bitcoin, which is where it started," Keith said. "Ethereum and Bitcoin are very interesting applications, but there's much more relevance and importance to society that is going to come out of blockchain and the idea of building trusted networks for transactions, activities, and contractual obligations."
Then there's the Internet of Things (IoT). As everyday objects become smar — think paying bills with a watch — OIN's efforts in patent non-aggression will adjust accordingly. Keith sees a similar effect as IoT technologies saturate the auto industry.
"That's a ubiquitous transformational thing that a lot of these projects will touch on," he said. "IoT is about pervasive computing and responsive extensions of the human condition."
Ensuring a Bright Future for a Community Dedicated to Cooperation
Overall, Keith said that OIN's mission is to protect the core of Linux.
"It's a form of competition where we cooperate and compete increasingly, and where we cooperate we should not be suing each other," he said. "But everywhere else, normal rules for intellectual property apply."
And, as Keith noted, it's essential intellectual property managers understand that duality.
"We're introducing them to a code of conduct and a set of norms on how you behave properly and how you use patents in an open-source-centered world," he said. "It establishes a long-term set of values in becoming part of a culture, and you need to behave in a certain way."
Keith said the fact that multi-industrial companies are joining OIN bodes well for the future of open-source software. Hitachi, a sizeable corporation with many divisions and subsidiaries, recently joined the OIN community as a licensee.
"These kinds of companies are very important because they cover so many technology areas," Keith said. "When they commit to open-source on a broad-scale basis, it's evidence that the future is really bright."