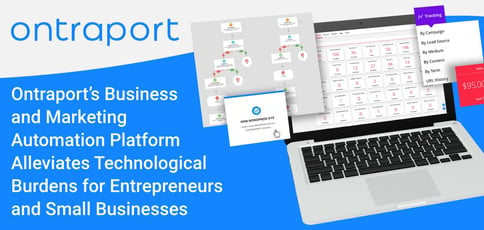 TL; DR: Ontraport's essential marketing, sales, and business management tools work in tandem to give entrepreneurs and small businesses everything they need to operate via one centralized application. The CRM and automation platform, bolstered by training opportunities and a supportive Facebook user community, eliminates technical burdens so users can focus on growing their businesses. Today, thousands of startups and SMBs in more than 60 countries and across a variety of industries rely on Ontraport's solutions to add value to their teams.
As an entrepreneur, juggling sales, marketing, legal, and accounting responsibilities is a trade-off for the freedom and flexibility of running your own business. But it's certainly not a pursuit for the faint of heart. Carrying all of that weight can exhaust even the most confident executive.
While the majority of the 1,000 respondents surveyed in Ontraport's 2019 State of Entrepreneurship Survey expressed optimism in terms of annual revenue growth, most also said they struggle to manage the technology needed to run various parts of their businesses.
To that end, Ontraport strives to support entrepreneurs and small businesses in delivering value by removing the burden of technology with a centralized, easy-to-use platform.
"I think what makes Ontraport unique is that it offers an all-in-one solution where users can have all of their software and customer data in one place," said Caterina Caligiuri, Project Manager at Ontraport. "With a streamlined dashboard, it's easy to see all of the different pieces of the puzzle working together."
Caterina said that entrepreneurs often enjoy expanded growth opportunities once they overcome the challenges of navigating incompatible software tools and insufficient marketing knowledge. That's why the Ontraport CRM and automation platform is bolstered by training opportunities and an active Facebook user community built to eliminate barriers to success.
Today, Ontraport helps thousands of startups and SMBs in more than 60 countries and a variety of industries pull out all of the stops along their entrepreneurial journeys — furthering the company's overall goal to boost the value that small businesses bring to the world.
An All-in-One Solution for Marketing, Sales, and Business
Ontraport, headquartered in Santa Barbara, California, was founded in 2006 by current CEO Landon Ray. Frustrated that he could not find the right software to run his startups, Landon joined forces with software engineer Pin Chen and software architect Steven Schneider to take matters into his own hands.
The trio got to work in a compact yet efficient shelter known as a yurt, where they developed a single platform capable of supporting the core needs of a small business. It didn't take long for the team to realize the solution would be helpful to the entrepreneurial community at large, so they released the product publically.
"Just like I experienced with my previous startups, the need for streamlining all the software you need to market and run the business becomes very apparent, very fast," Landon stated in a June 26, 2019, press release. "All-in-one systems like Ontraport will become increasingly necessary and popular as the entrepreneurial community grows in the coming years. There simply is no other way to effectively grow a business."
From a big-picture perspective, Caterina told us that Ontraport is a customizable collection of tools that can be mixed and matched to accomplish nearly any business need. Specifically, the platform can be broken down into five core frameworks designed for various use cases.
These include Collections, used to manage data; Campaigns, where data and assets meet automation; Editors, used to design assets such as landing pages and emails; Tracking, for accumulating data; and the API, used to simplify integrations with existing applications.
"There are so many things our customers are using Ontraport to accomplish," Caterina said. "It's hard to believe that most of our customers aren't even utilizing the system to its full potential!"
Serving Business Owners from a Range of Industries
To date, thousands of businesses have used Ontraport to ease the burden of technology, gain a clear view of their operations, and successfully grow their businesses. "We provide a tool that allows entrepreneurs to focus on what they love, and in turn, build a better product," Caterina said.
For instance, when Joan Randall, a domestic violence survivor, launched a coaching business to help women recovering from abuse, she turned to Ontraport to automate tasks such as lead generation, consultation scheduling, and streamlined order processing.
Before using the system, Joan spent countless hours using a mix of third-party tools and manual processes to manage these systems. Now, she's reclaimed that time and uses it to focus on higher-level priorities.
"It's a game-changer for me," she said in a testimonial on the Ontraport site. "I feel like I'm really running a business now. I look at business in a whole new way."
Joan is not alone in her experience. Numerous business leaders from a range of industries are finding that the platform saves them time and money while boosting engagement and conversion rates — which directly impact the bottom line.
Take LearningHerbs founder John Gallagher, for example. The entrepreneur and his family are on a mission to bring unique educational tools to those looking to leverage herbs as remedies for everyday ailments. Since joining Ontraport, John has successfully built robust websites, automated member access and payment processing, and implemented intricate sales and marketing funnels, among other time-saving tools.
He is especially thankful for the company's dedicated support services. "Any time you need someone, they're there — by phone or by chat," John said in a testimonial. "They help you, they get back to you without asking, and they address your concerns."
Adding Value by Serving as an Extension of Your Team
To John's point, one of Ontraport's most significant benefits lies in the company's ability to augment its customers' in-house teams — or serve as the entire team in the case of a solopreneur. For entrepreneurs struggling to stretch their financial and human resources, that's an incredibly compelling value proposition.
"Our platform essentially contains a marketing team in one system, not to mention our customer support and active online community," Caterina said. "These resources are what businesses need to grow and scale."
These perks include two free one-one-one setup calls with specialists and dedicated support via chat, email, and screen sharing. In addition, users have the opportunity to collaborate with and learn from a Facebook user community made up of more than 10,000 enthusiastic users and entrepreneurs spanning the globe.
"The general small business entrepreneur may not have deep knowledge regarding marketing automation and its benefits," Caterina said. "That's where our training, support, and Facebook community come in, helping inspire other people to navigate the process of alleviating the burden of technology."
Entrepreneurs who are interested in taking the platform for a spin shouldn't hesitate. Ontraport provides a free, 14-day trial with no charges unless you opt to upgrade to a paid account. At that point, the company offers four tiered plans (Basic, Plus, Pro, and Enterprise), with custom pricing for clients with up to 5 million contacts. Accounts are month-to-month, with no long-term contracts or commitments.
Revamped Branding and a New Landing Page Builder
This September, Ontraport unveiled its new Landing Page Builder, which gives users the power to create flexible, customized sites without hiring a graphic designer or web developer.
"You have control over every bit of your page, down to the really fine-grain details," Landon said. "You're going to be able to do anything you want to the look and feel — there's not much you can't do."
In a world driven by rapid technological innovation, the best companies periodically reinvent themselves. In March, Ontraport introduced current and prospective customers to a vibrant new brand identity intended to reflect the rollout of multiple new features, as well as a more intuitive user interface. The branding includes a new tagline: "Turn your business on."
"With the launch of significant features in the past two years, including our visual automation campaign builder, visual CRM, and the enhanced landing page builder, Ontraport is positioned at the top of the all-in-one MarTech space today," Landon said. "Our new branding now follows suit, reflecting both our technological advancement and modern simplicity."