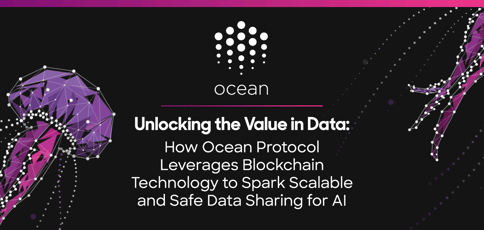 TL; DR: Currently, only a small number of companies have the capabilities to leverage big data to make advances in artificial intelligence technologies. And it's not by chance that those same companies have come to govern the ways data is bought, sold, and used. Ocean Protocol was formed to change that. This emerging decentralized data marketplace aims to connect data owners willing to sell their information to researchers, scientists, and companies building artificial intelligence programs. By keeping user data decentralized, Founder Bruce Pon said he expects Ocean Protocol to establish new blockchain-based economies that equalize data access.
In 2016, the world produced 16ZB of data (that's zettabytes — each is equivalent to 1 billion terabytes). However, only 1% of that information was ever analyzed.
Seeking to decentralize access to that data and give data owners control over their information, Bruce Pon and Ocean Protocol aim to unlock the rich potential in unused data and its impact on artificial intelligence. Data owners maintain control over their information and set the terms under which others can pay for and access the data.
"The main value proposition is the ability to buy and sell data safely," Bruce said. "In a nutshell, Ocean Protocol allows algorithms and models to come to the data, get trained, and then leave without exposing the data or taking a copy. This gives data owners comfort to share their data."
Creating a Global Data Economy With Fair Prices and Smart Contracts
With the data industry revolving around transactions that include the information of thousands of people at a time, a single person's information typically doesn't carry enough value to support transactions at that scale.
"Previously, if data were to be traded, it needed to be of a high enough value to make it worth it to strike a bilateral deal," Bruce said. "Most data didn't have a high price, so no markets could develop."
But, by leveraging the power of blockchain technology and smart contracts to digitize transactional processes, Ocean Protocol can more seamlessly connect data owners to the researchers and developers working on data-hungry artificial intelligence projects.
"A complete ecosystem around the data economy is now possible because blockchain technology reduces the cost for triangulation, transfer, and trust, while massively increasing coordination scalability across the planet," Bruce said.
Smart contracts, or computer protocols that facilitate and enforce the standards and stipulations of a contract, further support user trust by enabling transactions to happen securely and without third parties.
"Smart contracts allow data owners to program the conditions of access, which are then executed with perfect precision," Bruce said. "This gives data owners and buyers transparency, security, and guarantees of payment and use. Now, with Ocean Protocol, you can start to have data markets forming where the value of the data can be much lower because the process is digitized and governed by smart contracts. It means that a data economy can start to form on a global basis where data gets unlocked and priced fairly."
Successful Development Road Map Culminates In Beta Launch
Unlike most current data marketplaces, Ocean Protocol enables data owners to maintain control of their information — there is no central repository that can be accessed erroneously, misused, or exploited.
That's what made pairing a decentralized system and blockchain payments so appealing to Bruce, who also founded BigchainDB, which blends the benefits of distributed databases and traditional blockchains.
"From our experiences with blockchain, AI and data, we felt that there was a lot of value in data that was unused," he said. "This is because people are scared of losing control and not getting paid. Blockchain helps to solve this by giving the tools for people to own and control their data."
To make Ocean Protocol a reality, the founders and 30-plus team members created an 18-month development road map. Since November 2017, Ocean Protocol has attracted millions of dollars of investments through token seed distribution and setting up the marketplace framework.
"We don't follow trends," Bruce said. "Rather, we seek to build tools and integrations that can impact the highest number of users. Our target users are developers who can build marketplaces and tools on top of Ocean, as well as data scientists who want access to data. Before deciding which integrations and tools to build, we definitely work with collaborators and developers to prioritize."
The Ocean Protocol team completed business and technical white papers and fostered an open-source community of contributors and business partnerships. Soon, Ocean Platform will launch the first version of its beta network.
"This is a big milestone for the project and team, and is a green flag for data scientists and developers to start building and using Ocean Protocol," Bruce said. "It's an exciting moment."
Fostering Engagement Among Data Providers, Consumers, and Markets
Since its inception, Ocean Protocol has remained an open-source project. Bruce encourages others to develop on top of the protocol to create marketplaces, identify bugs, and add new functionalities.
"How Ocean is different from other projects is that it is a general platform for data sharing that allows algorithms, compute, storage, and other services to interact without any central coordination or orchestration," he said. "This is unique because it means that developers and data scientists can fully own and control their code and data on top of Ocean."
The Ocean Protocol family of data scientists, AI professionals, blockchain experts, and developers regularly gather at events. The Ocean Protocol Ambassador Program seeks to further involve passionate followers of the project. Ambassadors will have a direct impact on Ocean Protocol's expansion and can enjoy exclusive webinars and video calls with the Ocean team. More experienced developers can partake in bounties to earn Ocean Tokens.
"We are constantly pushing the boundaries with our research on bonding curves, token-curated registries, token engineering, and smart contracts related to the data economy," Bruce said. "Because the resources are digital, it makes sense to control access and guarantee execution using smart contracts and a digital currency. It's a unified approach to reduce the frictions in finding and buying data, while giving participants security and safety."