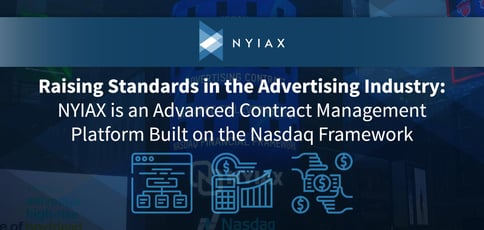 TL; DR: NYIAX is taking a page from the financial services book with its Nasdaq-powered contract management platform. The accessible upfront ad marketplace will be the first cloud-based solution of its kind that runs on blockchain technology. With more than 100 years of combined experience in advertising and financial technology, NYIAX is bringing transparency, consolidated workflow tools, and an enhanced reconciliation process to the ad industry.
Financial services and advertising may be quite disparate industries, but that doesn't mean they can't be powered by the same technology.
Need proof? NYIAX, the world's first guaranteed advertising contract exchange, was recently built on the Nasdaq Financial Framework, empowering advertisers and publishers to buy, sell, and retrade premium advertising inventory as guaranteed contracts.
The cloud-based, blockchain-enabled media trading platform was created by a management team with over 100 years of combined experience in advertising and financial technology.
"The origins of NYIAX go back to 2012 when Co-Founders Carolina Abenante and Mark Grinbaum began developing an idea to bring the technological and efficiency advantages of a financial market to the advertising space," said Sergey Tsoy, CTO at NYIAX.
Carolina has roots in the publishing world, where she held key leadership positions at Reed Elsevier and Phorm. Mark, on the other hand, served as Chief Architect for the International Securities Exchange (ISE), the first fully electronic options exchange (now owned by Nasdaq).
While the concept of a financial trading model for advertising was promising, Sergey said it wasn't easy to bring to fruition, as traditional financial trading platforms support far fewer attributes than are required in the average ad contract. So, in 2015, the NYIAX team approached Nasdaq with a white paper proposing a modification to its exchange engine that would facilitate the trading of complex assets.
"Based on that, we worked together to develop joint intellectual property with Nasdaq and implement the changes," Sergey said. "In 2017, we officially launched NYIAX, which became the world's first upfront marketplace and advanced contract management platform."
Infusing the Ad Industry with Blockchain Technology and Financial Rigor
Sergey said NYIAX helps publishers and advertisers navigate the complex digital media landscape with ease by enabling efficient, transparent, and guaranteed contract trading. The company provides a common marketplace taxonomy and interface designed to eliminate unnecessary cost and risk, as well as tools to help both sides of the market reduce or eliminate time-consuming manual operations.
In addition, integration with Nasdaq's exchange engine brings the diligence inherent in financial services to the ad industry in the form of increased trust, better compliance management, and enhanced contract management workflows and exchanges.
"As Chief Technology Officer, my favorite aspects of NYIAX are related to the marketplace and specifically standardization, which is important to buyers and sellers because it provides the clarity they seek and reduces the ambiguity they've faced in the past," Sergey said. "This makes it easier for buyers and sellers to trade ad contracts in a much more efficient way."
Moreover, it opens up new opportunities by enabling users to confirm that they are trading contracts with specific characteristics. For example, a user might leverage the platform to confirm what is being traded is compliant with specific laws, best practices, or rule sets.
Sergey said the system is flexible, allowing for adaptation based, for instance, on a specific market or type of industry. "Our technology is not set in stone, which helps us cater the platform to the unique business models of different agencies," he said.
By building its ad exchange on Nasdaq's Financial Framework, NYIAX is also able to tap into innovative technologies. For example, it uses blockchain as a core ledger and leverages cloud-enabled trading and clearing capabilities.
Distinct Benefits for Media Buyers and Publishers
From a buyer's perspective, a number of benefits differentiate NYIAX from its competitors. Sergey said today's buyers are looking for advanced tools, data they can trust, deep insights, and access to undiscovered inventory. They're also seeking full transparency when it comes to planning, delivery, reporting, and billing.
"Media buyers want these benefits via an efficient and integrated platform that allows them to optimize their supply path," he said. "That's precisely what we deliver through our upfront marketplace and advanced contract management platform."
NYIAX's planning and discovery tools, for example, offer buyers insight into premium inventory for effective planning and future purchasing. NYIAX also reduces the need for advertisers to purchase inventory via third parties, boosting ROI. Finally, increased supply chain transparency helps reduce fraud and provide clarity as to where ads will appear.
NYIAX's upfront marketplace and advanced contract management platform also affords modern publishers unique perks.
"Publishers need a standardized upfront marketplace with clean, optimized supply paths that deliver guaranteed revenue while alleviating mistrust, inefficiency, and fraud," Sergey said. "They need tools that empower publishers to boost their revenue while providing transparency and control — from RFP creation through campaign billing. NYIAX provides publishers with those benefits."
The NYIAX upfront marketplace helps publishers better predict revenue by allowing them to list and sell their future inventory via a curated, quality-controlled environment. Robust workflow tools make it easier to navigate legal matters, fixed terms enable clear contact and payment processes, and automated delivery billing and tracking and shorten reconciliations.
Enhanced Capabilities Through an Exclusive Partnership with IPONWEB
In June, NYIAX announced that it had joined forces with IPONWEB, a worldwide leader in engineering custom programmatic systems and infrastructure. The partnership provides buyers and publishers the ability to book upfront transactions every day through a combination of direct buying, upfront strategies, and programmatic delivery.
"Upfronts Everyday is a powerful new paradigm for digital advertising," Carolina Abenante, co-founder and chief strategic officer for NYIAX, stated in a press release. "Access to the combined power of upfront buying, price discovery, and contract management tools with transparent supply paths, programmatic decisions, and delivery provides buyers with an unprecedented level of control and opportunity."
NYIAX can now tap into the power of IPONWEB's scalable supply curation and management platform, known as The MediaGrid. This technology will allow the company to provide programmatic delivery of campaigns tied to advertising contracts within the contract management platform.
"The idea is that we extend our offering to programmatic delivery on top of direct delivery," Sergey said. "This covers all the bases and is less disruptive for both sides of the market. It's something that our industry has been anticipating for a long time, and we're really excited about it."