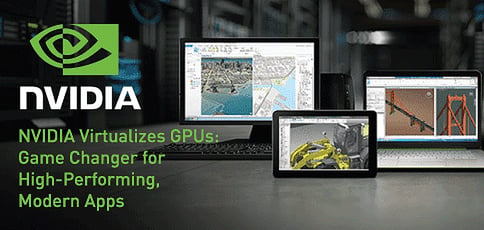 TL; DR: A pioneer in accelerated graphics processing, NVIDIA products exist on the leading edge of modern computing needs. Known for inventing the GPU popular in gaming, the NVIDIA team expanded their technology to virtual reality, artificial intelligence, and self-driving cars. They even created a first-of-its-kind virtualization platform that extends the power of their GPUs even further. The graphics-accelerated virtual environments powered by GRID centralize apps and data while delivering the right performance and security to each user.
You don't need to be a gamer to understand the importance of graphics processing units. Engineering and 3D graphics software rely on graphics-accelerated environments — but so do an increasing number of standard business applications."
NVIDIA Vice President of Product John Fanelli recently told us about an architectural firm that installed GRID, the tech giant's graphics virtualization platform, on virtual workstations so the architects could create 3D models and graphics. Virtualizing the workstations was so successful, the firm's IT person decided to set up a similar infrastructure for the office workers.
The virtual desktop interface didn't include a GPU because the office workers wouldn't use the intense graphics programs. Without a GPU supporting Microsoft Office 365, however, employees struggled with lagging performance that threw off the cadence of data entry.
"Without a GPU accelerating Excel, they were impacting the productivity of the most basic office worker functionality," John said. The company quickly moved the business unit to GRID-enabled virtual desktops, which alleviated the problem.
From Office 2016 to Adobe Creative Suite and even web browsers, modern applications are driving a growing need for computing power. The ground-breaking NVIDIA GRID extends GPU technology to graphics-accelerated virtual machines and applications for improved security, performance, and productivity.
"Applications that once used to be thought of as high-end are now becoming mainstream," John said. "With modern operating systems and increased use of videos and rich graphics, the GPU is no longer just nice to have. It's a must-have."
Graphics Pioneer Applies GPU Tech to Modern Apps & Virtualization
NVIDIA invented the GPU in 1999. With thousands of cores and parallel processing capabilities, GPUs more efficiently process large blocks of data.
"It was designed for graphics, but it turns out the parallel processing paradigm is very useful for things like machine learning and artificial intelligence," John said. "It's also really good for creating and using high-end visualization products to design cars and buildings, for example."
Serving some the most demanding computing industries — and more recently, bringing virtualized GPUs to business desktop users — NVIDIA earnings top $5 billion annually.
"The use of enterprise-grade GPUs is taking off," John said. "We view ourselves as not only serving gaming users, but taking the capabilities of the GPU into areas that weren't considered when it was first created."
New Software and Operating Systems Make GPUs Necessary, Not Just Nice to Have
Companies needing high levels of computing power for deep learning or big data, for example, have long turned to NVIDIA's Tesla platform.
However, increasing numbers of applications and operating systems like Windows 10 are expanding the demand for performance and graphics accelerators to consumer-level users.
"Organizations want to go mobile," John said. "They want to bring their own devices, but they want to do it in a way that allows IT to secure them and manage them. That's where we come in, from a GRID perspective."
First to Virtualize GPUs, NVIDIA Meets Varying Levels of Business Computing Needs
GRID software is the first to allow teams to virtualize and distribute NVIDIA datacenter GPUs across multiple virtual machines and applications. The graphics-accelerated datacenter or cloud works on any device, from any location.
By centralizing applications and data in the Cloud, virtual workspaces offer companies improved security, productivity, and mobility.
Virtual workstations for professional visualization users speed up collaboration on massive files, while office workers appreciate the improved user experience on virtual desktops that are optimized for Windows 10 and productivity programs.
"It's interesting when we see these two sets of users," John said. "Both have different requirements in terms of how they do their job and the applications they use, but ultimately, they are served by the same virtualization technology and GPU-accelerated infrastructure."
3 Layers of GRID: How NVIDIA Boosts Mobility, Performance, and Security
With the release of GRID 2.0 in 2015, NVIDIA separated the software from the GPU hardware so their engineers could innovate in both technologies independently.
"We can introduce new hardware boards that take advantage of your current software, and we can introduce new software that adds capabilities to your current hardware," John said.
1. The Hardware: NVIDIA Tailors GPUs to User Profiles
NVIDIA produces different GPU boards to cater to the number of users and computing resources required. Each Tesla M10, geared toward business users, contains four GPUs and can support 64 users. According to John, most customers put two M10s in a server to cross the magical 100-users-per-server threshold. At the higher end, the Tesla M60 powers high-performance visualization applications.
"We deliver the right power for the right application at the right price point," John said.
2. The Software: GRID Virtualizes GPUs for High-Performance Efficiency
With each release, GRID finds more ways to step on the gas pedal. The GRID April 2016 release enabled hardware encoding to be moved from CPUs to the NVIDIA GPUs, improving user density by 30% and reducing latency by 30 to 50 milliseconds. The August 2016 release of GRID 4.0 introduced management and monitoring APIs.
"The more users you have, the more important it is to make sure you keep the machines up and operational," John said.
GRID comes in three separate packages: virtual workstations for professional graphics needs, virtual PCs for an accelerated consumer-level experience, and virtual applications for deploying remote desktop session hosts or other Windows applications.
3. The Support, Updates, and Maintenance: New Features Increase GRID's Value
Twice-annual software updates mean GRID customers quickly see returns on their investment, John said.
"In the past or with competitive products, if you want a new feature, you have to go out and buy a new hardware board," John said. "The NVIDIA GRID team delivers new software features twice a year, so the GPU you bought in March gets more valuable in August and even more valuable the following May."
NVIDIA's Insider Predictions for the Future of Graphics Acceleration
John couldn't reveal the updates GRID customers can expect in 2017, but he predicted an increased movement to cloud computing and new use cases for GRID. As Windows 10 gains traction and more modern applications are deployed, he said he expects to see additional management capabilities and Tesla GPUs with higher user densities.
Even though NVIDIA runs a distributed team of thousands of engineers, John is impressed with the collaboration and excitement for GRID across the separate teams that put together the components for virtualization, application compatibility, and hardware encoding.
"Certainly, the virtual GPU is the industry's first, and the hardware encoding is a fantastic capability," he said. "The monitoring really sets us apart from our competitors, but it's the total solution to address the virtual desktop infrastructure marketplace that really has the team and myself excited."