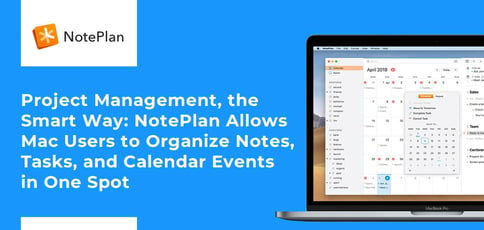 TL; DR: NotePlan, a bullet journal-style app for Mac, iPad, and iPhone, helps users capture their thoughts and organize projects via a brilliant combination of notes, to-do lists, and calendar events. As a result, professionals around the world can keep track of their jam-packed schedules and focus on their tasks rather than on managing them. The company is currently working on NotePlan v3.0, which will include a refreshed UI and new features inspired by customer feedback.
Remote work has been on the rise over the past decade. But it's never been more complex than it is in our current pandemic-ridden world.
With schools shuttered, many workers must juggle childcare and homeschooling on top of their full-time jobs. And since countless businesses face economic slumps, leaders are putting even more pressure on employees to produce, produce, produce.
It's not easy, and without proper time management, essential tasks and meetings are bound to slip through the cracks. This is precisely the time when robust project management tools, such as NotePlan, can make the difference between fruitful success and utter failure.
The bullet journal-style daily planner for Mac, iPad, and iPhone features a resourceful combination of tools for note-taking, scheduling, and organizing — empowering users to spend less time planning and more time doing. NotePlan's flexible, minimal design makes the program easy to adjust according to specific workflow requirements.
"NotePlan combines notes, tasks, and calendar events in a way that no other application can," said Eduard Metzger, Creator and Founder of NotePlan. "Many run-of-the-mill applications focus only on tasks or notes. With NotePlan, you can embed tasks within a project plan for context and then schedule them in your calendar."
Thanks to an integration with iCloud, notes, events, and reminders are automatically saved and readily accessible across the user's Apple devices. All notes are stored as plain text files in iCloud, rather than on NotePlan's servers, to preserve data privacy and make it easy to access files using other apps. Keep an eye out for the release of NotePlan v3.0, which will include a refreshed UI and new features inspired by customer feedback.
Enabling Serious Productivity on Mac, iPhone, and iPad
Eduard founded NotePlan after a search for a digital planning tool that could replace his physical planner left him empty-handed. In 2016, he released the original version of NotePlan, which was compatible with macOS only.
By June 2017, after extensive input from a beta community on TestFlight, Eduard released NotePlan for iPhone and iPad. The iOS version was designed to work seamlessly with the macOS version, with notes automatically synchronized across all devices.
The app quickly became popular in early 2018 after Apple featured it in a banner on the Mac App Store.
"With the help of Apple, many users wanted to get to know NotePlan, and revenues began to skyrocket," he said.
That year, Eduard decided to turn his attention to NotePlan full time to serve a growing number of enthusiastic users. He said there wasn't much competition in the macOS space since most productivity apps were designed for iOS only. With a constant stream of feedback from users, Eduard had all the information he needed to continually improve both the macOS and iOS apps.
By May 2019, NotePlan 2 was released to the Mac App Store, bringing customers a wholly redesigned app focused on boosting productivity and speeding up the planning process. This second version included the ability to view the calendar and notes in a split-screen view as well as a sidebar displaying tagged items, among multiple other features.
A Clever Combination of Your Notes and Calendar
NotePlan shines in Week View, where users can vertically scroll through all seven days of the calendar week while viewing notes and to-do lists in a sidebar to the right. The company estimates that a frequent user has 20-30 detailed subtasks within each note. A vertical, scrolling Week View ensures that all of these notes will fit within the interface.
NotePlan 2 also allows users to attach date tags to all to-do items rather than schedule them by copying them into calendar notes. The calendar automatically scans all to-do items and notes for such tags and displays them in a daily round-up to the right of the calendar. That section includes a daily progress ring indicating the percentage of work that has been marked as done, scheduled, or canceled.
Eduard told us additions like these are the product of a feedback loop with existing customers, who serve as a sounding board. He seeks their opinions to make major decisions, such as whether to switch from a one-time fee (his current payment model) to a subscription-based payment plan, which would affect the customer experience.
"User reception is typically very mixed when it comes to subscription plans," he said. "Some people hate them; others don't mind at all. It's one of the hardest decisions to make at the moment because it changes the development process."
The benefit of a subscription plan, from the customer's perspective, is that developers don't have to focus on bringing in more users to continue monetizing their app. With a monthly payment model, the focus instead lies on keeping current users from walking away.
"I see the industry moving in this subscription model at the moment," he said. "For future releases, we will be checking in on users to see what they prefer."
Distraction-Free Formatting and Styling with Markdown
NotePlan supports Markdown, a clean and simple way to add typographical emphasis, such as asterisks and underscores, to plain text. The syntax allows for a distraction-free experience without cluttered buttons overtaking the interface.
This year, with the release of NotePlan 2.2, the company introduced optional Markdown Live Rendering. The feature makes it easier for users who are not familiar with Markdown to make their to-do icons more meaningful and easier to read at a glance.
Instead of the typical markdown elements, this update allows customers to use familiar icons like an open circle for open tasks, a checked circle for completed tasks, a clock for scheduled tasks, and an x inside a circle to indicate cancellations.
In addition to helping users navigate daily tasks, NotePlan provides an organized and detailed work log to look back on. "You will always have a history of what you've done, as well as the context behind it," Eduard said. "When you keep things organized like this, you won't miss anything."
If you're interested in taking the app for a spin, NotePlan 2 comes with a free 14-day trial period. When the trial ends, the app can only be accessed via a one-time in-app purchase.
NotePlan v3.0: A Refreshed UI and Other Feedback-Fueled Features
The NotePlan team is currently working to polish and perfect NotePlan 3 before its release. When that time comes, the company will keep both NotePlan 2 and NotePlan 3 live.
"If you have NotePlan 2, you can still use it, and you will receive either a discount or free usage time toward the next release," Eduard told us.
NotePlan 3 will feature a revamped user interface inspired by numerous conversations with customers over the last few years.
"We are taking all of the lessons learned and changing the user interface so it makes more sense, allowing users to become more productive than ever before," he said.