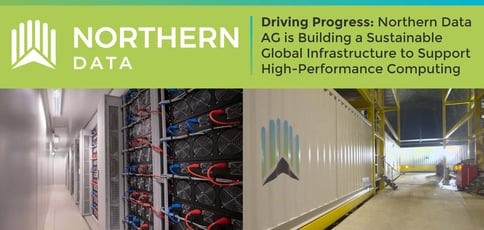 TL; DR: Northern Data AG, the product of a merger between Germany-based Northern Bitcoin AG and Whinstone US, Inc., is building a global infrastructure for high-performance computing (HPC). The technology is being designed to drive progress in blockchain applications as well as AI, video game streaming, and autonomous driving. As 2020 unfolds, the newly formed company will focus on building the largest datacenter in North America — and the biggest bitcoin mining facility on the globe — in the heart of Texas.
Between artificial intelligence, the IoT, blockchain, and advanced analytics, today's technology is getting bigger, smarter, and faster — and it's increasing demand for processing speed accordingly.
The typical desktop computer or workstation doesn't stand a chance in this new environment when it comes to performance. To solve today's most pressing science, engineering, and business problems, we must turn to supercomputers. These networks of nodes and processors enable high-performance computing (HPC) via aggregated computer power.
Globally, the HPC market is proliferating, bringing in nearly $28 billion in 2018 and projected to generate almost $40 billion by 2023. Use cases for the technology exist in a range of industries, from biosciences and climate modeling to electronic automation and media.
To further progress in this emerging arena, Northern Data AG is building global infrastructure specifically for high-performance computing (HPC).
"Northern Data is acting on a young but fast-expanding market," said Hans Dürr, Head of Corporate Communications at Northern Data. "Building a worldwide infrastructure for HPC applications is Northern Data's contribution to driving digital transformation — thus furthering the development of our digital society."
As the product of a recent merger between German Northern Bitcoin AG and American Whinstone US, Inc., the newly formed company combines years of experience in planning, building, and operating stationary HPC datacenters with in-depth knowledge on the operation of mobile high-tech datacenters in shipping containers.
Northern Data's technology is being designed to accelerate progress in blockchain applications as well as AI, video game streaming, and autonomous driving. Moving forward, the company will focus on building the largest crypto mine on the globe in Rockdale, Texas.
Merger Unleashes Synergies
The merger between former competitors Northern Data and Whinstone, first announced in November 2019, has created a new company with a broadened focus. Previously, Northern Bitcoin AG focused on Bitcoin mining via hardware powered by renewable energy sources and a self-developed mining pool.
The Whinstone Group, on the other hand, has proven successful in the blockchain industry since 2014, establishing and operating its own mining facilities in the Netherlands, Sweden, and the U.S. Together, as Northern Data AG, the merged company is building a global infrastructure for HPC that will support blockchain applications and beyond.
"The new Northern Data AG holds a leading position in upcoming technology sectors," said Aroosh Thillainathan, CEO of Northern Data AG in a recent press release. "The backbone of our activities is the high-performance computing capacity at our disposal. With our roots in blockchain, we have created a great foundation for future growth with strong international partners in other areas, such as video rendering and AI applications."
The company now combines self-developed software and hardware with intelligent concepts for cost-efficient and sustainable energy supply. Because it operates client hardware from both fixed data centers and mobile datacenters in shipping containers that can be placed anywhere in the world, customers have the opportunity to prioritize climate neutrality and sustainability.
In Hans' opinion, success in the crypto mining space is dependent on access to sufficient amounts of low-cost energy. At the same time, political and social pressures on crypto mining companies that use exclusively fossil energy like coal or lignite are mounting. The solution, he said, is an industry shift toward renewable energy, which is both clean and affordable.
"Northern Data is now focused on providing a sustainable HPC infrastructure that supports blockchain applications for customers worldwide — and is independent of Bitcoin price."
Advancing Blockchain, AI, Streaming, and Autonomous Driving
In addition to blockchain miners, Northern Data AG's global infrastructure for HPC may help scientists and engineers worldwide overcome computational barriers.
According to the United States Geological Survey (USGS), a scientific branch of the U.S. government studying natural hazards, scientists need HPC technology to expand study areas, increase model resolution, and integrate new data into projects.
In the same way, technologies such as IoT, artificial intelligence, video rendering, and 3D gaming must process high volumes of data — a task that is often only possible via the bundled deployment of high-performance computers.
To that end, Northern Data is prepared: "The company has deep know-how in building time- and cost-efficient IT solutions in the hardware and software spaces, as well as in datacenter development and management."
As a result of its high-performance computing capabilities, Northern Data has the potential to make a real impact on scientific, industrial, and social progress.
"We are able to provide our customers with solutions for their applications that save time and money while providing superior scalability," Hans said. "In addition — and this also makes us different from others — we consider energy supply when planning the solutions that we develop. That means our customers also benefit from special pricing models."
Because the company is listed on the German stock exchange, it is in a position to profit from the growth of a young and fast-growing market. "Northern Data has access to the financial markets and the perfect infrastructure for fast growth," he said.
Moving forward, as Northern Data updates its technology, expands its infrastructure, and puts new ideas into production, according to Hans, feedback from stakeholders and members of the HPC community is of utmost importance:
"Our deep understanding of our customers' needs determines our processes," he said.
Building the World's Largest Bitcoin Mining Facility
Northern Data has big plans for 2020, including a focus on strategic partnerships. In February, Northern Data and Canaan Inc. announced that the companies will work in close cooperation on AI development, blockchain technology, and datacenter operations.
The company also said it will work with SBI Crypto, a wholly-owned subsidiary of Japan's SBI Group, to advance blockchain technologies.
"We are very pleased to have SBI as a great partner and one of the leading international financial and technology holding companies by our side," said Aroosh Thillainathan, CEO of Northern Data AG, in a recent press release. "With its activities to date, SBI Holdings has impressively demonstrated its leadership in the emerging crypto and blockchain industry. This partnership gives us the potential to grow even faster by joining forces."
In addition, Northern Data is currently building a massive facility in Rockdale, Texas.
The company is currently working with local construction partners to build the facility, which will span 100 acres — the equivalent of approximately 57 soccer fields. Workers will complete the first of three construction phases by the first quarter of 2020, providing 300 megawatts of power capacity.
"The total capacity of one gigawatt is expected to be available in the fourth quarter of 2020. The first customers of the new site are two stock-listed corporations that will use a significant portion of the capacity for blockchain technology," Hans said. "This all is really exciting!"