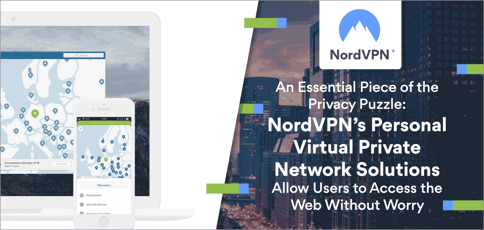 TL; DR: NordVPN's cutting-edge privacy and security solutions empower more than 8 million users worldwide to protect their online traffic and access content regardless of censorship limitations. The company's military-grade encryption standards and lightning-fast network of more than 5,000 VPN servers in 60 countries are just the beginning. With a focus on building trust through in-depth education, stellar support, and ongoing product development based on feedback, NordVPN is committed to liberating the internet, one customer at a time.
In 2018, the Twitterverse began to grace us with an abundant helping of tweets and memes about the FBI agents who presumably monitor each of us through our computers.
The memes, in which everyday comedians embrace their fictional spies as companions, turn the table on injustice. They're witty, they're over the top, and they underscore the fact that we need a coping mechanism to deal with the truth: We might not each have our own assigned spy, but Big Brother is likely watching in one form or another.
But cheeky memes aren't our only defense against online privacy violations. Virtual private networks like NordVPN offer advanced, military-grade encryption services to prevent surveillance and circumvent censorship — and you don't have to be a tech expert to use them.
"The combination of our full catalog of premium features, robust infrastructure, and ease of use reflect the intention we put into creating our product," said Daniel Markuson, Digital Privacy Expert at NordVPN. "We make VPNs accessible for everyone."
NordVPN may be based in Panama (where the company has no legal obligation to store the private data of its users) but its name was inspired by Nordic ideals of confidence, trust, and innovation.
"We strive to be innovative with our technology and overall approach and ensure our customers have freedom of choice," Daniel said.
Since its inception, NordVPN has become a trusted solution for more than 8 million users across the globe. The company's vast network of more than 5,000 VPN servers in 60 countries is optimized for individual needs based on user feedback. Through a focus on robust education, superior support, and ongoing product development, NordVPN is fighting for a truly open internet.
Intuitive, Military-Grade Encryption, Plus Advanced Privacy Solutions
NordVPN was founded in 2012 by four childhood friends who had witnessed the rise of internet censorship, control, and surveillance firsthand through travels across the globe.
Hoping to overcome these restrictions, the group began to research virtual private networks and toy with development. The group's prototype proved instantly popular among friends, who encouraged the team to further pursue the effort.
By 2017, the current leader in the VPN space, Hide My Ass, was starting to lose its grip on the market due to a scandal that exposed an underlying flaw in the company's methodologies. "That, combined with a gradually growing interest in VPN technology, helped make space for NordVPN in the market," Daniel said.
That's no understatement: Today, NordVPN's cutting-edge security solutions allow more than 8 million people worldwide to access a truly open web. With each new data breach revelation, Daniel said those numbers will continue to increase.
From the Edward Snowden leaks to the serious privacy issues created by Facebook and Google, people are increasingly aware of the growing problem. "Every time a form of intrusion occurs, people again turn their attention toward VPNs," Daniel said. "They're an essential part of the privacy puzzle."
To that end, NordVPN takes its responsibility seriously through the use of an Advanced Encryption Standard (AES) with 256-bit keys — the same kind used by the NSA and U.S. government to protect classified information. And, to ensure the company provides uncompromised safety and privacy, NordVPN never logs user data.
A Vast Network of More Than 5,000 Servers in 60 Countries
The company empowers users to connect to a broad range of VPN servers, enabling them to change their IP address and thus protect browsing activities.
Options including ordering a dedicated IP address that can only be accessed by you; sending traffic through two VPN servers for double encryption; connecting to one of four obfuscated servers while in a country with heavy censorship; or combining the anonymizing benefits of the Onion Router with NordVPN.
Furthermore, customers can connect up to six devices, including smartphones, computers, gaming consoles, smart TVs, routers, and tablets, through a single NordVPN account simultaneously. "I was pleasantly surprised by the ease of setup with NordVPN and the ease with which you can switch between geographic locations," said Verified User Priyan Meewella on the company's website.
Not sure which route to take? NordVPN's smart algorithm automatically selects the best VPN server based on location, loads, and special requirements. "Our VPN is a powerful tool, and it can do a lot depending on your needs," Daniel said. "However, the benefit that all clients receive is peace of mind through a service that is reliable, secure, and private."
If you're not inclined to take testimonials as proof of excellent service, fear not. NordVPN also offers a free 7-day trial and 30-day, money-back guarantee policy for accounts in good standing so that users can test out the services for themselves.
The company's ultimate goal, Daniel said, is to make NordVPN so ubiquitous in the online security and privacy space that it becomes an eponym for virtual private networks.
A Focus on Building Trust Through Robust Education and Support
Daniel said it's a bit of a challenge to convince first-time VPN users to purchase VPN services when the market is saturated with free services. But, while they appear to be a good deal, these services are often fraught with issues, such as throttle limits, service restrictions, and an overwhelming number of ads.
"If you're not familiar with how the technology works, how the market works, and the importance of certain features, free options may seem more attractive," Daniel said. "Our job is to educate the public so they understand the shortcomings of that choice and why a premium VPN is so important."
In addition to education, NordVPN strives to provide a robust knowledge base and outstanding customer support. The company's support agents process more than 3,000 requests each day through live chat and support tickets, with each ticket directed to a specialized department. NordVPN prides itself on its friendly and knowledgeable customer service team, who have a deep understanding of the product and how to successfully communicate with customers.
"In addition to helping our customers resolve problems quickly and efficiently, we also try to incorporate their feedback into future development," Daniel said. "That's really what it comes down to — listening to the public and fulfilling their needs."
In addition to its customer-facing support, NordVPN has an extensive team of bright minds testing technologies, identifying problems, and finding solutions. "We have a whole process in place for troubleshooting, tracking trends, and monitoring censorship in different countries," Daniel said.
Dedicated to Security, Privacy, and Ongoing Product Development
Moving forward, the company is committed to making NordVPN as intuitive and powerful as possible. In February, the company announced a new partnership with Adyen, one of the most trusted self-hosted payment providers on the market.
"The versatility that Adyen offers and its experience with markets all over the world will help us become even more flexible and better at pursuing our goals," Ruby Gonzales, Head of Communications at NordVPN, said in a press release. "Soon we will introduce a number of new region-specific local payment options, which will make NordVPN more accessible to internet users worldwide."
Daniel said the company is currently tight-lipped about the development of new solutions — "I'm excited in the abstract," he said — but users can rest assured that they're coming soon.
Until then, the company will continue to focus on its holistic suite of solutions. "With NordVPN, it's not just the interface, it's not just the features; it's the educational aspect that makes our product so successful as a whole," Daniel said. "That's an area where we are doing quite well."