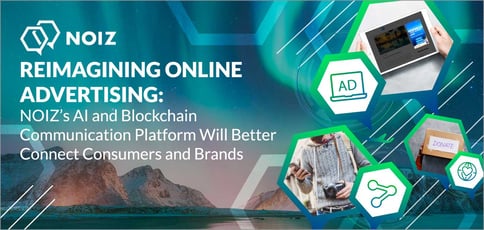 TL; DR: NOIZ leverages the power of artificial intelligence and blockchain technology to serve as a data guardian via its digital asset transfer platform. Through conversational and cognitive ads, the company is making online content delivery not only more powerful, but more rewarding. NOIZ's ultimate goal is to unite consumers and brands to improve online experiences for all while generating support for social impact organizations.
By now, we've all been victims of the invasive strategies tech giants use to feed us online advertisements based on our personal browsing information.
One minute you turn to the internet to purchase a video game as a present for your friend's birthday, and the next thing you know, you're inundated with ads from Microsoft Xbox, Nintendo Switch, and Sony PlayStation. And you're not even a gamer.
According to Connor Doyle, Marketing Technologist at NOIZ, the problem is that companies such as Google and Facebook are assuming — rather than asking — what ads users would like to view. "As a result, advertisers target users based on topics they're not interested in," Connor said. "Brands are wasting time and money through these false assumptions."
NOIZ, an artificial intelligence and blockchain-based communication and marketing platform, gives consumers control of the experiences they have online. Using the platform, brands only receive the information users choose to share with them, and the user is awarded NOIZ credits each time data access is granted.
"We want to provide transparency to consumers — but not only transparency," Connor said. "We want to give them control, and that's where blockchain comes into play."
The digital asset transfer platform also allows brands and consumers to engage directly within cognitive online ads equipped with payment gateways. Ultimately, NOIZ's goal is to foster an environment where consumers and brands work together to create better online experiences while generating support for social impact organizations.
A Data Guardian and Digital Asset Transfer Platform
In early 2018 it was revealed that political data firm Cambridge Analytica purchased the personal Facebook data of millions of users without their consent — and used the information to advertise Donald Trump's presidential campaign.
NOIZ was launched in April 2018 in response to that event. "NOIZ was the solution to help secure data and prevent ad fraud, so you don't have to worry about who's gaining access to your data," Connor said.
Today, the platform is needed more than ever. Take, for example, the alarming rise of identity resolution, the process of combining multiple identifiers across devices and touchpoints with data collected along the way. Connor said more eyeballs are on us than we think.
"Perhaps businesses can tell how many steps you're taking because you're wearing a smartwatch, and your watch manufacturer shares your data," he said. "Then, whoever they share that data with might also happen to have your credit card number, so they can see where you're going, what purchases you're making, and then feed you relevant content while you're walking by a store."
While such techniques are powerful tools for marketers and advertisers, they're utterly dismissive of consumer privacy and input. The same pattern is seen with forced consent notices in which companies won't let a user access a site without accepting cookies. Connor said that the strategic use of smart contracts on the blockchain will allow users to regain control.
"If consumers visit a website where the cookie policy is linked to smart contracts on a blockchain, they can choose whether to share personal information," Connor said. "At any point in time, the consumer would be able to flick a switch and say, 'You're no longer allowed to have this information about me anymore. I'm invoking my right to be forgotten.'"
Effective Campaigns Through Conversational AI and Cognitive Ads
Connor told us NOIZ helps facilitate conversational marketing, which uses real-time conversations to build relationships and increase engagement. This approach allows users to engage a brand on their own terms and timelines, creating personalized experiences.
"A lot of brands have realized that collaborating with consumers, talking with them, is better than just talking to them," Connor said. "We want communication channels to be present throughout the entirety of the customer journey."
With NOIZ, brands can add messaging services and payment gateways to online ads, allowing them to chat directly with customers through bots. These cognitive functionalities bring the banner ads of today — which boast an insubstantial clickthrough rate of less than 1% — into a more lucrative future.
But NOIZ doesn't intend to limit communication to chatbots within banner ads. The company plans to extend conversations that begin in the advertisement through integrations with popular messaging applications, such as WeChat and WhatsApp.
"Brands can initiate conversations through the advertisement, and if the consumer isn't able to complete the conversation within the advertisement or has follow-up questions, he or she can automatically connect with the brand through WhatsApp or WeChat," Connor said.
Through beta testing, NOIZ initially discovered that bots were being used to attack cognitive ads. In response, the company employed artificial intelligence and machine learning tools that screen for potential fraud by analyzing mouse movements and responses.
"Bots tend to do the exact same thing in the exact same amount of time, whereas people are random, messy, sporadic," Connor said. "So if 200 users all replied in the same amount of time, you can likely assume that those 200 users are bots. Then you can filter that traffic out before sending the data back to the advertiser."
Making Online Content Delivery Powerful and Rewarding
From the consumer perspective, users can specify exactly how they'd like to be targeted by advertisers. For example, a user might tell NOIZ that she is female, her favorite color is blue, and she likes to play tennis. She could then request to be targeted for advertising based only on her favorite color and sport, and not her gender.
"Right from the start, you get to determine what people are able to take into consideration when they're targeting you," Connor said.
Brands can also send requests for data to consumers. "They can say, I'm interested in identifying 25-year-olds who are interested in tennis within the NOIZ ecosystem to see if they would be willing to share information with me," Connor said. "If the user opts to share that information with the brand, then the user will receive NOIZ tokens as compensation."
Connor told us the use case for NOIZ tokens will likely evolve. NOIZ is actively building a community of advertisers to demonstrate the efficacy of the platform and has plans to work with these partners to offer product discounts in exchange for tokens. Transactions involving NOIZ tokens will be facilitated through smart contracts, which are self-executing cryptocontracts made possible by blockchain technologies.
"The beauty of the smart contract is that everyone can set their own terms and change those terms on a per-user basis," he said. "Let's say Nike offers you a 50% discount on shoes in exchange for 10 NOIZ tokens and your email address, age, location, and gender. You could respond and say, 'I want this discount and will give you my email address and gender but not age and location.'"
If Nike decides to accept the offer, a smart contract would be created, the user would receive the discount, and the tokens and data would be sent to Nike. Nike would not hold these redeemed tokens, though. Instead, Nike would choose a charitable organization in the NOIZ network to be the beneficiary of the redeemed tokens.
To ensure users send valid information to a brand, NOIZ requires them to meet Know Your Customers (KYC) identify verification benchmarks. "Part of this is to ensure that when people sign up for NOIZ, that they are real people and not involved in any terrorist organizations," Connor said. "We have to abide by government regulations and do the due diligence on the people that we sell our tokens to."
Moving Forward on a Path Toward Social Impact
As for what the future holds, NOIZ is currently developing a strong SDK solution that will allow advertisers to reach consumers on the platforms they are using, such as WordPress.
"Advertisers will be able to choose which NLP platform they would like to use, whether it's Google Ads, Dialogflow, IBM Watson, or another competitor," Connor said. "Some people might have their own chat functions, and we'll be able to integrate those with the NOIZ system — they can build the chat elsewhere, and then the files from the chat can be uploaded into the NOIZ system. "
The company is also partnering with GoImpact to support the United Nation's 17 Sustainable Development Goals. "We're looking to convert the current $19 billion in ad fraud to $19 billion in social impact," Connor said.