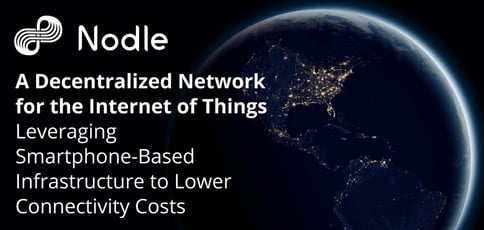 TL; DR: Nodle is a peer-to-peer (P2P) connectivity solution for connecting and securing the Internet of Things (IoT). The decentralized, Bluetooth-powered network leverages crowdsourced smartphones to provide access to these devices while creating a new economic model for connectivity. The technology is already making waves with developers and manufacturers, who use Nodle for geolocation purposes, as well as smartphone owners who are earning money via the Nodle Cash app.
While it's true that decentralized technologies are inching closer toward the mainstream, most people are still intimidated by the details.
That's why the folks at Nodle, a peer-to-peer (P2p) network for devices on the Internet of Things (IoT), decided to introduce its product to the world via a more accessible approach — that is, a 1.5-minute rap.
In a YouTube video, Nodle Co-Founders Micha Benoliel and Garrett Kinsman are featured among employees who drill a catchy refrain into viewers' minds (check it out for yourself here):
We're connecting the world's IoT
Making it easy for you and me
We use Bluetooth — that's the key
It's superior connectivity
The rap is silly, and the Nodle staff clearly had fun making it. But it effectively gets to the heart of what the company is trying to do: provide low-cost, Bluetooth-based connectivity for the IoT via the smartphones in our pockets.
"By leveraging the demand to connect small IoT devices to the internet, we can create a totally new economic model," Garrett told us. "We believe Nodle represents a new opportunity to reduce the cost of IoT communications and make internet access available everywhere."
With Nodle, IoT devices — such as those embedded in city furniture and parcels — connect to smartphones using low-energy Bluetooth technology. Those smartphones, collectively known as The Citizen Network, then transfer data to the owner of each IoT device via cellphone towers.
With more than 10 million smartphones on the Nodle network, the company is already empowering developers and manufacturers to better track their assets. And, with the launch of the Nodle Cash app, network contributors (smartphone owners) have a painless way to earn cryptocurrency in exchange for their participation.
Developing a New Economic Model for Secure IoT Connectivity
Nodle was founded in 2017 by Garrett and Micha, whose joint experience included working at telecom companies and building apps. In 2014, Garrett dropped out of college to join forces with Micha on FireChat, a P2P messaging app that allows users to send text and images without internet access or cellular data.
"FireChat was used all around the world," Garrett said. "It became a symbol of democracy during the Arab Spring as well as during protests in Hong Kong and Taiwan."
Witnessing the power of these new types of crowdsourced networks inspired Garrett and Micha to take the technology one step further. The pair brought on Blockchain Architect Eliott Teissonniere and Head of Engineering Lucien Loiseau and got to work on Nodle.
The timing was right: Garrett said technologies like blockchain and cryptocurrency were becoming more commonplace, and business leaders were starting to explore possible use cases. With Nodle, the team wanted to incorporate one of the factors overlooked in the development of FireChat: incentivization.
"We realized that the demand for the IoT was growing much more quickly than human demand for the internet — and that Nodle could represent a new economic model for the internet," he said. "Instead of monetizing their data, users could be rewarded for becoming part of the infrastructure."
Smartphone owners can join The Citizen Network using a software development kit (SDK) or a simple app. Then, as they walk by IoT devices, their phones will automatically and anonymously connect to the network and relay information to the owner of the IoT device. Smartphone users will receive cryptocurrency once their phones connect to the device using low-energy Bluetooth and collect data.
"Essentially, it's the internet, but for people, by the people," Eliott told us. "And it just works."
Leveraging the Power of Bluetooth to Form Crowdsourced Networks
Whether we realize it or not, there are more IoT devices and sensors around us than ever before. The purpose of such devices is to transfer data back to owners via their built-in Bluetooth radios, rather than wifi or LTE.
Nodle uses the built-in Bluetooth radios found in smartphones to connect to similar Bluetooth radios in the IoT devices. The smartphone then transfers data to the owner of the IoT devices as the smartphone user walks by.
Bluetooth is the technology of choice for the crowdsourced network because it's low-energy, providing a greener solution than wifi that won't drain the batteries of network contributors. (It is designed to run in the background at all times and use less than 3% of a smartphone battery per day).
That said, the app can also be run in Expert Mode, a less resource-friendly option that allows it to operate in the foreground of the system. This ensures the best performance and provides the user with more opportunities to earn cryptocurrency awards. The amount of each award is dependent on multiple factors, including connection quality, the amount of data transferred, and the value of the IoT device.
Data on the Nodle network is currently routed through a server managed by the organization, but that's just a short-term solution.
"We don't want to become a central point of failure," Garrett said. "Our vision, as outlined in our white paper, is to set up multiple servers locally, and ultimately, we want anyone to be able to spin up a server and become a part of this network to route data."
Real-Word Use Cases for Developers and Manufacturers
The Nodle network works well with several existing IoT solutions, such as smartwatches, tracking devices, sensors, fitness trackers, smart appliances, and smart cars. It also provides an alternative revenue channel for device makers, network operators, and app developers.
Garrett added that manufacturers now have the opportunity to connect devices to the internet affordably — without cellular charges or custom hardware. Such technology could be used to improve efficiencies in the construction industry, along the supply chain, and beyond.
"We're working with a national railway to put tags on all of their assets so that they can see in real time how those assets are being utilized — and find them if they're not being used," he said. "We're also talking to a tool manufacturer who wants to embed Bluetooth directly into a tool to relay data analytics to the cloud."
In the railway scenario, Nodle empowers businesses to trade in cellular-based trackers placed on train components for up to 20 Bluetooth tags, all for the same price.
"If you reduce the cost of connecting small devices to the internet by orders of magnitude, that changes everything," Garrett said. "Eventually, we're going to see disposable chips that cost less than a dollar and are optimized for artificial intelligence (AI). They will be right at the edge collecting data."
Just Launched: The Nodle Cash App
Garrett said Nodle's long-term goal is to connect and secure 1 trillion IoT devices. In the meantime, the organization just launched the Nodle Cash app, which empowers anyone with a smartphone to gain crypto rewards for contributing to the network.
Because Nodle is a privacy-first network, the app does not track or sell the data of its users. Ultimately, the company promotes integrity through respect, trust, and ethical behavior.
"Uber drivers, or even people who just walk around a lot, can benefit greatly by having an app like this on their phone that's contributing to our network and earning cryptocurrency," he said. "We're now making it easy for anybody to download Nodle Cash app and become involved."