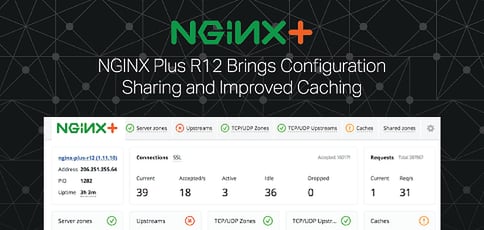 TL; DR: Shedding their startup skin, the team members behind the wildly popular NGINX web server and delivery platform continue to mature and deliver high-performing and reliable websites and applications. Now with the structure and resources befitting an industry-leader, the company recently released the newest version of its enterprise-grade product, NGINX Plus R12. We checked in with Technical Product Marketing Manager Faisal Memon to see how the company has grown and innovated so far in 2017, as well as what's on the horizon.
Even the experts think delivering a high-performance website is challenging. Beyond producing exciting content and engaging interactions, developers need to consider, implement, and manage processes such as caching and load balancing.
As the site grows, administrators might need to explore a move to microservices or cloud applications. The added complexity makes it more difficult to ensure you're maximizing your website's performance and infrastructure resources, according to Faisal Memon, Technical Product Marketing Manager at NGINX.
"A lot of times, you're just happy if your website is working, let alone if it's performing," he said.
Millions of developers use NGINX's open-source web server to boost performance, stability, and scalability. The company's commercial product, NGINX Plus, extends the features to give enterprises more control over infrastructure without restricting innovation.
With a new configuration sharing feature and improved caching tools, the newest version of NGINX Plus helps website owners and application managers move beyond functionality and take steps to further maximize performance.
Inside NGINX: Keeping an Eye on the Competition as the Team Grows
Since we last spoke to Faisal, the NGINX team has grown to roughly 150 employees and has transitioned from a startup mindset to become a more structured, established leader in the industry. In addition to consolidating and centralizing engineers' toolsets, NGINX recently hired the company's first IT and HR employees.
"We're trying to get some of that structure that larger companies have built up over the years, the type of stuff larger companies kind of take for granted," Faisal said. "You think there's always HR, but up until a month ago, we had never had that."
Within the industry, NGINX tracks its progress against hardware providers, including F5, Citrix, and NetScaler, as well as legacy IT companies.
"A good source of our business is replacing those hardware appliances with our software," Faisal said. "The companies who switch to us can save some money and get some additional flexibility."
Rivals in the software space, such as Amazon's load-balancing options, provide a more difficult obstacle, according to Faisal.
"One of the most challenging parts of open-source companies is that your biggest competition is yourself," he said, adding that the fight goes beyond open-source and commercial products of NGINX. "It's not just the fact that there's an open-source version available for free, but other companies take the open-source software, commercialize it, and then compete against us."
5 Features Included in NGINX Plus R12
NGINX releases updates three times a year, and NGINX Plus R12 marks the 12th update since NGINX released the commercial product in 2013. Beyond just announcing new features, Faisal said the team makes a point to show customers how to deploy them.
"Our content is very technical," he said. "We like to include code samples, configuration samples, diagrams, and a lot of stuff like that to really make it a lot easier to access this information. We show users how to configure these new features."
1. Configuration Sharing Synchronizes Servers for Scalability and Availability
Open-source users and commercial customers of NGINX often deploy multiple servers to ensure availability and the ability to handle large amounts of traffic. Instead of configuring each server individually, administrators can manage a cluster from a single location or master server.
"Having to go in there and manually configuring each server individually is a time-consuming and tedious practice," Faisal said. "Now, you can go into your master, make whatever configuration changes you need, and run the script to commit to those changes. It'll go to each server within the cluster, put the configuration there and make sure it's OK."
2. nginScript Adds JavaScript Syntax to Configurations
Last time we spoke to Faisal, engineers were working to add the ability to embed JavaScript into the NGINX configuration file. The NGINX Plus R12 release made the end result, nginScript available to both open-source and commercial users.
The familiar syntax helps developers implement sophisticated configurations, such as logging custom variables with complex logic, controlling upstream selections, carrying out load-balancing algorithms, and implementing simple web services.
3. Greater Visibility With Additional Metrics
With such emphasis on performance, NGINX Plus R12 introduces more transparency into metrics by including server response times, shared memory zone utilization, error codes, and other analytics on either the activity monitoring dashboard or an exported JSON format.
The monitoring instrumentation also gives insights into the behavior and performance of upstream applications, giving users a more complete picture of their environment.
4. Enhanced Caching Brings Better Performance
Caching is a sure-fire method to speed up your website or application but can come with complications when there is a new version of content available that hasn't been cached.
Before NGINX Plus R12, visitors requesting expired content would wait for the new video or application to be delivered from the origin server. The user will always see the newest content, but performance suffers.
"Now, if a user has requested expired content, I might want to go ahead and give him that stale version so there's not a performance penalty," Faisal said. "In the meantime, I will refresh the resources in the background. In my particular use case, that's OK. That might not work for all customers, but we wanted to provide that option."
5. Improved Health Checks for New Servers
When administrators add new servers to a load-balancing pool, NGINX Plus R12 can delay sending them traffic until they pass an application-level health check to verify proper configuration and setup. Once the server is approved, NGINX Plus can slowly deliver more traffic to the particular server.
Coming Soon: Certified Software Modules Add Integrations to NGINX
Next on the new features list for Faisal and the NGINX team is a portal for certified software modules to add even more functionalities to either the open-source or commercial platform.
Built by NGINX team members as well as external partners and third-party developers, the modules add simple actions, such as geolocating users by IP address, to more complex features.
For example, Ping Identity provided one of the first certified NGINX modules, giving users the ability to restrict access to applications based on credentials using the company's identity access management system.
Faisal compared the program to the Salesforce AppExchange and said NGINX's portal will launch with modules from six partners and an additional dozen modules created by both in-house and external developers.
"We're hoping to expand this program and add more partners and integrations throughout the coming years," Faisal said. "We're working with vendors to create these apps that allow us to integrate with their services."