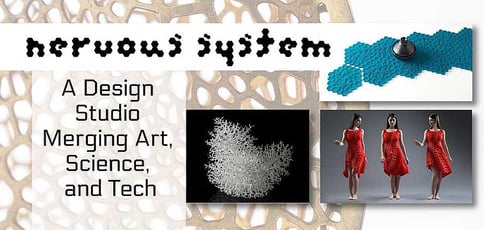 TL; DR: In a brilliant play on cross-disciplinary innovation, Nervous System Design Studio is using art to explore science and technology in a fresh, open-ended way. Behind each unique design is a computer algorithm inspired by organic processes and brought to life through 3D printing. The studio is using the technology to create everything from running shoes that alleviate impact to open-source applications that make product design accessible to all. With a unique generative approach, the design studio is opening the doors for unlimited possibilities in data-based design.
With white nylon leaves emerging in a circular display around a central stalk, Nervous System Design Studio's "Hyphae Zeotrope" looks like something you'd find in an extraterrestrial greenhouse.
At the same time, its resemblance is eerily familiar to life on our planet — and for good reason. The tree-like form was created using a generative design process based on algorithms that simulate natural growth principles.
"We don't draw, we don't sculpt, we don't model," Nervous System CoFounder Jessica Rosenkrantz said in an MIT Alumni Association video. "What we do is write computer programs based on processes in nature that generate form and pattern and use those to grow or generate a series of objects, which can then be digitally fabricated."
Jessica, a biology major, started the design studio along with Jesse Louis-Rosenberg in 2007 to explore the intersection between art, programming, and science. "Part of the reason I majored in biology in the first place was that I was so fascinated by how forms in nature emerge," Jessica said in the MIT video. "I mean, how do we go from a single cell to an extremely complex functional organism that has intelligence and all these amazing features?"
Most of Nervous System's innovations begin with some sort of natural process. "The way things grow, the way cracks form, are all based on these physical principles we can simulate and manipulate to study them and understand them in a more intuitive way," Jesse said in a video produced by the Daily Grommet.
Generating Form and Pattern Through Nature-Based Programs
There's no doubt that 3D printing is here to stay, and it's creating opportunities for businesses and consumers alike.
According to a study based on interviews with 1,000 3D-printing pros from a broad spectrum of industries, companies are increasingly relying on the technology to create prototypes, enhance production environments, and support proof of concept. Others are using the technology to manufacture medical implants and prosthetic limbs.
For Nervous System, based out of a studio in Somerville, Massachusetts, this new technology creates an extraordinary world of possibility. The process isn't magic, but it's pretty darn close: Jessica and Jesse essentially translate nature into math and then program robots to turn those equations into physical art. It's as mind-blowing conceptually as it is visually.
The group's Porifera jewelry collection offers one such example. The ceramic pieces were inspired by deep sea sponges with complex architecture that serves as home to a variety of oceanic life forms. In collaboration with Formlabs, Nervous System spent two years researching the intricate sponges before developing software used to generate the designs through 3D printing.
Reimagined Running Shoes with Data-Driven, 3D-Printed Midsoles
Nervous System's innovations also impact those outside the art realm. For example, the design studio teamed up with footwear brand New Balance in 2015 to develop radical new 3D-printed midsoles for the company's high-performance running shoes. "We created proprietary systems to generate midsole designs using pressure data from runners, making it possible to create variable density cushioning that is customized to how a person runs," Jessica stated in a blog on the company's website.
According to Katherine Petrecca, General Manager, Studio Innovation at New Balance, the cushioning itself represents a new wave of 3D printing. "There hasn't been a lot of work in 3D printing with soft, flexible materials that are made to move," Katherine said in an MIT video on the project.
Before setting on a final design, Nervous System experimented with a variety of prototypes inspired by natural wonders. The group used its Xylem and Hyphae algorithms, for example, to stimulate the growth of root veins, creating a loosely interconnected midsole prototype.
"Veins gradually emerge from the roots and colonize space as hormones flow toward nearby veins," Nervous System explained on its product site. "The growth continues until every source has been overtaken. The result is a space-filling network that is both hierarchical and rhizomatic."
The winning form was ultimately created based on the molecular structures of bones and wood — both known for their strength and ability to fill space using a minimal amount of material. New Balance began selling the resulting "Zante Generate" shoes in April 2016, effectively releasing to market the world's first high-performance running shoe with a 3D-printed midsole.
Mass Customization: Open-Source Applets Make Design Accessible
Perhaps the most enjoyable aspect of Nervous System's generative design process is its unlimited nature. Jessica and Jesse aren't just sending final products into the world to be adored — they're designing computational processes intended to enable others to create a kaleidoscopic variety of shapes and forms.
The studio's generative design applets welcome consumers from all walks of life to experience Nervous System's innovative world. The free online programs allow them to design cellula-inspired jewelry, laser-cut jigsaw puzzles, custom-fit clothing, and other personalized curiosities that can be 3D-printed at home or created by Nervous System.
There's even a selection of free, downloadable designs complete with Creative Commons licenses for home printing, including foldable Kinematics bracelets, a dual-toned octopus model, and coral-like sculptures based on crystal growth.
In a world where innovation typically comes at a high cost, Nervous System's intricate, unique creations are refreshingly affordable. The company avoids the use of cost-prohibitive materials, choosing to place value in intelligent design instead. A focus on small-scale art forms, like jewelry, also keeps prices from spiraling out of control.
Nervous Labs: A Generative and Experimental Design Workshop
Nervous System's creative lab environment allows the group to test new algorithms, materials, and techniques through limited-edition products.
The algorithmically created Hyphae Lamp, for example, was introduced in this experimental manner. The initial product launch featured just 10 lamps, each digitally "grown" through a computer simulation of leaf vein formation and made tangible through 3D printing.
It remains to be seen just how data-inspired design techniques will bleed into the web design, the art form most hosts are well-acquainted with. But as web designers continue to pursue new and inventive approaches to visualizing online presence, we'll likely see an increase in data and nature-inspired design.