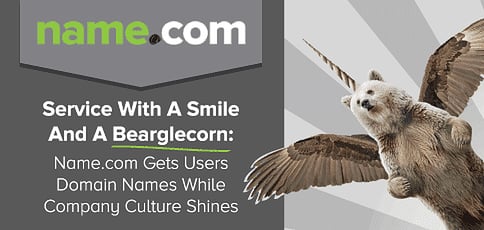 TL; DR: Name.com, a domain name services company with an attitude, seeks to advance how people present themselves online. By making it easy to find, establish, and maintain a website, Name.com connects customers with their audience with ease. From "engineers gone wild" to an overhauled and streamlined website, the fun-loving, YouTube-video-making Name.com team has registered some two million websites — sometimes thanks to a domain happy-hour promotion.
Name.com doesn't just talk about how fast and easy they make buying a domain name. They're willing to risk life and limb to show you.
Jared, the Name.com Community Evangelist, wheeled a bright yellow chair and desk out into a major Denver intersection during rush hour and borrowed a grocery store's wifi to buy a domain in the amount of time he could sit in the crosswalk. In fact, Name.com was running a sale and he scampered out of the intersection with two domains right as the light turned yellow.
To the team at Name.com, domain names are more than an online address — they're an opportunity for self-expression or commerce. Through the company's suite of domains, web hosting, and easy-to-use website builder, people can discover, register, use, and monetize their domain name all from the same spot.
Company Culture Creates Camaraderie
All Shannon Brown wanted from her next job was a cool place to work in Denver that didn't require a lot of travel. Her background was in enterprise software, so she was used to dealing with a small number of accounts with very large budgets. Name.com, however, had a couple hundred thousand customers buying relatively cheap domain names.
Also, Name.com didn't have a product team — "it was just a gaggle of engineers, and that was about it," she said. Even though the fit didn't seem to make sense on paper, Shannon went in for her interview.
"Right off the bat, there was a question: 'How do you feel about beer? Because we have a keg,'" she said with a laugh. "I knew immediately that I had found a super fun place to work."
After five years as Name.com's Director of Project and Product Management, Shannon has built a product and UX team and watched as marketing specialists and customer support representatives flocked to Name.com's Denver headquarters. As the team grew, so did its personality.
Beer, Biking, And Business: Name.com Employees Stay Active Together
With a young and athletic staff living close to the mountains, common personal interests abound such as skiing, snowboarding, hiking, and camping. Name.com even established a bike-to-work program to reimburse employees the cost of a bike if they used it to get to work at least a certain number of times in the summer.
There's also an annual scavenger hunt, "which is always ridiculous," Shannon said. The winners from the year before plan the hunt and "basically send people out on a wild goose chase throughout Denver."
Every Friday around 4 p.m., all the employees celebrate Beer Friday and gather around the keg to talk about weekend plans.
"I've made some really good friends working here, people I wouldn't normally even know," Shannon said. "We get a lot done because we like each other, so it's easy to collaborate."
Name.com's open-layout office space also lends itself to collaboration. Shannon said she has no qualms about hollering across the office to ask a top-level engineer a question.
"All of the sudden, there's six people contributing to a conversation that we didn't even have an idea for," she said. "We'll figure something out in 10 minutes that would have taken 30 emails back and forth to get figured out."
Silly, Social, And Successful: Name.com Puts Personality Into A Company
The fun-loving personalities shine through on Name.com's website and social media.
In addition to introducing all 35 or so employees, the company's about page includes eight dogs with titles ranging from Lead Dog to Wonder Pug and Number One Winker.
The Name.com website and blog are littered with absurd videos like the one testing how quickly you can buy a domain. There's a tribute to '80s dance aerobics. Earlier this month, Name.com tragically got locked out of their Instagram account (don't worry, they got it back a week later). And don't forget their 404 page, which features Name.com's mascot the Bearglecorn, a bear-eagle-unicorn hybrid, and a live stream of their pet fish, Kanye, swimming in his aquarium.
Founder And Engineers Build A Company Where Employees Want To Stay
In addition to putting a personality to a company and exposing their customers to the humans behind the product, Shannon said the culture at Name.com keeps drawing people in and leads to a very low turnover rate.
"In other environments, you may have something where someone gets up to speed and then just leaves, and that just doesn't happen here," she said. "People come in and they're just like, 'Cool, I'm here, and I'm staying forever.'"
Getting Started: Founder Makes Registering A Domain Personal
Bill Mushkin founded Name.com in 2003, a year after he bought the Domainsite.com registrar. Without a staff or an engineering team, he focused on making the registration process to acquire a domain name and spin up a website as easy as possible.
Beyond simplifying the process, Shannon said Bill wanted to demonstrate a clear educational benefit to Name.com so that customers would stick around and view the company as a valuable, trustworthy resource.
"A lot of that infused into the way we communicate with our customers on the support side of things," Shannon said. "We'll fix the problem, but we also show them how to make the changes themselves to get it just how they want."
Early Days: Letting Engineers Run Amok & Try Their Hands At UI
Senior Director of Software Engineering Dave McBreen started at Name.com during the first year, when the company managed only 20,000 domains (they're now up to 2 million or so). As Name.com successfully helped their niche of small-scale domain registrations, Dave said the company started applying the same values and services toward larger customers.
"I think this site works very well for people that have one domain these days, but it also works very well for the large-scale domain name portfolios," he said.
With such an emphasis on development in the early days, Dave said Name.com was basically "engineers gone wild." Projects didn't have clear goals and often were shuttered before they were truly finished. The website didn't have a global stylesheet or anyone looking out for UI.
"It was just a bunch of engineers trying to do UI, but they don't really like UI," he said. "In the early days, we had so few engineering resources that I was building the actual servers that Name.com ran on and then building the backend code base and building the frontend code base, and then also building up our hosting infrastructure. I actually built one of our original hosting environments from scratch, which I don't recommend to anyone. We were each kind of a jack-of-all-trades and unfortunately it showed in many places."
Getting Settled: Engineers Lay The Foundation For Success
Dave and his team started with a LAMP stack and added on throughout the years, using Java for concurrency and playing around with Go. He estimated that 90% of Name.com's code base is written in PHP.
"We've always said that PHP gives you enough rope to hang yourself," he said. "It had a lot going against it when we started, but honestly, it has matured a lot as a language."
Through the early days of adopting object-oriented programming, incorporating MVC frameworks as it became popular made a big difference for the site and ensured that functionality wasn't duplicated in the code base.
"We found that once we got that initial foundation in place, everything just builds on top of it nicely," Dave said.
Product And Customer Service Teams Create Vibrant Community
When Shannon joined the Name.com team in 2011, she was the first Product and Project Manager. After walking through the website, she knew her first project was to promote a consistent user experience on the website.
"It was clear that they really didn't like UI," she said with a laugh, estimating that Name.com featured seven different table styles and nine different button styles. "The site varied so much from page to page that it was almost based on how you got there; you weren't really sure if you were on the same site or not."
New Website Provides Cohesive Customer Experience
As Shannon slowly built her team, they used Bootstrap to make everything on the website consistent and responsive. With time, Name.com went from a development-heavy domain name system to an eCommerce website and highly functional web application.
"It's been really awesome to see the evolution of the site," she said. "I've seen it go from being 100% about the application side of things to also being a holistic user experience."
Shannon expected some resistance from the engineers, but she and Dave agreed that everyone was excited there was finally a team to clean up their mess and drive value to the engineers' work.
New Employees Build A Brand And Culture Of Collaboration
Since Shannon came on board, the Name.com team has grown to include a handful of project managers, UI engineers, a marketing team, and a dozen or so customer service representatives.
"It's not like one team grew quickly while another one didn't," she said. "We would incrementally add people as needs arose."
With a relatively small team of 35 employees, Dave said he likes that everyone gets to be involved in everything.
"You get a lot of exposure to the full development cycle and all the individual teams," he said. "Dev works very closely with product and very closely with marketing and support, so just watching the site or our product line grow over time has been very exciting."
Getting Acquired Isn't The End Of The Road (But Here, It Almost Is)
Demand Media, which owns domain name and hosting giant eNom as well as domain name auction service NameJet, spent $18 million to acquire Name.com in early 2013. About a year later, Demand spun off the domain services companies into a separate company called Rightside, which went public about 18 months later and trades under the NAME ticker symbol.
With more than 320,000 customers, Name.com controls roughly two million of Rightside's 16.5 million domain names.
When word of the acquisition spread, employees worried about how their corporate owners might suck the culture out of Name.com. With some time to reflect, though, Shannon and her coworkers only see positives. Instead of a small company working frantically to keep the lights on, the Name.com team can rely on a bigger support network and a pool of experts.
"The acquisition has been really great for us, because there's a lot of resources," she said. "You can talk to people who have been doing some of this stuff just as long as we have. They know the industry super well, and they've also been really willing to invest in us because we're growing."
The Bearglecorn Spreads Name.com's Infectious Personality
After surviving his death-defying domain-buying stunt, Jared the Community Evangelist continues to spread the gospel of Name.com. Surprisingly, he didn't take the Bearglecorn to Denver's annual 420 Rally where he talked to folks about domain names (and brought them snacks, "because we're not dumb").
Since the acquisition, Name.com has instilled some of that energetic, goofy culture into the more-conservative corporate headquarters in Kirkland, Washington. The relationship started with good-natured, effective business communications but now includes "ridiculous email threads where people attach GIFs," Shannon said. "They've been so enthusiastic and excited about Name.com that a lot of the stuff we do or things we value as a company have been infused to their office."
Advertiser Disclosure
HostingAdvice.com is a free online resource that offers valuable content and comparison services to users. To keep this resource 100% free, we receive compensation from many of the offers listed on the site. Along with key review factors, this compensation may impact how and where products appear across the site (including, for example, the order in which they appear). HostingAdvice.com does not include the entire universe of available offers. Editorial opinions expressed on the site are strictly our own and are not provided, endorsed, or approved by advertisers.
Our Editorial Review Policy
Our site is committed to publishing independent, accurate content guided by strict editorial guidelines. Before articles and reviews are published on our site, they undergo a thorough review process performed by a team of independent editors and subject-matter experts to ensure the content's accuracy, timeliness, and impartiality. Our editorial team is separate and independent of our site's advertisers, and the opinions they express on our site are their own. To read more about our team members and their editorial backgrounds, please visit our site's About page.