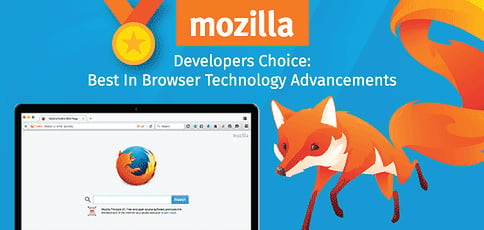 TL; DR: Mozilla is best known for their flagship browser technology Firefox, which changed and improved the way people interacted with the Internet. Firefox was created by a small community of Mozilla developers who wanted a browser that focused on user experience and accessibility. Their browser represents much more than an effective web technology, though. Firefox illustrates how an open-source community can collaboratively create a free and inclusive Internet. Mozilla envisions an online landscape of "openness, innovation, and opportunity," and the nonprofit organization works tirelessly toward that end.
In the 15th century, Johannes Gutenberg revolutionized the way the masses received information with the advent of the printing press. His invention spread knowledge further and to more people than ever before. The Internet arguably had a similar, if not stronger, impact on the world. It remains a largely ungoverned bastion of information and a platform that facilitates free speech. The web is a tool made by and for the people, and most want it to remain that way.
Mitchell Baker, Executive Chair and self-proclaimed Chief Lizard Wrangler at Mozilla, espoused the importance of keeping the Internet open and accessible to all in a 2013 talk.
"We are a global community with a common purpose. That is to build the Internet the world needs," she said. "We can make the Internet knowable, interoperable, ours. When we do that, we can be champions of the web — where people know more, do more, do better."
Since the company's inception, Mozilla has been working toward that goal. Most famous for their flagship browser technology Firefox, Mozilla and their open-source community are committed to producing innovative products for the public good.
As a nonprofit, Mozilla operates under a philosophy of "openness, innovation, and opportunity." This allows their community of contributors to collaborate and produce cutting-edge technologies and do so with a purpose: to maintain the Internet as a public resource that benefits society and positively shapes human connectivity.
FireFox: Built on the Mission to Keep the Internet Open to All
In December 2004, a month after Mozilla's launch of Firefox 1.0, it became apparent just how community-supported the browser technology was when a contributor-funded ad appeared in The New York Times. The ad, a double-page spread featuring the names of 10,000 donors, was the result of the Spread Firefox campaign, which sought to fund and get the word out about the new browser technology.
And get the word out they did. Today, Firefox is employed on every continent and has been translated into more than 70 languages, giving the world unprecedented access to knowledge.
Much of Firefox's popularity is due to the goals of their developers. Recognizing the need to improve the web, which at the time was littered with popups, walled content, and slow loading pages, a small community of Mozilla coders got to work to fix it.
User experience is a widely thrown around phrase these days, but Mozilla was thinking in terms of UX more than a decade ago. The aim was to deliver the most intuitive interface for the mass-market end-user, while simultaneously allowing developers and other tech-minded individuals to tailor the browser based on need.
Along with usability, Firefox's privacy protections make it a very secure browser. In today's world where Big Data seems to always be looming overhead, Firefox's Tracking Protection prevents third parties from nabbing information. The browser contains built-in malware protection and lets users know whether sites are secure.
Firefox also allows synchronization with multiple devices. Users can choose which features, such as bookmarks and tabs, they'd like to sync between, say, a smartphone and a PC, which is very convenient for seamless use between home and work.
The Mozilla Manifesto: Advancing an Inclusive Vision of the Web
Mozilla has nurtured an open-source community with their Developer Network, a worldwide grid of individuals committed to building a better Internet through shared knowledge. Every month, the site receives 2 million visitors who learn from and contribute to the storehouse of information.
The network's collaboration toward an improved and accessible public online space epitomizes the principles behind the Mozilla Manifesto, which aims at advancing an inclusive vision of the web. The Manifesto's 10 Principles outline the organization's dedication to maintaining the web as this public asset:
The Internet is an integral part of modern life—a key component in education, communication, collaboration, business, entertainment, and society as a whole.
The Internet is a global public resource that must remain open and accessible.
The Internet must enrich the lives of individual human beings.
Individuals' security and privacy on the Internet are fundamental and must not be treated as optional.
Individuals must have the ability to shape the Internet and their own experiences on it.
The effectiveness of the Internet as a public resource depends upon interoperability (protocols, data formats, content), innovation, and decentralized participation worldwide.
Free and open-source software promotes the development of the Internet as a public resource.
Transparent, community-based processes promote participation, accountability, and trust.
Commercial involvement in the development of the Internet brings many benefits; a balance between commercial profit and public benefit is critical.
Magnifying the public benefit aspects of the Internet is an important goal — worthy of time, attention, and commitment.
Mozilla actively appeals to the public to get involved and help advance these principles. Whether it be through participation in the open-source community to develop products and innovations or by simply using Firefox, a technology Mozilla believes embodies their principles, the organization says support is necessary to ensure the future of an open and accessible web.
Innovations Designed to Keep the Web Accessible and Healthy
Mozilla's innovations don't end with Firefox. Their community is busy developing technologies that include Virtual Reality, games, contributions to the Internet of Things, and the advent of a safer programming language. Again, these technologies are all produced under Mozilla's overarching philosophy that web development and use should be in everyone's hands.
The Mozilla VR team created A-Frame, an open-source platform that is used to develop VR with HTML. A-Frame simplifies VR creation for developers, but its ease of use also grants accessibility to VR building for designers and artists.
Game development is a popular area of the Mozilla Developer Network. Here Mozilla positions the web as an ideal venue for game creation and provides developers with tools, such as asm.js and Gecko Profiler, to assist in online game building. Methods and best practices are also made available to give tips ranging from how to optimize startup performance to efficient animation for web games.
Mozilla recognizes the Internet of Things (IoT) has the potential to widely impact individual lives and society as a whole. That's why they're back to thinking about user experience as a starting point on how to best move forward with IoT. Mozilla notes there are numerous projects underway. One is Project Sensor Web, which, according to Mozilla's description, looks to locate efficient paths from sensors to open data and enable contributors to use the sensors to learn about the environment.
Another innovation created by the Mozilla community is Rust, an open-source programming language that allows construction of fast and secure apps. Developers who want to delve into the world of Rust can study the online book to get started.
Building a Better Browser — Context Graph Is the Way Forward
When Gutenberg invented the printing press in the 1440s, he must have known it was revolutionary. He was unleashing access to knowledge from the dominion of a small segment of elites and placing it in the hands of the masses.
While Mozilla didn't invent the Internet, they did make it more accessible. Firefox looked to address the issues surrounding security, performance, and walled content. Mozilla's community of open-source developers continues this charge toward innovation and an open web with efforts to produce an even better browser that employs a recommender tool.
The system, called Context Graph, aims to improve user experience by recommending content based on a user's current context. This is done by reading and understanding the vast inter-related network of links that might be associated with a webpage.
As Nick Nguyen, VP Firefox Product, explained, "Browsers could do so much more, through a better understanding of your behavior and by using the experience of people at human-scale to give you content that enriches your life, regardless of who you know or where you live."