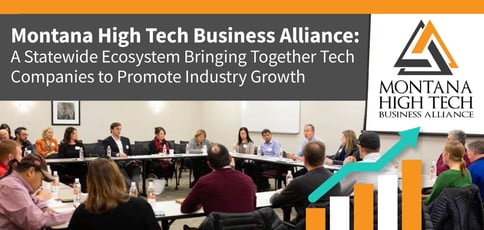 TL; DR: Montana High Tech Business Alliance, a nonpartisan community of more than 350 member firms, aims to widen educational and professional opportunities within Big Sky Country. The Alliance helps technical businesses attract talent and access venture capital while helping budding IT professionals find career paths. Ultimately, Montana High Tech's goal is to serve as a responsible advocate for continuing growth by empowering technology companies to create high-paying jobs in the state.
We've known it since our parents would gently push us out the door with a command to "go get some fresh air" — nature is good for our bodies and our minds. And today, there's science to prove it.
Research overwhelmingly indicates that the body functions differently when in natural environments. For example, one study demonstrated that being in woodlands activates a person's parasympathetic nervous system, associated with contentment, while urban environments stimulate the sympathetic nervous system, associated with threats.
Other studies show that the presence of nature improves mental health, reduces hypertension, and even boosts short-term memory.
Of course, we also have to pay our bills, and urban environments are treasure troves of high-paying jobs. Fortunately for citizens of Montana, that's changing: The Montana High Tech Business Alliance, a statewide community of more than 350 member firms, is working to widen educational and professional opportunities in one of the most breathtaking states in the U.S.
"We were created to bring our members together as an industry," said Christina Quick Henderson, Executive Director of Montana High Tech. "Our goal is for employees in Montana to live in a place they love with an incredible quality of life while doing exciting work for global corporations and companies."
Today, Montana High Tech has grown into an independent community focused on widening educational and professional opportunities while helping businesses attract talent and venture capital. As a responsible advocate for Montana's continuing tech growth, Montana High Tech is making it possible for tech professionals to work and live in an ideal environment.
A Nonpartisan Community of More than 350 Member Firms
Montana High Tech was founded in early April of 2014, approximately five years ago. At the time, Christina said Montana was coming into its own as an emerging tech hub. In 2011, one of the state's largest software companies, RightNow Technologies, was sold to Oracle for $1.5 billion.
Post-acquisition, many of the 500 employees working in multiple Bozeman offices retained their jobs. Others formed their own startups or became investors for other startups in the state.
"The acquisition had a huge impact on our state, both in terms of increasing our credibility as a location where you can scale a high-tech software business and also in seeding the ecosystem with highly talented tech employees," Christina said. "Anecdotally, at the time, entrepreneurship was soaring."
Christina said Montana has been among the top five states for entrepreneurship per capita, according to the Kauffman Indicators of Entrepreneurship.
"We could see that this was a strong trend in our state," Christina said. "It's changed our ecosystem for the better in terms of them giving us credibility and talent, and we continue to build on that."
In 2014, 20 founding members started Montana High Tech. Today, the company has grown to include 370 member companies across the state and is actively measuring the impact of the growing tech sector on the economy. According to a study conducted by the University of Montana Bureau of Business and Economic Research, high-tech companies generated nearly $1.7 billion in revenue in 2017. In addition, the study found that the industry is growing at rates up to nine times the statewide economy.
In 2018, Christina said the industry represented more than $2 billion in revenue, is growing nine times faster than the overall Montana economy, and is paying more than twice the median wage, with wages rising 5% each year.
Helping Business Attract Talent and Access Venture Capital
The number one barrier for growth in Montana is access to talent, but networking helps fill potential employment gaps, as does the Alliance's vast job portal. Members can also find talented candidates through Montana High Tech's social media sites, career fairs, and classroom visits.
In some ways, Christina said it's becoming easier to overcome Montana's talent gaps. Previously, candidates expressed hesitation in accepting jobs due to fear that they wouldn't have a backup plan.
"They would say, 'If this job opportunity doesn't work out, where else might I go? Are there really other companies here that I could credibly work for?'" Christina said. "Increasingly, the answer to that question is 'Yes.'"
Hiring executives at Montana High Tech member companies can point to the Alliance's database of other companies that are hiring to prove it. "We produce lists of our member companies as top tech employers, high-growth companies to watch, startups to watch," Christina said. "It's easier to attract candidates when they feel like there is a high-tech community and not just a one-off job opportunity."
Montana's tech industry also has historically faced challenges gaining access to capital. For a long time, Christina said there were more investment opportunities in Montana than investors.
"There were many high-net-worth individuals with substantial business experience who had connections to Montana, and might have been interested in investing here, but couldn't necessarily use due diligence without somebody on the ground," Christina said.
That changed when Next Frontier Capital, a Bozeman-based venture capital fund, opened in 2015 with a mission to help entrepreneurs build successful tech companies in the state. "It's really encouraging to see the influx of venture capital investment, and I think that that's going to be game-changing for Montana," Christina said.
Widening Educational and Professional Opportunities
The Alliance hosts at least six statewide member receptions each year, allowing members to connect with up to 150 top executives from the state's tech firms and startups. In sprawling Montana, the fourth-largest state in the U.S., those opportunities are few and far between.
After all, Montana is 1,119 square miles larger than the entire island of Japan. As of 2017, Japan had a population of 126.8 million people. Montana, on the other hand, has just over 1 million.
"Networking events across Montana probably look pretty different from what they might look like elsewhere," Christina said. "Because we're a spread out, statewide ecosystem, people travel hundreds of miles for these events. They like to network and are willing to travel to do it."
Christina said Montana's fast-growing tech community is spawning increased educational opportunities, such as new coding schools, across the state. Many students who enter these schools already have a college degree, if not multiple degrees, and are looking to recharge their career with a transition into tech.
"We also have a number of member companies that, as part of their strategy as a company, create really robust training programs," Christina said. "They'll hire young people straight out of college, put them through several months of training in their specific software and areas of expertise."
Perhaps due to the breathtaking landscape, Christina said turnover rates are typically low in Montana — especially in comparison to big tech hubs like Silicon Valley and New York.
"In Montana, we don't have a lot of churn; we have a lot of loyalty and high employee engagement," she said. "It's a huge competitive advantage and a win-win for everybody, from employees who get to live in one of the most beautiful places on the planet to companies that benefit from the longevity of the relationship."
A Responsible Advocate for Montana's Continuing Growth
Ultimately, Montana High Tech hopes to spread the news that there's a train of high-tech growth in Montana, and it's not slowing down any time soon.
"We're helping people to realize they can live in Montana, support their families, and have an exciting tech career," she said. "We're excited to continue to support the growth of this industry responsibly."
Christina said that means embracing what makes the state unique.
"Montana doesn't have to try to be Silicon Valley — we just need to be Montana, and there are unique strengths and assets to our entrepreneurial ecosystem that allow us to be competitive," she said. "We need to double down on those strengths to compete against the rest of the global economy."
Looking forward, Montana High Tech will continue to focus on maintaining the quality of life that Montana is known for while encouraging economic growth within the tech community. "I think it's a fascinating challenge to undertake," Christina said.