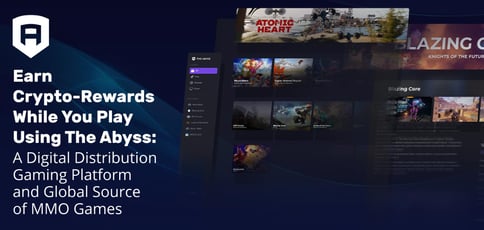 TL; DR: The Abyss, launched in March 2019, is a digital distribution gaming platform featuring social activities and earning opportunities. It is pioneering the use of blockchain in the gaming industry with system-specific Abyss tokens, a marketplace for digital goods, and a decentralized referral system. With a focus on establishing new partnerships with development studios and service providers, the team behind The Abyss is working to solidify the platform's status as a gateway to the MMO games universe.
Who says video games are for loners? Today massive multiplayer online (MMO) games bring together hundreds — even thousands — of players from all over the world via the power of the internet.
And market growth isn't showing any signs of slowing. According to Statista, MMO and multiplayer online battle arena (MOBA) games accounted for $25 billion of the $100 billion global digital gaming market in 2017. By the end of 2021, that value is expected to reach $43 billion.
As the market expands, consumers are looking for innovative ways to enhance their gaming experiences, and maybe even make a little money while playing. And The Abyss, a gaming platform designed as a gateway to MMO games and massive multiplayer role-playing games (MMORPGs), is providing a way for them to do just that.
"In recent years, MMO gaming has become one of the industry's largest segments with a diverse multimillion-gamer audience and billions of dollars generated in revenue," said Vladimir Kurochkin, President of The Abyss. "The Abyss was born out of the idea to create a friendly and fair platform for MMO games and MMORPGs where players and game developers can access a range of services and features in one place."
The versatile and intuitive gaming ecosystem, founded by Konstantin Boyko-Romanovsky and launched in April 2019, also offers opportunities for gamers to monetize their hobby through different activities, participate in voice and text-based chats, and auction digital goods. It also introduces users to blockchain and crypto-centered games featuring platform-specific, ERC20-standard Abyss Tokens.
Ultimately, through this innovative approach, coupled with a focus on establishing new partnerships with development studios and service providers, the team behind The Abyss hopes to establish the platform as a gateway to the MMO gaming universe.
A Multipurpose Platform Featuring Cutting-Edge Technology
Vladimir told us that his team's strategic development approach is centered on applying and creating best practices for unique, state-of-the-art technology and a seamless user experience — and the company is making steady progress on both fronts.
The Abyss platform is based on a microservice architecture developed using an in-house solution that provides a guaranteed transfer of events between geographically divided datacenters — even in the face of a temporary loss of connection within nodes in the distributed system.
"While running synthetic tests on an AWS instance of the m4.4xlarge type, a peak value of 24 thousand messages per second was achieved with 100% deliverability and the average number of repetitions was 1 per 8 thousand," Vladimir said.
System data is stored in cloud database instances that are divided into shards to spread the load, thus boosting performance and enhancing the customer experience. "The PostgreSQL solution features storage with dedicated input/output resources, and each shard has associated resources up to 16 TB of storage and up to 40,000 input/output operations per second," Vladimir said.
Finally, an integrated billing system featuring a double-entry bookkeeping method for incoming and outgoing transactions makes it easy to add Abyss Tokens to user accounts. "We carefully designed our funds-flow algorithm with consideration for the most likely cash flow and distribution scenarios between the platform and developers," Vladimir said.
Pioneering the Use of Blockchain in the Gaming Industry
It's no secret that the blockchain market has been heating up during recent years with no signs of stopping. Analysts predict that the market will experience significant growth in the future, reaching a valuation of $23.3 billion globally by 2023.
The technology has potential use cases in a variety of sectors, from finance and banking to supply chain management and the IoT. But Vladimir suggests that some of the most enthusiastic blockchain adopters will come from the multibillion-dollar video gaming industry. "They will be a driving force for blockchain gaming, an adjacent market to the gaming industry that will experience a huge boost," he said.
Vladimir said The Abyss will pioneer the early introduction of blockchain in the gaming industry, and the company will welcome participation from game studios of all genres, including blockchain and crypto. "All these games will find our support and will get access to our infrastructure and services," he said.
In addition, a dual billing system will allow developers to receive payments for their games in fiat currency as well as Abyss Tokens.
"The Abyss Token is a utility asset empowering every stakeholder of our ecosystem," he said. "It can be used for in-game purchases, rewards and payouts, and storage, among a number of use cases that will increase with the development of the platform."
The concept of platform-specific internal currency is nothing revolutionary for the gaming industry — in fact, it has been actively employed by many game platforms and online stores. This platform's use of a blockchain-based currency, however, will allow it to scale. "The Abyss Token's main purpose is sustaining the work of the referral system and other services that involve a large number of transactions," Vladimir said. "It would be impossible to implement such a system without blockchain technology."
Powered by an Innovative Revenue Sharing System
The Abyss employs a unique revenue-sharing system in which part of the income generated by the sale of games and services is distributed between gamers and developers in the form of rewards for various activities.
Vladimir said developers will receive 70% of all transactions within their game, with another 20% allocated to The Abyss. Users will receive the remaining 10% as referral rewards. "Gamers can play, socialize and — most importantly— earn rewards from the referral program and gaming achievements that are scattered across numerous game projects," he said.
Developers benefit from an innovative distribution channel and built-in marketing tools that help attract audiences. The Abyss bills this approach as a Platform-as-a-Service (PaaS) solution that supports independent studios with a complete tech stack for running and managing games. "The platform will help game developers reduce their marketing costs and deliver their products to the masses with less time and fewer financial resources," Vladimir said.
Gamers will be provided with various built-in solutions, including voice-to-voice apps, a hub for guilds, and a semi-formal score-keeping system, among other community-driven demands. "For example, the latest version of the TeamSpeak voice and text app will be available on The Abyss in the form of an integrated VoIP solution that will be an important part of the platform's versatile infrastructure," Vladimir said.
The platform's flagship feature is a unique five-level referral system that rewards both gamers and developers. The Abyss offers users rewards not only for purchases made by direct (Level 1) referrals but also for those of subsequent referrals, up to five levels. The maximum 4% reward applies to Level 1 referrals. Level 2 and Level 3 referrals bring in 2% per purchase, while 1% is paid out for purchases made by Level 4 and Level 5 referrals.
"The referral program is already operational, and more features are on the way," Vladimir said. "Developers will also get access to an internal Cost Per Action (CPA) network where they can manage their traffic by selling it to or purchasing it from other games — or by buying additional external traffic outside of the platform."
Ongoing Developments from an Expanding Professional Team
Vladimir told us The Abyss platform is being developed by a team of professionals with significant expertise in programming and software development.
"For example, Sergey Zakharchenko, the system architect, has a Master of Science degree in Applied Mathematics and Physics," he said. "He is the author of several patents and numerous publications related to novel hardware and scientific computing."
Another notable expert, Stanislav Kuzin, Vice-President for Platform Development, has 20 years of experience creating scalable and highly available IT services, plus a solid background in web development.
As the team continues to grow, Vladimir said it plans to expand functionality with the addition of new games and features while establishing new partnerships with game studios and service providers to accelerate growth.
"We are already testing various marketing tools and instruments on our target regional markets to collect data for further analysis and decision-making," he said. "Many great things are in the pipeline."